First Solar (NASDAQ:FSLR) LinkedIn (NYSE:LNKD) and Priceline (NASDAQ:PCLN) all report earnings Thursday after the close. In each case, long strangles and straddles represent the safest options strategies. It is anybody's guess in what direction these three high-flyers will move, but most would agree that they'll move hard and they'll move fast. That's exactly what you need to have happen if you put on a strangle or straddle.
First Solar: I've been on a roll over the last few months, but suggesting a long play on FSLR back in mid-March goes down as quite possibly my worst call on Seeking Alpha. At the time, the stock traded for about $155.08; on Monday, it closed $117.39.
Contributors Dana Blackenhorn and Williams Equity Analysis both provide solid bull cases for FSLR. As with my other stinker pick of the year, Open Table (NASDAQ:OPEN), I view the pullback as an excellent opportunity to get long. Options provide the ideal strategy for doing this.
If you're a bull, consider selling an FSLR put with a strike price you would be happy owning the stock at. If FSLR breaches that level between now and options expiration day, you could get 'put' 100 shares of the stock for each contract you sold at its strike price. Use the proceeds from the sale of the put to buy an FSLR call option.
As of Monday's close, I would look to sell the FSLR August $105 put for $1.87. If you're really bullish, you can turn around and buy the FSLR January 2012 $120 call for $11.40. The combination trade results in a net debit of $9.53. This trade is not for the faint of heart. And it will take a considerable amount of cash and account equity to pull it off. Proceed with caution and have, at least, mental stops in place.
LinkedIn: There's nothing more mysterious than a company's first earnings report after going public. Simply put, I am not comfortable doing anything beyond strangling LNKD, but the prospects for impressive growth exist.
It's tempting to buy some calls here, however. I think LinkedIn's the real deal. I don't use it. And I despise networking. I don't have an elevator talk. And I'll never wear a tie again. But, I'm an oddball. And I think the people who spew hate on LinkedIn are just jealous because they did not think of it first. It's a sustainable business that will be around long after Mark Zuckerberg turns 35, buries Facebook in a ditch and retires to a loft in downtown Antigua. (Yes, I am bitter because I did not come up with Facebook).
LinkedIn caters to people and entities who eat, sleep and drink networking and all the cheesy stuff job hunting, job posting and recruiting entails. And it does it with a synergy and diverse revenue stream that warrants the underlying stock's hefty valuation.

Chew on this from the company's recent investor presentation:

(Click to enlarge)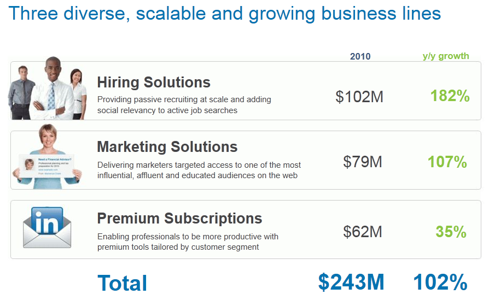 Click to enlarge
This situation is one of those where, 15-20 minutes prior to Thursday's close, I might take a stab at some LNKD calls. Call it gambling if you will, but therein lays the beauty of options-- you can do things with them conservative enough for your Grandfather's IRA and risky enough to garner free beer all night in Las Vegas.
Priceline.com: Beyond strangle, strangle, strangle, there's not much more to say about PCLN. Or mayb there is. Expedia (NASDAQ:EXPE) blew its last report out of the water. Travelzoo (NASDAQ:TZOO) did not. Therefore, there's no recent peer precedent to rely on. That's a tad concerning.
What we do know is that PCLN makes sick moves after earnings. Consider this history around the company's last three reports:
Q1 2011 Earnings, May 5th: PCLN closed at $533.97 before earnings and closed at $519.03 on May 6th, but spiked as high as $540.93 on the 6th. Both ends of a strangle could have turned a profit there.
Q4 2010 Earnings, February 23rd: PCLN closed at $425.99 before earnings and closed at $462.34 on February 24th.
Q3 2010 Earnings, November 8th: PCLN closed at $388.58 heading into earnings and closed at $420.65 the next day.
Of course, there's an obvious trend in this price history. PCLN traded for under $400 a share late last year. This year it has traded as high as $561.88. That makes PCLN another one that could represent another last-minute roll of the dice.
Disclosure: I have no positions in any stocks mentioned, but may initiate a long position in LNKD over the next 72 hours.