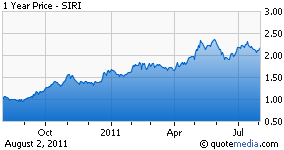 Sirius XM (NASDAQ:SIRI) knocked earnings out of the park.
"The media business has always been highly competitive and things will continue to evolve in the years to come. There will be winners and losers as the media landscape changes over time and I am confident that Sirius XM will again be in the winner's circle. For any company to succeed in a changing environment, it needs to stay relevant and I think strategically not only about what consumers want today but what they will want in the future. Change is always accompanied by opportunities and challenges. We are ready to keep grabbing those opportunities as they arise. I believe the best days for Sirius XM are yet to come. We fully expect to hit it out of the park in 2011."
The quote above came from Mel Karmazin, CEO of Sirius XM. He said these words during the company's 2010 fourth quarter earnings announcement early this year. After seeing the second quarter numbers this morning, I can't describe it any other way except to say that Sirius hit it out of the park, More poignantly, the company hit a grand slam.
If you are a baseball fan then you know that a grand slam instantly gives you four runs, so I say "grand slam" with the four bullets listed below:
Subscribers exceed 21 million, an all-time high
Record revenue of $744 million, up 6% over second quarter 2010
Record adjusted EBITDA of $185 million, up 20% over second quarter 2010
Company raises guidance: 1.6 million net subscriber additions and free cash flow approaching $400 million expected in 2011
"Our results in the second quarter were strong, and we are proud of our record levels of subscribers, revenue, and adjusted EBITDA and growth in free cash flow. Sirius XM continues to perform well, and we are pleased to raise our subscriber guidance and, for the second time this year, our free cash flow guidance," said Karmazin.
Highlights from the quarter include:
Subscriber growth continues: Auto sales growth and higher OEM penetration year-over-year drove ending subscribers as of June 30 to 21,016,175, up 8% from the 19,527,448 subscribers reported as of June 30, 2010. Self-pay net additions in the second quarter of 2011 were 362,663, up 19% from 304,043 in the second quarter of 2010.
Churn stable: Average self-pay monthly churn was 1.9% in the second quarter, compared to 2.0% in the first quarter and 1.8% in second quarter 2010.
SAC improves: Subscriber acquisition costs (SAC) per gross subscriber addition was $54 in the second quarter of 2011, an 8% improvement from the $59 reported in the second quarter of 2010.
"Demand for satellite radio continues to grow, with gross additions reaching the highest level of any quarter since the merger of Sirius and XM. Our all-time high OEM penetration rate is a reflection of the automakers' satisfaction and their commitment to offer our service to their customers," said Karmazin.
2011 Guidance
As anticipated, Sirius rewarded investors with increased guidance. "With the excellent subscriber performance recorded in the first half of 2011, we are now confident that we will exceed our previously announced 1.4 million net subscriber addition guidance for 2011. Today we are raising our full-year guidance to a projected 1.6 million net subscriber additions," added Karmazin. "After a strong first half, we now expect free cash flow in 2011 will approach $400 million, up from our prior guidance of approaching $350 million."
In 2011, the company continues to expect full-year revenue of approximately $3 billion. Sirius XM's adjusted EBITDA projection remains at approximately $715 million. Full year self-pay churn and conversion rates for 2011 should be broadly similar to those seen in 2010.
Summary
I talked about a game of cat and mouse that has frustrated investors for quite some time with the stock. With these stellar numbers released the question now is will investors be vindicated for their patience? What will Karmazin say during the conference call to reward investors for their commitment to the stock and to the company? One thing is for certain, these numbers have signaled Sirius' arrival and is now an indicator that the company is heading in the right direction. But will the stock follow?
Disclosure: I am long SIRI.