As part of a broad market retail stock slump, Aeropostale (NYSE:ARO) has lost roughly 35% of its stock price in the past 3 months. These fears are linked to slow GDP growth (currently at 1.3% annualized) as well as general market anxiety regarding B&M retailers such as Wal-Mart (NYSE:WMT). Compounding these fears were weak Q1 EPS results by mainstream clothing retailers Gap (NYSE:GPS), American Eagle (NYSE:AEO), and Aeropostale. These weak quarterly results were brought on by the weak economy coupled with decreasing profit margins due to a dramatic increase in cotton prices.
Q1 Clothing Retail Slump:
In Q1 results Aeropostale increased revenues 1.2%; however, EPS decreased from $0.48 to $0.20 (58.3% decline). Aeropostale was not alone, American Eagle's EPS dropped 11.8% ($0.17 to $0.15) amidst a revenue drop of 6% ($648.5M to $609.6M).
Aeropostale's CEO, Tom Johnson, stated in March that Q4-11 sales and projected 2011 sales would be hurt by recession-era deep discounting and that EPS would be hurt by rising cotton prices. Although the sales decline can be directly attributed to the economy, the profit decline is the main piece that appears to be spooking investors. Johnson's predictions proved true for Q1-12; however, cotton prices are currently 28.2% lower than their March 2011 peak while the stock has comparatively dropped over 30%.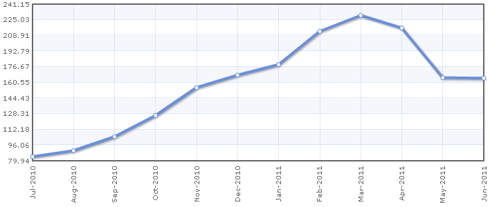 Click to enlarge
The long-term potential for high cotton prices is a larger macro discussion. However, I believe that the decline of the USD, a recent investment flight to commodities, and increasing ethanol production are the main three causes. If you believe that cotton prices will decrease, than it would be logical to assume that ARO's EPS will increase.
Growth History:
Since 2002 (I can't find 2001 sales and profit figures), ARO has grown revenue at a 9-year annualized rate of 26.8% ($284M to $2.4B). In the same time span, ARO has grown EPS at an annualized rate of 30.3% ($0.23 to $2.49).
Aeropostale also boasts one of the industry's highest sales per square foot with $626 per square foot (slide #8) reported in FY2011. Recent high-flier Abercrombie and Fitch (NYSE:ANF) has sales of $486 per square foot and budget competitor Old Navy (owned by GAP) has $279 in sales.
To provide a more recent recession-era comparison: Since 2008, ARO has grown revenue at 14.7% annualized ($1.59B to $2.4B), and EPS at 29.4% annualized ($1.15 to $2.49).

Strong Balance Sheet:
Aeropostale has not issued debt in the past 10 years and currently (as of Q1-12) has a net cash balance of $139.1M backed up by a recent operating cash flow (FY2011) of $264M. ARO also has a current ratio of 1.98.
Return to Shareholders:
Aeropostale does not currently pay a dividend, however recent stock buyback programs have been very aggressive. Aeropostale began repurchasing shares in late 2004, and since 2005 has decreased their share count by 35.2% (124.6M to 80.7M). This represents a 7% annualized reduction in outstanding shares. Due to the recent slump in ARO share price, the buybacks have increased with 12.79M purchased between Q1-11 and Q1-12 (13.7% reduction). As of Q1-12, ARO had $145.2M remaining on buyback authorization (10.8% of issued shares based on current market prices).
Value Investment Play:
I personally believe that ARO is a great value play for a long-term investor. The only negative to this company (beyond the slumping sector) is that it doesn't pay a dividend. There are recent fears regarding Aeropostale "losing teen favor;" however, I believe that this is unwarranted because Aeropostale has never been the "in" company. They have always been positioned as a "stylish budget" store, while AEO and ANF supply the higher-fare customers. This fear is further dismissed by ARO's increasing Q1 y/y revenues vs AEO's decreasing revenues.
I like Gap (GPS) and American Eagle (AEO), but I believe that at current market prices there is more value in shares of ARO. I believe that the market's pricing of ANF is completely unjustified and I plan to write a short article in a few days that will list my reasons in detail.
Disclosure: I am long ARO.

Additional disclosure: I am short ANF (straight shorting since late May).