The S&P 500 and the broader Russell 3000 dropped 0.4% on Monday. Of the 4,600 stocks that were tracked, the top 25 gainers that closed above $1 at market-close on were analyzed to determine if they would continue going down, or if they would reverse their moves going forward. The following are the best buy and sell ideas based on that analysis:
Buy Sify Technologies Ads (NASDAQ:SIFY)
: SIFY is an Indian provider of corporate network and data, internet access and online portal services in India. It is among the largest internet, network, and e-commerce services companies in India, offering end-to-end solutions with a comprehensive range of products delivered over a common internet backbone infrastructure. A significant portion of their revenue is derived from corporate services, which include corporate connectivity, network and communications solutions, security, network management services, enterprise applications and hosting. Consumer services include broadband home access, dial-up connectivity and the iWay cyber café chain across one hundred cities and towns. The stock was up 11.8% on Monday following a 22% surge on Friday, and it is up 142.5% YTD.
The stock has surged in the last two trading sessions based on a blockbuster June quarter report issued on Friday morning, in which the company reported accelerated revenue growth of 31% year-over-year from single-digit growth in the prior three quarters, while also reducing losses to 1c from 7c in the prior year June quarter, and increasing EBITDA by 449% to $2.8 million in the June quarter. It is difficult to recommend SIFY based purely on current numbers, as while revenue growth was explosive this quarter, it is still generating losses. However, the investment case here is based on India's burgeoning population, most of which currently have no or limited internet access, and a government that is now showing a strong commitment to making the necessary investments to expand broadband access to the masses. Recently, for example, the Indian Telecom Commission approved the National Optical Fiber Optical Network proposal valued at $4.4 billion as part of the National Broadband plan that aims for 160 million broadband connections by 2014. This along with the recent launch of 3G services by private telecom operators in India bodes well for internet content and communications services providers like SIFY and Rediff.com India Ltd Adr (NASDAQ:REDF).
SIFY shares, even with the 36% surge in the last two trading sessions, are still off 36% from the $8.50s highs hit just over three months ago. Its fundamentals have improved immensely since that time with the recent June quarter report, and the fundamental story is still strong and in the early innings of a long-term trend of explosive growth in online content and services in India. We believe SIFY shares are attractively priced, but we would wait for it to pull back a bit and consolidate, and we would look to buy on dips approaching $5.
Sell Dynavax Technologies (NASDAQ:DVAX)
: DVAX is a developer of drugs to treat and prevent allergies, infectious diseases, and chronic inflammatory diseases using versatile, proprietary approaches that alter immune system responses in highly specific ways. DVAX's clinical development programs are based on immunostimulatory sequences which are short DNA sequences that enhance the ability of the immune system to fight disease and control chronic inflammation. The stock was up 8.9% on Monday, following a surge and consolidation on Thursday and Friday of last week.
The stock was up on Thursday following the
company announcement that the U.S. Food and Drug Administration (FDA) Center for Biologics Evaluation and Research (CBER) advised DVAX
that "CBER agrees that clinical consistency of three consecutively manufactured lots of HEPLISAV has been demonstrated," and that, "Although lot consistency criteria were not met at the pre-specified time point of 4 weeks PLD (post last dose), lot consistency criteria were met 8 weeks PLD, the time point corresponding to the primary immunogenicity endpoint, as well as at several other time points." Basically, the company failed the primary end-point for the trial which was demonstrating consistency in antibody response to HEPISLAV at eight weeks compared to Enegix-B which is the current standard of care for immunization against infection caused by all known subtypes of Hepatitis B virus. But the company is putting a positive spin on that while being hopeful that the FDA will consider that the lots were consistent at 12, 18, 24 and 28 weeks. While the FDA is notoriously impossible to predict, and it is conceivable that the FDA might accept this result as meeting their lot consistency requirement, we don't think that it is probable enough to bank on. We would look for opportunities elsewhere, and sell out of DVAX on any rallies.
Smartheat Inc. (NASDAQ:HEAT)
:
HEAT is a Chinese manufacturer of plate heat exchanger (PHE) products to China's petroleum refining, chemicals and petrochemicals, energy generation, steel, medical, electronics, food and beverage processing, manufacturing sectors, and residential markets. The PHE units reduce energy wastage, regulate heat transfer and pressure drop, and maintain the distribution of heating and cooling systems, thereby helping to manage pollution and improve energy efficiency. Besides PHEs, the company also manufactures thermometer testing devices and heat usage calculators. The stock was up 11.9% on Monday, and it is down 71.4% YTD.
There has been no recent significant news on HEAT; the
last significant news was when the company reported its March 2011 quarter
report on May 10th before market-open. That report was a disaster as the company missed on both revenue and earnings estimates and guided down both revenues and earnings for the fiscal year. Specifically, the company reported $7.9 million in revenue and a 10c loss for the quarter while analysts were expecting $11.4 million in revenue and a 5c profit, and they slashed fiscal year 2011 earnings to 25c-36c versus estimates of 71c.
The stock responded and plunged 65% in the next six weeks, and has since been consolidating and forming a base at the bottom. While the company appears cheap, trading at less than 5 forward P/E, we would wait on the sidelines and evaluate the company after more fundamental news on the June quarter comes out.
Adolor Corporation (ADLR)
: ADLR develops small molecule prescription pain management products for surgery patients. Its lead product candidate is Entereg®, currently under development for the management of the gastrointestinal side effects associated with opioid use. ADLR is collaborating with GlaxoSmithKline (NYSE:GSK) in the worldwide development and commercialization of Entereg in multiple indications. The shares have been volatile in recent days, down 7% on Thursday, down 3% at Friday close after plunging 24% intra-day, and up 16.7% on Monday, ahead of phase 2 data results on its candidate for opioid-induced congestions that are due out sometime this month.
We do not trade ahead of biotech trial results due to the extreme risk involved, whether you trade long or short. However, for the not-so-risk-averse trader, it should be noted that ADLR is a revenue-producing company as Entereg® is currently marketed for Delayed GI Recovery. This along with a strong long-term technical base provides some downside protection in the $1.50 range, still more than 40% below current levels, while success of the phase 2 Entereg® trial for opioid-induced congestion could provide meaningful significant upside to the stock in the $5-$6 range.
Limelight Networks Inc. (NASDAQ:LLNW)
: LLNW provides content delivery network services for television, music, movie, software and social media industries in North America, Europe, the Middle East, Africa, and the Asia Pacific. LLNW's architecture bypasses the busy public internet using a dedicated optical network that interconnects thousands of servers and delivers massive files at the speed of light directly to the access networks that consumers use every day, thereby assuring its customers that every object in their library will be instantly delivered to every user, every time. The stock rose 8.5% on Monday, and it is down 23.1% YTD.
Like its content delivery network (CDN) peer Akamai Technologies (NASDAQ:AKAM), LLNW has been weak since its March 2011 quarterly report on May 6th whereby the company beat analyst revenue and earnings estimates, and guided revenue higher for the June 2011 quarter. Recently, it has been volatile due to rumors that it may get a Google Inc. (NASDAQ:GOOG) YouTube contract, which would be a significant win for the company. The analysts mean target for LLNW is $8, with a high of $10, well above current $4.40s price. Of the nine analysts that cover the company, three rate it a strong buy, five at neutral, and one rates it at underperform.
Infinera Corp. (NASDAQ:INFN)
: INFN is a supplier of photonics ICs for fiber optic networks to telecom carriers, cable operations and other service providers worldwide. Its shares rose 10.2% on Monday, and they are down 31.4% YTD. The shares were up Monday on reports of insider buying by Chief Strategy Officer David Welch and CEO Tom Fallon. INFN is projected to keep losing money at least until 2012, and of the ten analysts that currently cover the company, two rate it at buy/strong buy, four at neutral and four at underperform rating. The mean analyst target is $7, slightly below Monday's closing price of $7.09.
Mad Catz Interactive Inc. (NYSEMKT:MCZ)
: Mad Catz is a leading third-party provider of accessories for all three major video game platforms: the Sony PlayStation®, Microsoft Xbox®, and Nintendo Wii®. Its core products include controllers, memory cards and RF switches, which offer a value-priced, feature-rich alternative to OEM products, such as the 'GameShark' line of video game software enhancements and proprietary video games and other premium products to enhance the gaming experience. The stock is up 8.6% on Monday and it is up 23.5% YTD.
MCZ went up strongly in the first quarter based on an exclusive agreement with Microsoft (NASDAQ:MSFT) to produce licensed, co-branded wireless headphones for Xbox and strong quarterly results. However, subsequent to that, the company issued 8.9 million shares in April/May and the fiscal year results announced in June were not strong, and as a result the stock has corrected in the June quarter. Although the stock is cheap and exhibits strong year-over-year growth, we would wait on the sidelines for now as the stock will probably remain range-bound until the next quarterly results or another strong news catalyst can propel it forward.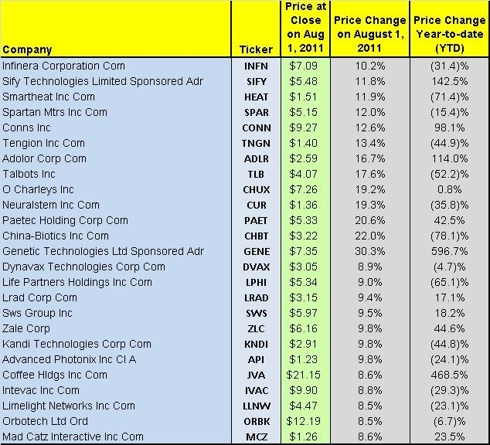 Click to enlarge
Credit: Historical fundamentals including operating metrics and stock ownership information were derived using SEC filings data, I-Metrix® by Edgar Online®, Zacks Investment Research, Thomson Reuters and Briefing.com. The information and data is believed to be accurate, but no guarantees or representations are made.
Disclaimer: Material presented here is for informational purposes only. Nothing in this article should be taken as a solicitation to purchase or sell securities. Before buying or selling any stock you should do your own research and reach your own conclusion. Further, these are our 'opinions' and we may be wrong. We may have positions in securities mentioned in this article. You should take this into consideration before acting on any advice given in this article. If this makes you uncomfortable, then do not listen to our thoughts and opinions. The contents of this article do not take into consideration your individual investment objectives so consult with your own financial adviser before making an investment decision. Investing includes certain risks including loss of principal.
Disclosure:
I have no positions in any stocks mentioned, and no plans to initiate any positions within the next 72 hours.