2011 has been very good to DISH stockholders. Not only is Monday's close of $29.88 a 52% gain from the first of the year, but chairman Charlie Ergen and his management team have provided plenty of excitement and intrigue through a series of manuevers. In order:
So what, exactly, is Charlie Ergen's plan? It's not entirely clear that he knows...yet. From the company's 1st quarter conference call:
First, in terms of strategy, I'd say what DBSD, Blockbuster, some other things we've done, I would say that we are utilizing what I call the Seinfeld strategy, which is if you ever watched a Seinfeld show, there's a lot of things that happen in the first about 28 minutes of that show where you don't know exactly where that show has going, but it seem to all come together in the last couple of minutes. And so I think in terms of where we're going strategically, you'll have to just wait and see where it all comes together. That's a little hard to explain it in this early in the show, so to speak.
In the meantime, as investors await DISH earnings on August 9th, the company's main business -- satellite television -- looks strong. First quarter earnings were up 135% from the year-ago quarter, and the company surprised analysts by gaining 58,000 subscribers despite a February 1st rate increase of $5 per month. DISH has earned $2.91 per share over the past twelve months, giving the company a trailing P/E right just above 10 after Monday's close of $29.88.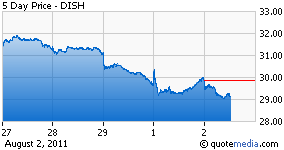 From a balance sheet perspective, DISH appears stable. Net debt at the end of the first quarter was approximately $3.1 billion, 23% of market cap. The recent acquisition spree will up the figure -- possibly by as much as $4.8 billion. ($2.1B for the Hughes acquisition, which closed in June; $300MM for the initial Tivo payment, which was announced after the close of the first quarter; $230MM for Blockbuster; $1.4B for TerreStar, and approximately another $800MM for DBSD, based on comments made during the 1st quarter conference call). At $7.9 billion of net debt, the company would sport a debt-to-cap ratio right at 60%. That should still be easily serviced by the billion-plus in free cash flow DISH generated in each of 2009 and 2010 (plus an impressive $600MM in the first quarter of 2011).
That said, traders may be wise to wait. The price increase became effective February 1, which means dissatisfied customers may not have cancelled until they a) realized the increase and b) decided on switching to a competitor, putting more cancellations in the second quarter. The company itself noted that much of the churn related to the price hike would likely be seen after April 1. Secondly, the acquisition of Blockbuster in late April may drag on earnings, as the company was estimated to lose $50-$55 million in the first two months of the year, before its acquisition by DISH. Finally, given the stock's strong rise in 2011, and the blowout first quarter (analysts were expecting 68 cents a share versus the $1.22 reported), it seems likely that DISH will face the curse of higher expectations next Tuesday. Long-term investors may want to wait to see how earnings go, and to get news on the integration of the seemingly diverse acquisitions in Ergen's recent shopping spree.
For those long-term investors, however, DISH still looks reasonably valued based on current earnings. Of course, future earnings are far more uncertain. The question is: what will DISH look like in the future? Will it take on Netflix (NASDAQ:NFLX) between the Blockbuster acquisition and the marketing on "TV Everywhere" through the Slingbox adapters? Will it build out a wireless network to sell to AT&T (NYSE:T), or to challenge Verizon (NYSE:VZ)? Does Ergen have the goal of building a communications behemoth, that can transmit audio, video, and data to any device, anywhere? Or he is simply buying undervalued, distressed assets with the hopes of selling or spinning them off down the line?
It seems clear that Ergen himself foresees a radical transformation of the company. Once again, from the first quarter conference call:
In the multichannel development, I just think that we have to be realist that what was a market where there were 3 competitors 5 years ago is a market today where there's at least 5 competitors in the marketplace with the addition of a phone company and the Internet. And in fact, there's probably, because the Internet is relatively ubiquitous, it could be multiple entrants into all our part of our business today. So there are strategic things that we think we can do and compete in that world, but we think the world is changing. And we have to be prepared for change, and we're not scared of change in what we're going to make long-term decisions. And if you're a long-term investor I think you'd like what we do.
Any long-term investor in DISH right now is betting on Charlie Ergen, his interpretation of the coming technological convergence, and his ability to execute his as-yet-unrevealed plans for DISH and Echostar. Given his vast success in the communications industry, it may be a bet worth making, even in the dark. And I would argue the entertainment value alone may make up for even lackluster returns.
Investors will no doubt look to next Tuesday's conference call for more sunlight on Ergen's grand vision. Unfortunately, Charlie likely won't be there. He noted during the first quarter call that he would likely be away on family vacation and would skip the call. The intrigue will continue.
Disclosure: I have no positions in any stocks mentioned, and no plans to initiate any positions within the next 72 hours.