As the economy remains uncertain, it's unclear how things will end up being fixed by the U.S. government. But one thing that does seem clear is that safer investing such as dividend investing is gaining a lot of ground. This makes it great timing to publish our monthly post about the top dividend stocks in the S&P500. It's always a popular post, not only because of the list itself but also because of the fact that we start from that list when looking for high quality dividend stocks that help us build a passive income portfolio.
Over the past few months, we have looked at quite a few criteria that have helped us find the best dividend stocks including current yield, dividend growth and also companies that produce solid enough earnings to keep up the dividend payments. We summed it all up when we discussed the 20 things that we look for in dividend stocks.
Frontier Communications (NYSE:FTR) is once again at the top of our list and while it's not clear how the stock will perform as a long term dividend play, what is clear is that many of these stocks are probably much better picks if you have a long term perspective. We will discuss how we filter through these in the coming weeks.
As we discussed this week, stocks in the communications sector were one of the two sectors that reduced dividends the most in the last quarter, a worrying sign for anyone invested in those stocks.
Hopefully this will help you when building your passive dividend portfolio.
Click to enlarge: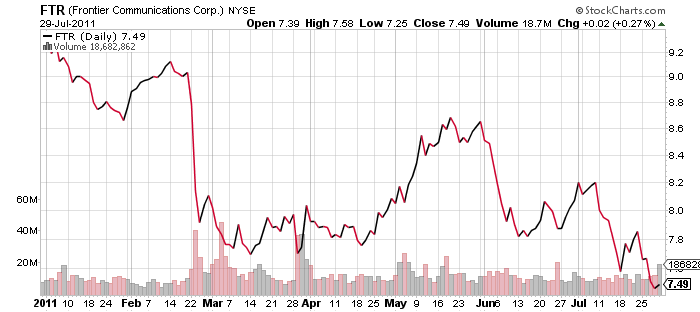 We will be filtering out the top 100 list to find the ones that fit all of these criteria! In the meantime, here is the list!
| Ticker | Name | Price | Dividend Yield | Payout Ratio | BDVD_NEXT_EST_EX_DT |
| --- | --- | --- | --- | --- | --- |
| FTR | Frontier Communications Corp | 7.49 | 10.01 | 346.75 | 2011/09/07 |
| WIN | Windstream Corp | 12.21 | 8.19 | 150.63 | 2011/09/28 |
| CTL | CenturyLink Inc | 37.11 | 7.81 | 92.65 | 2011/09/09 |
| PBI | Pitney Bowes Inc | 21.55 | 6.87 | 97.09 | 2011/08/10 |
| RAI | Reynolds American Inc | 35.2 | 6.02 | 81.34 | 2011/09/08 |
| T | AT&T Inc | 29.26 | 5.88 | 52.32 | 2011/10/07 |
| CINF | Cincinnati Financial Corp | 27.33 | 5.85 | 68.7 | 2011/09/14 |
| MO | Altria Group Inc | 26.3 | 5.78 | 77.98 | 2011/09/13 |
| POM | Pepco Holdings Inc | 18.68 | 5.78 | 173.38 | 2011/09/08 |
| RRD | RR Donnelley & Sons Co | 18.81 | 5.53 | 96.71 | 2011/08/03 |
| VZ | Verizon Communications Inc | 35.29 | 5.52 | 213.72 | 2011/10/05 |
| HCN | Health Care REIT Inc | 52.78 | 5.42 | 554.64 | 2011/08/05 |
| TEG | Integrys Energy Group Inc | 50.21 | 5.42 | 94.56 | 2011/08/29 |
| DUK | Duke Energy Corp | 18.6 | 5.38 | 97.07 | 2011/08/10 |
| AEE | Ameren Corp | 28.82 | 5.34 | 264.75 | 2011/09/06 |
| PGN | Progress Energy Inc | 46.74 | 5.31 | 83.83 | 2011/10/07 |
| HCP | HCP Inc | 36.73 | 5.23 | 198.62 | 2011/08/04 |
| LLY | Eli Lilly & Co | 38.3 | 5.12 | 42.75 | 2011/08/11 |
| PPL | PPL Corp | 27.9 | 5.02 | 63.35 | 2011/09/07 |
| AEP | American Electric Power Co Inc | 36.86 | 4.99 | 68.04 | 2011/08/08 |
| LEG | Leggett & Platt Inc | 21.7 | 4.98 | 87.94 | 2011/09/13 |
| PBCT | People's United Financial Inc | 12.68 | 4.97 | 254.49 | 2011/10/28 |
| ETR | Entergy Corp | 66.8 | 4.97 | 48.31 | 2011/08/09 |
| PNW | Pinnacle West Capital Corp | 42.35 | 4.96 | 67.88 | 2011/10/27 |
| SCG | SCANA Corp | 39.19 | 4.95 | 63.56 | 2011/09/07 |
| FE | FirstEnergy Corp | 44.65 | 4.93 | 85.46 | 2011/08/03 |
| LO | Lorillard Inc | 106.22 | 4.9 | 62.68 | 2011/08/30 |
| SO | Southern Co | 39.54 | 4.78 | 75.75 | 2011/11/03 |
| EXC | Exelon Corp | 44.07 | 4.76 | 54.31 | 2011/08/11 |
| DTE | DTE Energy Co | 49.84 | 4.71 | 58.25 | 2011/09/15 |
| TE | TECO Energy Inc | 18.53 | 4.64 | 73.1 | 2011/08/12 |
| BMY | Bristol-Myers Squibb Co | 28.66 | 4.6 | 71.24 | 2011/09/28 |
| NI | NiSource Inc | 20.13 | 4.57 | 86.8 | 2011/10/26 |
| ED | Consolidated Edison Inc | 52.6 | 4.56 | 68.15 | 2011/08/15 |
| FII | Federated Investors Inc | 21.37 | 4.49 | 127.68 | 2011/08/04 |
| MRK | Merck & Co Inc | 34.13 | 4.45 | 549.36 | 2011/09/13 |
| PCL | Plum Creek Timber Co Inc | 38.22 | 4.39 | 134.65 | 2011/08/12 |
| PCG | PG&E Corp | 41.43 | 4.39 | 60.24 | 2011/09/28 |
| PAYX | Paychex Inc | 28.23 | 4.39 | 87.09 | 2011/10/27 |
| CMS | CMS Energy Corp | 19.14 | 4.39 | 43.38 | 2011/08/03 |
| XEL | Xcel Energy Inc | 24 | 4.33 | 61.8 | 2011/09/20 |
| WM | Waste Management Inc | 31.49 | 4.32 | 63.38 | 2011/09/08 |
| KMB | Kimberly-Clark Corp | 65.36 | 4.28 | 58.87 | 2011/09/07 |
| PEG | Public Service Enterprise Group Inc | 32.75 | 4.18 | 44.51 | 2011/09/07 |
| PFE | Pfizer Inc | 19.24 | 4.16 | 72.18 | 2011/08/03 |
| MCHP | Microchip Technology Inc | 33.75 | 4.1 | 59.84 | 2011/08/16 |
| D | Dominion Resources Inc/VA | 48.45 | 4.07 | 36.37 | 2011/08/24 |
| SVU | SUPERVALU Inc | 8.6 | 4.07 | N/A | 2011/08/30 |
| CNP | CenterPoint Energy Inc | 19.58 | 4.03 | 72.35 | 2011/08/12 |
| HRB | H&R Block Inc | 14.96 | 4.01 | 32.93 | 2011/09/14 |
| NEE | NextEra Energy Inc | 55.25 | 3.98 | 41.93 | 2011/08/24 |
| LMT | Lockheed Martin Corp | 75.73 | 3.96 | 36.64 | 2011/08/30 |
| HCBK | Hudson City Bancorp Inc | 8.25 | 3.88 | 55.05 | 2011/08/03 |
| SE | Spectra Energy Corp | 27.02 | 3.85 | 62.32 | 2011/08/10 |
| RTN | Raytheon Co | 44.73 | 3.84 | 30.6 | 2011/10/05 |
| SRE | Sempra Energy | 50.69 | 3.79 | 51.56 | 2011/09/27 |
| KIM | Kimco Realty Corp | 19.03 | 3.79 | 361.29 | 2011/10/03 |
| INTC | Intel Corp | 22.33 | 3.76 | 30.56 | 2011/08/03 |
| ABT | Abbott Laboratories | 51.32 | 3.74 | 59.05 | 2011/10/14 |
| NUE | Nucor Corp | 38.89 | 3.73 | 339.9 | 2011/09/28 |
| COP | ConocoPhillips | 71.99 | 3.67 | 27.95 | 2011/10/27 |
| HNZ | HJ Heinz Co | 52.64 | 3.65 | 58.23 | 2011/09/19 |
| PM | Philip Morris International Inc | 71.17 | 3.6 | 61.77 | 2011/09/23 |
| NYX | NYSE Euronext | 33.46 | 3.59 | 43.85 | 2011/09/13 |
| CAG | ConAgra Foods Inc | 25.61 | 3.59 | 45.88 | 2011/10/26 |
| IP | International Paper Co | 29.7 | 3.54 | 27.48 | 2011/08/11 |
| KLAC | KLA-Tencor Corp | 39.82 | 3.52 | 21.05 | 2011/08/11 |
| JNJ | Johnson & Johnson | 64.79 | 3.52 | 43.54 | 2011/08/26 |
| AVP | Avon Products Inc | 26.23 | 3.51 | 63.71 | 2011/08/15 |
| CPB | Campbell Soup Co | 33.05 | 3.51 | 44.08 | 2011/10/06 |
| MAT | Mattel Inc | 26.66 | 3.45 | 42.53 | 2011/08/29 |
| MOLX | Molex Inc | 23.48 | 3.41 | 137.89 | 2011/09/27 |
| PG | Procter & Gamble Co/The | 61.49 | 3.41 | 48.84 | 2011/10/19 |
| SYY | Sysco Corp | 30.59 | 3.4 | 49.64 | 2011/09/28 |
| GAS | Nicor Inc | 54.7 | 3.4 | 61.42 | 2011/09/28 |
| DPS | Dr Pepper Snapple Group Inc | 37.76 | 3.39 | 40.98 | 2011/09/15 |
| WEC | Wisconsin Energy Corp | 30.65 | 3.39 | 41.15 | 2011/08/10 |
| GPC | Genuine Parts Co | 53.16 | 3.38 | 54.45 | 2011/09/07 |
| DRI | Darden Restaurants Inc | 50.8 | 3.38 | 36.83 | 2011/10/05 |
| KFT | Kraft Foods Inc | 34.38 | 3.37 | 81.98 | 2011/09/27 |
| EIX | Edison International | 38.07 | 3.36 | 32.91 | 2011/09/28 |
| GE | General Electric Co | 17.91 | 3.35 | 42.29 | 2011/09/15 |
| CLX | Clorox Co | 71.59 | 3.35 | 48.09 | 2011/10/25 |
| NOC | Northrop Grumman Corp | 60.51 | 3.31 | 26.74 | 2011/08/25 |
| LLTC | Linear Technology Corp | 29.3 | 3.28 | 38.15 | 2011/08/17 |
| GIS | General Mills Inc | 37.35 | 3.27 | 40.56 | 2011/10/06 |
| MTB | M&T Bank Corp | 86.24 | 3.25 | 48.21 | 2011/08/30 |
| NU | Northeast Utilities | 34 | 3.24 | 46.84 | 2011/08/30 |
| PEP | PepsiCo Inc/NC | 64.04 | 3.22 | 47.92 | 2011/08/31 |
| MWV | MeadWestvaco Corp | 31.14 | 3.21 | 61.83 | 2011/11/22 |
| DD | EI du Pont de Nemours & Co | 51.42 | 3.19 | 49.75 | 2011/08/11 |
| PSA | Public Storage | 119.63 | 3.17 | 119.29 | 2011/09/13 |
| AVY | Avery Dennison Corp | 31.55 | 3.17 | 27.99 | 2011/09/02 |
| IRM | Iron Mountain Inc | 31.63 | 3.16 | N/A | 2011/09/28 |
| PLD | ProLogis Inc | 35.63 | 3.15 | N/A | 2011/10/03 |
| OKE | Oneok Inc | 72.79 | 3.08 | 57.84 | 2011/10/26 |
| K | Kellogg Co | 55.78 | 3.08 | 46.83 | 2011/08/30 |
| BLK | BlackRock Inc | 178.46 | 3.08 | 37.62 | 2011/08/31 |
| BMS | Bemis Co Inc | 31.6 | 3.04 | 50.66 | 2011/08/17 |
| HAS | Hasbro Inc | 39.56 | 3.03 | 35.19 | 2011/10/27 |