Italian authorities have just called for emergency talks, while Spain's prime minister had to cut short his vacation. The bond market of both nations remain under fierce pressure, as the markets continue to believe that the fiscal debts of Italy and Spain are unsustainable. In addition, the recent bailout measures aimed at the GIP trio have evidently led the markets to reassess the credit risk posed by both the core and the two major Mediterranean nations not yet under the bailout umbrella – where they are likely to remain, on account of being too big to bail, especially Italy.
As Reuters reports:
Financial market pressure on Italy intensified on Tuesday, sucking Europe's biggest debtor nation deeper into the euro area danger zone and prompting Italian authorities to call emergency talks.

Italian bond yields hit their highest level in the euro's 11-year lifetime, ominously reaching the same level as Spain's in a sign that Rome is overtaking Madrid as the main focus of investors' concern about debt sustainability.

Italy's stock index fell to its lowest in more than 27 months, dragged down by banks with a heavy exposure to Italian debt. European shares hit a 9-month low amid worries that slowing economic growth will make it even harder to overcome the euro zone's debt troubles.

"The fear of the market is that the world is going into recession again … and in the euro zone the peripheral markets are the ones that will suffer most," said Alessandro Giansanti, strategist at ING in Amsterdam.

Economy Minister Giulio Tremonti called a meeting of the Financial Stability Committee — made up of representatives of the government, the Bank of Italy, market regulator Consob and insurance authority ISVAP — a day before Prime Minister Silvio Berlusconi is due to break his silence and address parliament.

Spanish Prime Minister Jose Luis Rodriguez Zapatero, who has called an early general election for November 20, postponed his departure on vacation after the risk premium on his country's debt over benchmark German bonds rose to a euro lifetime high of more than 4.0 percentage points.
It has even been suggested that Italy may not contribute its share of funding for the Greek bailout, as the interest rate at which Greece will borrow under the new arrangement is lower than the one Italy now has to pay. You couldn't make this up. There is already a compensation mechanism in place for such cases, as this was apparently foreseen by the eurocrats. As Reuters notes further:
Brussels sought to counter reports that Italy may not contribute to the next round of aid for Greece because its own borrowing costs are now well above the 3.5 percent rate at which the money will be lent on to Athens.

"All eurozone member states are committed to paying into the next tranche of aid for Greece," European Commission spokeswoman Chantal Hughes told a news briefing, citing Italy and Spain.

"However, if any country is faced with a higher funding costs at that point in time, when the next tranche of aid would be funded, there is a mechanism in place to ensure that they are compensated for it," she said.

Reuters reported last week that Italy was considering "stepping out" of funding the next Greek tranche or using the compensation mechanism.
What occasioned the renewed swoon in the euro-land bond markets was a further slump in economic activity. Expect Trichet to soon forget about the ECB's vigilance. According to the SMH:
Private sector activity in the euro zone saw a new drop in momentum in July as recovery slowed in key economies and deterioration quickened in Greece and Spain, a key growth indicator showed.

The data showed output growth slowing in Germany, France, the Netherlands and Austria, with Italy moving slightly higher but "only to a level broadly consistent with stagnation," according to the Purchasing Managers Index (PMI) leading indicator, compiled by research firm Markit.

The "readings confirm a further drift towards stagnation for the euro-zone manufacturing sector, a marked turnaround from the surging growth seen at the beginning of the year," said Markit senior economist Rob Dobson.

After record highs six months ago, France registered a 24-month low and Germany a 21-month low.

The PMI, a survey of 4500 companies in service and manufacturing in the 17-nation eurozone, fell to 50.4 points, below 52 points in June.

Despite the fall, the index remains above the 50-point mark indicating growth. The eurozone posted growth of 0.8 per cent in the first quarter, picking up steam after a mere 0.3 per cent in the last three months of 2010.

Second quarter estimates are due August 16. Economists say the single currency area, scrambling to contain a debt crisis in Greece, will struggle to retain growth.
As we said when the Greece summit concluded, expect a new emergency summit to be called very soon. It may come even sooner than we thought possible at the time. The Fat Lady is clearing her throat, audibly.
[Click all to enlarge]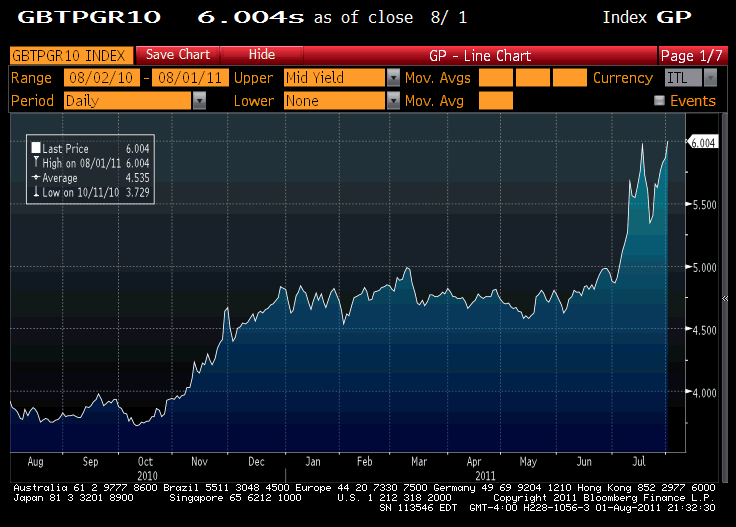 Italy's 10-year government bond yield hits a new 11 year high above 6%.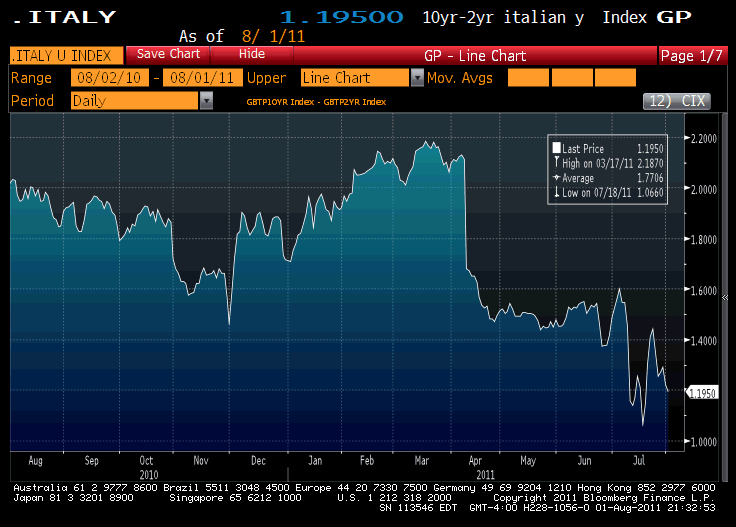 The Italian yield curve is flattening again, as two-year yields rise even faster than the 10-year ones. Once the curve inverts it will be sauve qui peut!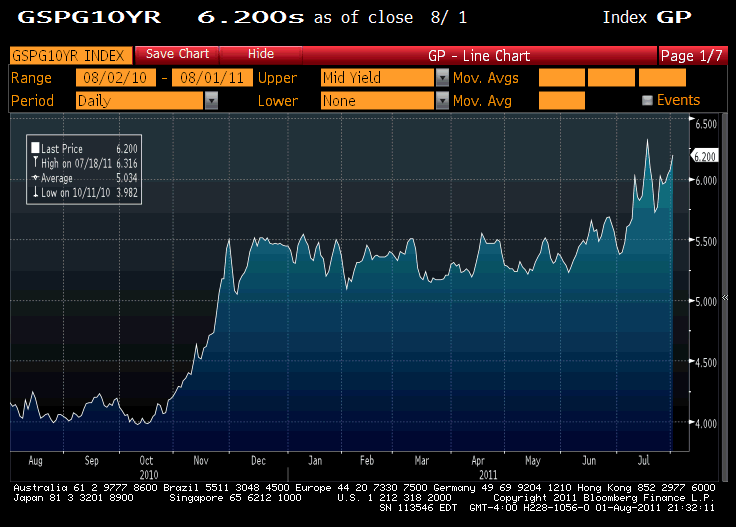 Spain's bond market remains under attack as well – while not yet at a new high, the 10-year yield nonetheless reaches a very uncomfortable 6.20%, a mere 10 basis points below the high made just before the last euro area summit.
Other Charts
Below is our usual collection of CDS, bond yield and euro basis swap charts. All prices in basis points, color coded where applicable. As can be seen, things are becoming dicey at truly startling speed once again.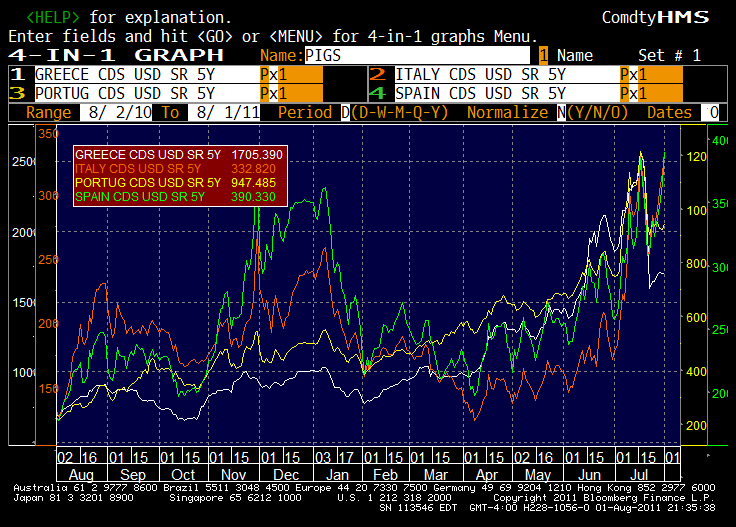 Five-year CDS on Portugal, Italy, Greece and Spain – the sharp rise in CDS prices on Italian and Spanish government debt continues apace.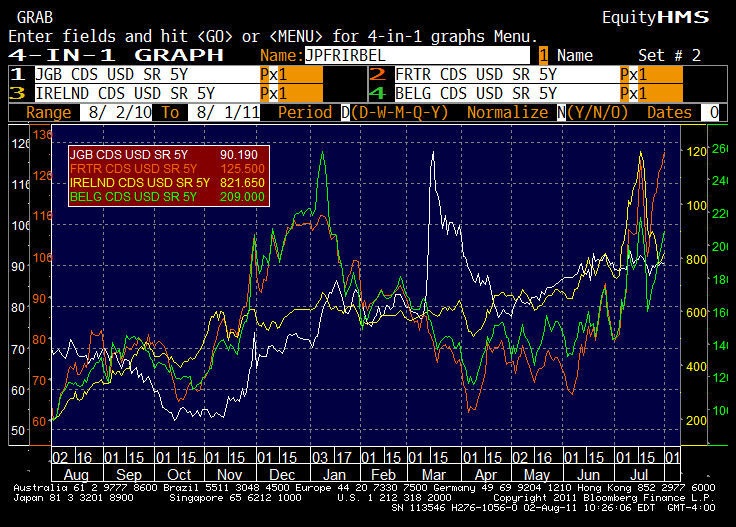 Five-year CDS on Ireland, France, Belgium and Japan – note the continued strong rise in CDS on French debt to new highs.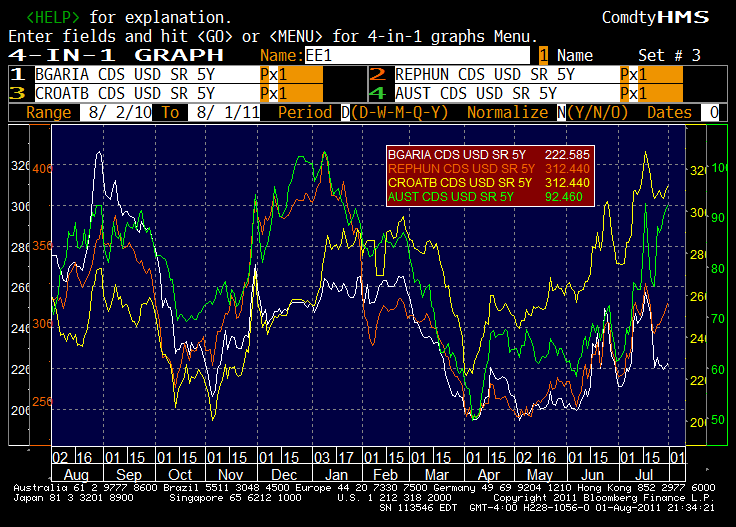 Five-year CDS on Bulgaria, Croatia, Hungary and Austria.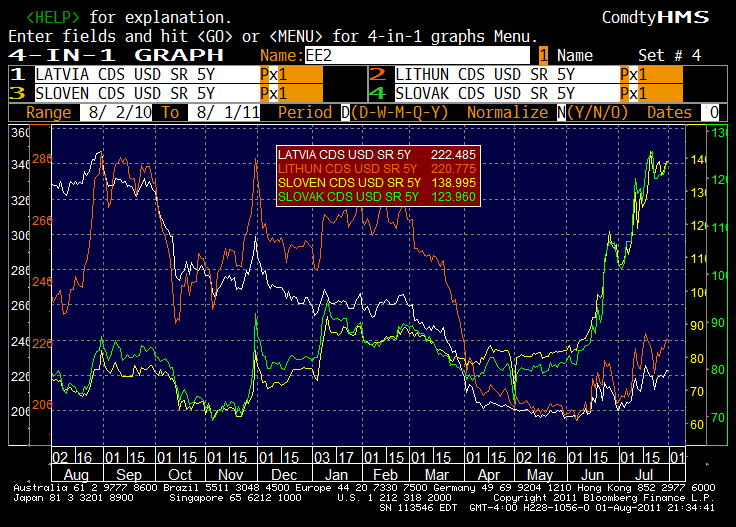 Five-year CDS on Latvia, Lithuania, Slovenia and Slovakia.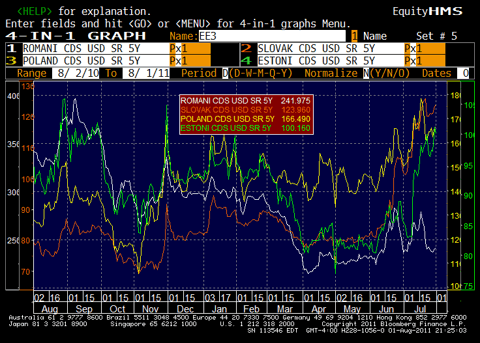 Five-year CDS on Romania, Poland, Slovakia and Estonia.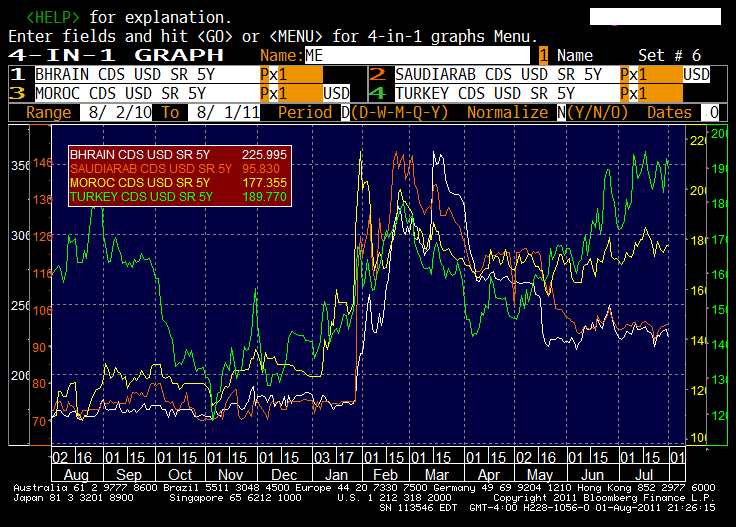 Five-year CDS on Saudi Arabia, Bahrain, Morocco and Turkey.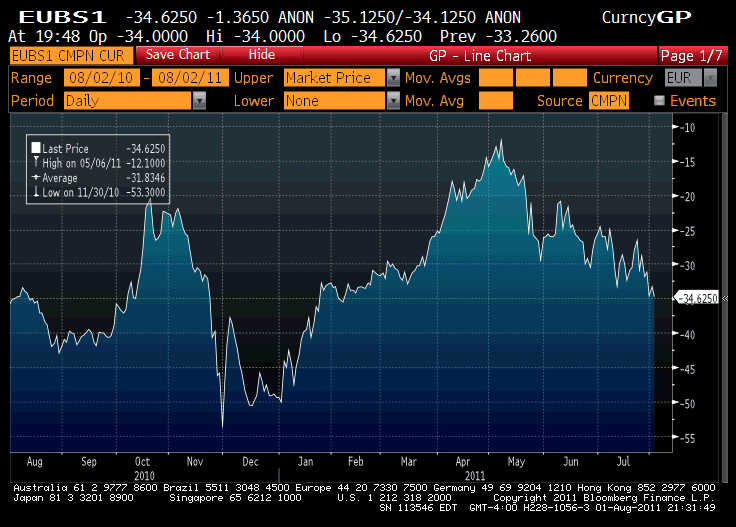 One-year euro basis swap – another new low.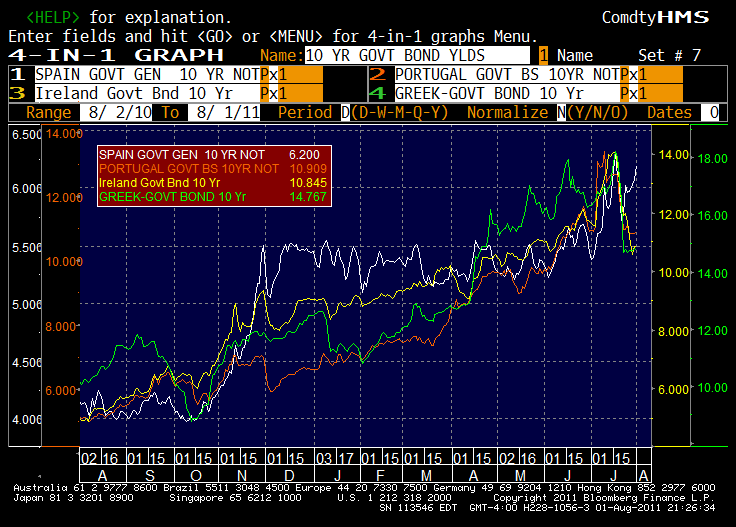 10-year government bond yields of Spain, Portugal, Ireland and Greece – Spain remains the major focus of the markets among these.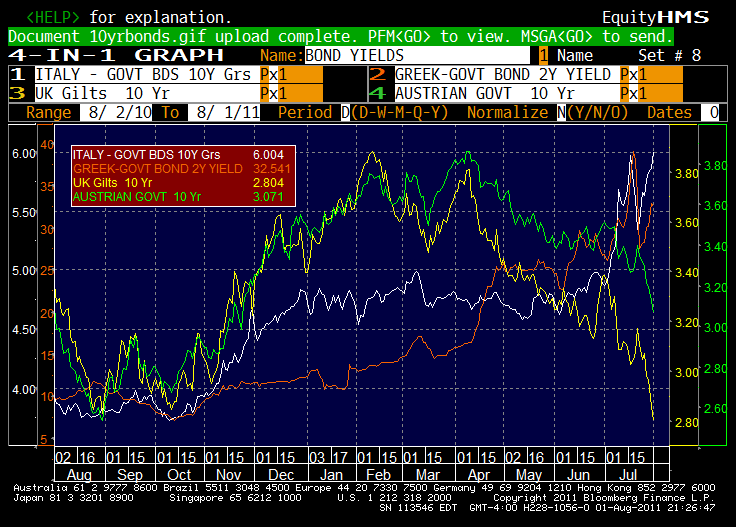 10-year government bond yields of Italy and Austria, UK gilts and the Greek two-year note. Safe haven yields continue to collapse concurrently while Italy's yields are blowing out.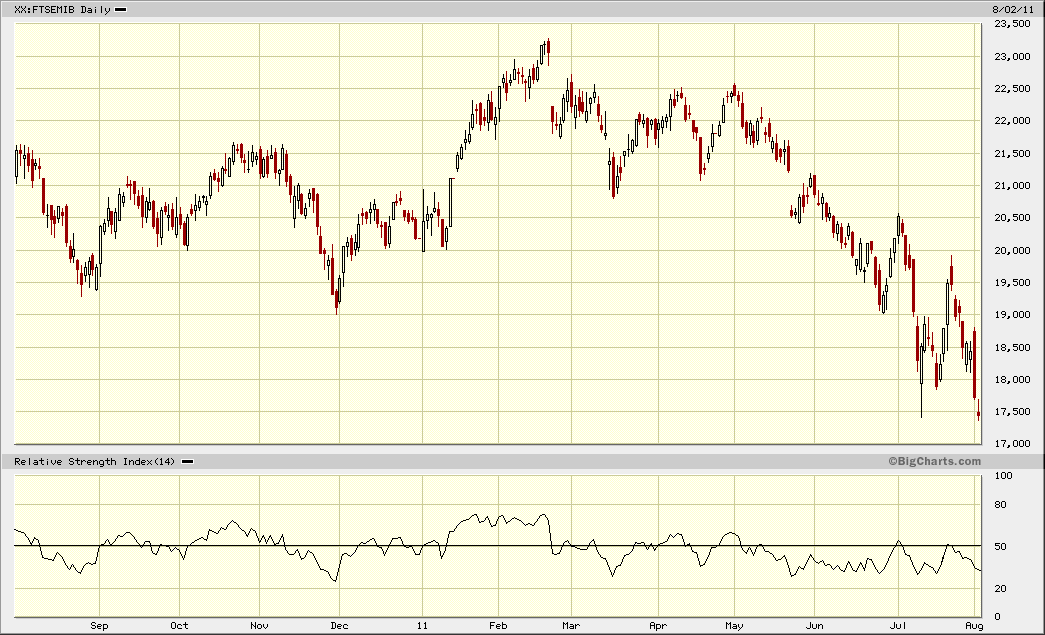 Italy's MIB Stock Index hits a new low.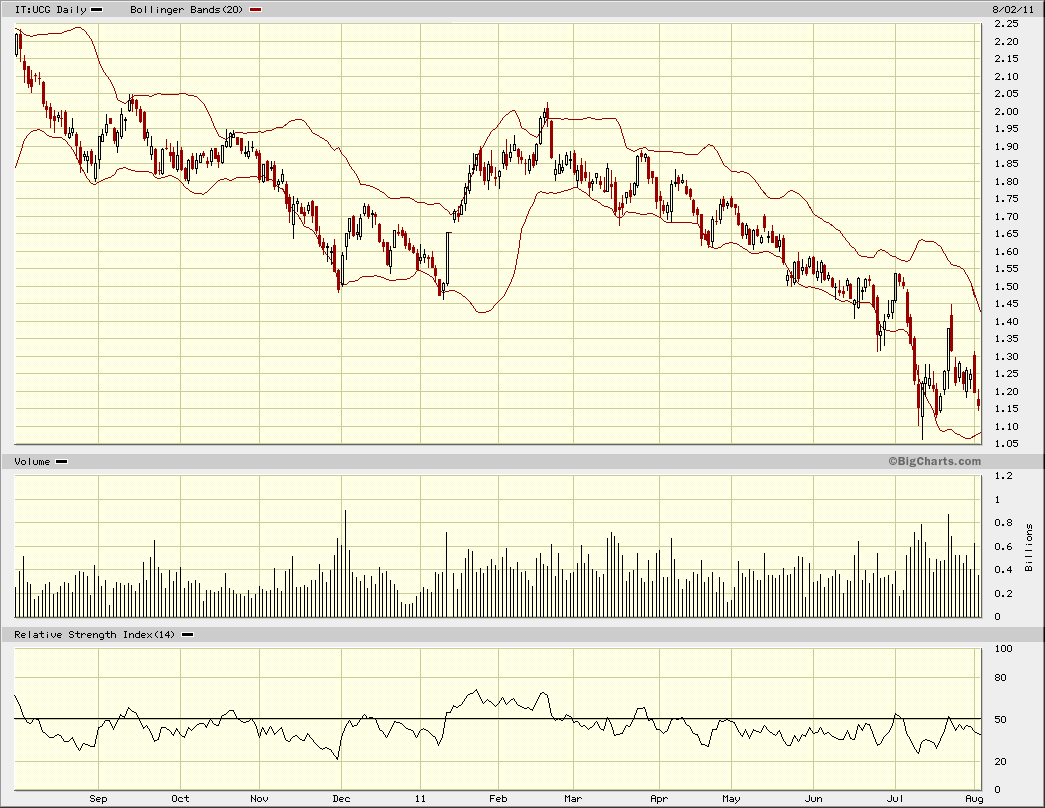 Unicredito (OTCPK:UNCFF), Italy's biggest bank – its share price remains just a tad above a new low.