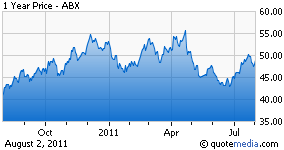 During the second quarter, Barrick Gold (ABX) completed the acquisition of Equinox, partially financing the transaction with $4 billion in new debt and cash on hand.
The Reko Diq project in Pakistan continues to move forward. Barrick owns 50% of the JV that owns 75% of the project with Chilean mining company Antofagasta Minerals. The remaining 25% of the project is owned by the province of Balochistan. A comparable mine in size and grade to Reko Diq would be Chile's Escondida mine and is expected to cost $3.3 billion to put into operation.
Heavy rain hampered the construction of Pueblo Viejo, causing a buildup of rainwater in turn damaging the tailing facility. Due to this event capex has been increased to $3.6-3.8 billion and the start of production has been pushed back until the second quarter of 2012. In addition to the repair work, an additional $300 million has been allocated to build a heavy fuel oil/natural gas power plant to help mitigate rising energy costs.
Capex estimates for Pascua Lama and Cerro Casale came in at $4.7-5 billion and $6 billion ($900 million contingency at Cerro Casale), respectively. Both projects continue to advance and are expected to make it into production, helping to lower overall total cash costs.
The Pascua Lama and Pueblo Viejo projects hold great significance for Barrick as they are expected to generate around 1.4 million ounces of gold production over the first five years at low cash costs.
Gold production totaled 1.98 million ounces with a realized selling price of $1,513 per ounce at a cash cost of $445 per ounce, $338 net of by-products.
Guidance for 2011 of 7.6-8 million ounces of gold production remains on track with net cash costs lowered to $290-320 per ounce from $340-380 at the beginning of the year.
Derivatives and hedging have had a positive effect on Barrick this year. Production from Barrick Energy has hedged oil prices to the point that a $10 change in WTI raises total cash costs by just $1.
Questions surrounding the purchase of Equinox have been answered and Barrick is proceeding with the integration. While the stock price has sold off on an apparent shift away from being a gold producer there is a strong long-term story in place.
Technically, we may see a bit more downside over the coming weeks but any selloff should be looked at as a buying opportunity for long-term investors.
Disclosure: I have no positions in any stocks mentioned, and no plans to initiate any positions within the next 72 hours.