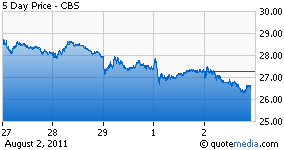 CBS is expected to report Q2 earnings on Tuesday, August 2 after the market close with a conference call scheduled for 4:30pm ET.
Guidance
Analysts are looking for EPS of 46c on revenue of $3.56B. The consensus range is 39c-50c for EPS, and $3.46B-$3.61B for revenue, according to First Call. On the Q1 earnings conference call, a CBS executive said he expects strong performance continuing through 2013. "We have begun 2011 with strong momentum and there are many, many reasons why we're confident our momentum will continue throughout the year and into 2012 and 2013 as well." Positive catalysts this quarter may come from digital media, retransmission consent payments, and international TV syndication as well as margin expansion from restructuring efficiencies. Negative risks for this quarter may be seen coming from a slowdown in advertising spending due to the slowdown in the recovery.
Analyst Views
On July 11, Needham raised its CBS target to $35 from $28 to reflect higher earnings estimates. The firm has a Buy rating on the stock. On June 30, Deutsche Bank said it believes expectations remain too low for CBS's growth in retrans and thinks the company's buyback reduces M&A risk. The firm upped its target for shares to $35 from $32 and keeps a Buy rating on the name.