This article is part four of a seven part series that is looking at the incredible opportunity that a cyclical company can represent as earnings recover coming out of a recession. A primary objective of this series of articles is to illustrate that price drops of well-established companies are usually temporary even after earnings are cyclically weak. Part one, 6 High Profile Industrials With Staggering 3-Year Performance, provided a cursory view of six industrial companies. In part two, we provided a more comprehensive look at Cummings Inc.: Cummins' Staggering 3-Year Annualized Performance. In part three we took a closer look at Crane Co. (CR):Crane's Powerful Post Recession Performance? Part 3 of 7
In part four we look at Caterpillar (NYSE:CAT).

Introducing Caterpillar Inc.

Caterpillar Inc. is known and recognized worldwide for its construction equipment, farm machinery and heavy duty trucks. Like most industrial companies, their business can be very cyclical at times. However, the company is capable of generating strong profits when times are good. The following description is taken directly from the website:
"For more than 85 years, Caterpillar Inc. has been making sustainable progress possible and driving positive change on every continent. With 2010 sales and revenues of $42.588 billion, Caterpillar is the world's leading manufacturer of construction and mining equipment, diesel and natural gas engines, industrial gas turbines and diesel-electric locomotives. The company also is a leading services provider through Caterpillar Financial Services, Caterpillar Remanufacturing Services, Caterpillar Logistics Services and Progress Rail Services."
The Caterpillar Inc. Businesses
Over 95% of Caterpillar's total revenue is generated from machinery and power systems. Their primary segments are construction industries, resource industries, power systems and miscellaneous remanufacturing and services. The following three slide excerpts from the ConExpo analyst meeting held on March 23, 2011, in Las Vegas, Nevada, provides an excellent overview of their primary businesses:
(Click charts to enlarge)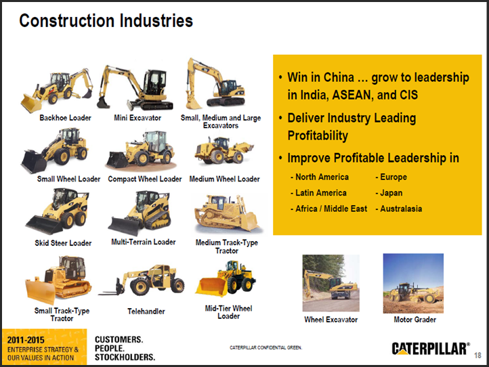 Click to enlarge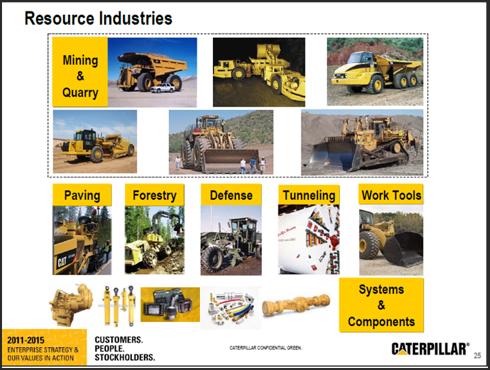 Click to enlarge
Approximately 5% of Caterpillar Inc.'s total revenue comes from the financial products segment. The segment is an important part of the overall business as it provides financing services that facilitates the purchase or leasing of Caterpillar equipment. The following slide excerpt from the ConExpo analyst meeting held on March 23, 2011, in Las Vegas, Nevada, provides an excellent overview of Caterpillar's financial products segment: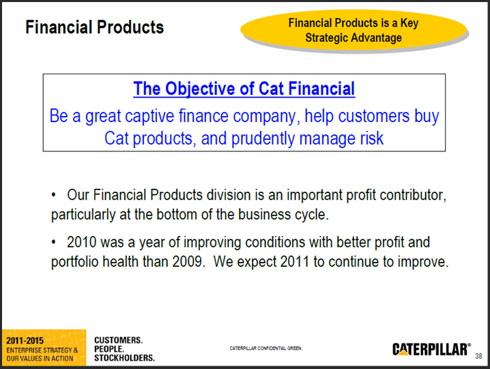 Click to enlarge
Caterpillar Inc. Strong But Cyclical Earnings Growth
The following earnings only F.A.S.T. Graphs™ illustrates that Caterpillar Inc.'s earnings growth at just under 10% per annum has been above average, but very cyclical at times. What is especially noteworthy is how earnings first flattened and then fell precipitously during the great recession, calendar years 2008 and 2009.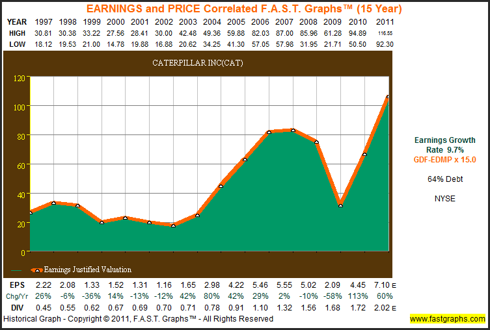 Click to enlarge
When we create an earnings and price correlated graph and add dividends, the earnings and price correlation and relationship is vividly revealed. In the long run, price clearly followed earnings. During the great recession, Caterpillar's stock price collapsed in anticipation of the impending drop in earnings. In like fashion, Caterpillar's stock price staged a strong rally in anticipation of strong earnings recovery. Since the great recession, both earnings and stock price for Caterpillar Inc. have risen to all-time highs.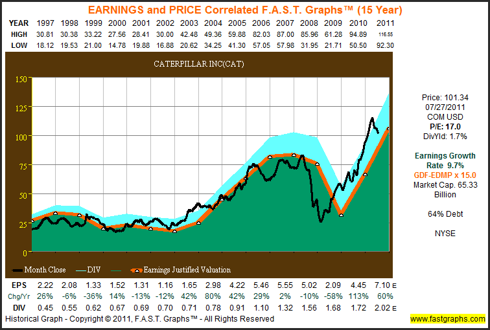 Click to enlarge
The performance results associated with the above graph are closely correlated to Caterpillar's operating results adjusted for the low valuation at the beginning of 1997 and the slightly high valuation currently. However, even though Caterpillar's earnings have been cyclical, they did manage to raise their dividend every year including the recession years. Therefore, long-term shareholders were compensated with an attractive dividend yield even though stock price volatility was high.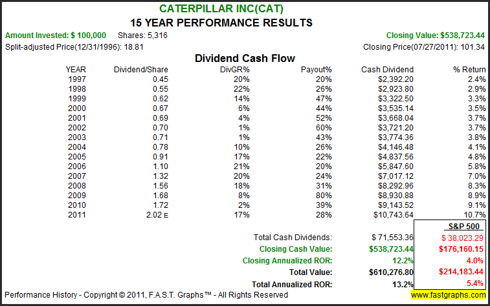 Click to enlarge
Strong Earnings Growth Post Recession
The following excerpt from their most recent earnings release shows that Caterpillar Inc. is continuing to prosper as world economies are improving: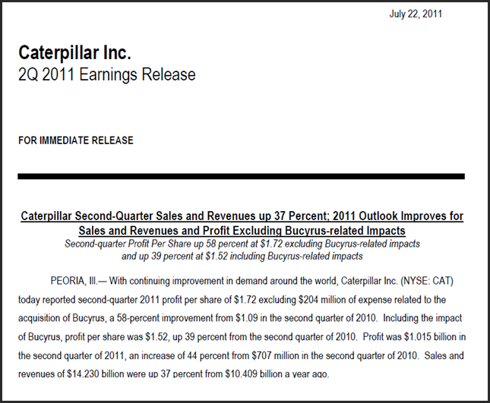 Click to enlarge
Exceptional Earnings Recovery and Shareholder Returns
Since calendar year-end 2008, Caterpillar Inc.'s share price recovered along with earnings. As previously stated, all-time high earnings and stock price has been achieved since the recession has abated.


Click to enlarge
The exceptional recovery and Caterpillar Inc.'s earnings has generated capital appreciation in excess of 37% per annum since year-end 2008. Add in above-average dividend generation totaling over $7600, and the total annualized rate of return balloons to over 39% per annum since calendar year 2008. Clearly, the great recession created a significant opportunity to earn substantially above-average returns with Caterpillar Inc.


Click to enlarge
Caterpillar Inc.: The Next Five Years
The consensus of leading analysts reporting to FirstCall estimates that Caterpillar Inc. will grow earnings in excess of 17% a year over the next five years. Assuming these estimates are correct, Caterpillar Inc. appears very attractively valued today at 17 times earnings with a dividend yield of 1.7%.
Reviewing the historical operating results and stock price performance of Caterpillar Inc. is an enlightening exercise regarding investing in cyclical stocks. The economic sensitivity of this type of company is quite pronounced. Consequently, cyclical stocks will often try the patience of even the most committed buy-and-hold investor. On the other hand, there are times when the buy-and-hold approach of owning companies like Caterpillar Inc. can be very rewarding.
Anyone who had the courage to invest in Caterpillar at the end of 2008 or at the beginning of 2009 would have reaped lavish rewards. On the other hand, investing in Caterpillar Inc. in 1997 would have proven to be a poor investment all the way through 2002. But then again, investing in Caterpillar just after the recession of 2001 would have been a great investment for the five-year period 2002 to 2007. And of course, owning Caterpillar from 2007 to 2009 would have been a disaster. That is of course unless you had the courage, or insight to hold it, or the courage and capital to add to your position in late 2008 or early 2009.
But most importantly of all, the performance results above provide clear evidence that the individual companies' operating performance is far more important than what the general markets are doing. The performance results above show that stock market returns had little or nothing to do with the returns that Caterpillar generated in either the 15-year period (14+ years) 1997 to current, or the three-year period (2+ years) 2008 to current. It clearly pays to know the businesses you own far more than it does worrying about the stock market in general.

Disclosure: No positions at the time of writing.
Disclaimer: The opinions in this document are for informational and educational purposes only and should not be construed as a recommendation to buy or sell the stocks mentioned or to solicit transactions or clients. Past performance of the companies discussed may not continue and the companies may not achieve the earnings growth as predicted. The information in this document is believed to be accurate, but under no circumstances should a person act upon the information contained within. We do not recommend that anyone act upon any investment information without first consulting an investment advisor as to the suitability of such investments for his specific situation.