Are silver and energy parting paths with gold?
For more than a year, gold, silver, and energy have been trading in tandem (all ascending to the moon), propelled by record low short-term rates, two rounds of quantitative easing, a falling dollar, and the economic recovery—all feeding and re-enforcing inflationary expectations: SPDR Gold Shares (NYSEARCA:GLD) has gained 20 percent in the last year and 16.9 percent in the last three years; iShares Silver Trust (NYSEARCA:SLV) has gained 85.33 percent in one year and 25.3 percent over 3 years; Oil Service Holders Trust (OIH) has gained 62.3 percent over the last year, but lost 10.82 percent in the last three years.
click to enlarge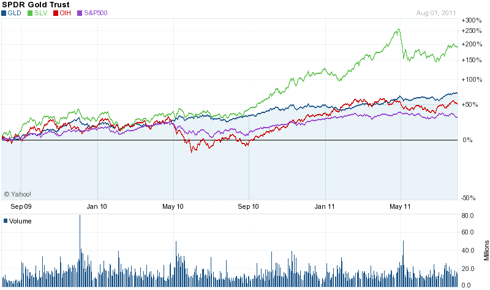 Click to enlarge

In the last three months—and the last five trading days in particular—gold continued its ascend to the moon, while silver and energy are staying closer to the earth. What is causing this divergence?
The slowing of the world economy in the face of soaring sovereign debt concerns in the U.S. and Europe. A slowing economy is taking the tailwinds off energy, as a slower economy means a weaker demand for energy. While the same may be eventually true for gold and silver, in particular, in the long-run, persistent sovereign debt issues and foreign currency market disarray make precious metals and gold, in particular, the currency of choice—the default place to park funds fleeing government debt and stocks.
What does this mean for investors? Is this a buying or selling opportunity for any or all of these assets?
It depends on investors' expectations regarding the future of the world economy and the prospects for an improvement or a deterioration of national debt issues; the two factors support and re-enforce the one another.
In view of recent reports on major world economies, especially the negative news on the U.S. economy—anemic job and GDP growth, lackluster consumer confidence, and even an outright decline in consumer spending, the world economy is expected to get worse before it gets better. This means that investors should stay away from energy or even trim their positions; aggressive investors may even want to go short. At the same time, investors may want to wait for better visibility on sovereign debt before they make any major move on gold and silver.