From General Growth Properties' press release (pdf)
General Growth Properties, Inc. (NYSE: GGP) ("GGP" or the "Company") today announced the Company's Board of Directors approved a plan to spin-off a 30-mall portfolio, totaling 21.1 million square feet, to holders of GGP common stock in the form of a taxable special dividend. The dividend is expected to be comprised of common stock in Rouse Properties, Inc. ("Rouse"), a recently formed company to which GGP plans to transfer the portfolio. This distribution is expected to be made on a pro rata basis to holders of GGP common stock as of the dividend record date. Rouse is expected to qualify as a Real Estate Investment Trust ("REIT") and be listed on the New York Stock Exchange.

Rouse is currently 87.7% leased and offers significant opportunities to enhance value through the execution of rigorous asset management strategies, including redevelopment. Given the distinct profile of this portfolio relative to GGP's core mall portfolio, the Company believes a spin-off of these malls will enhance shareholder value by enabling each entity to more effectively pursue a business strategy that is appropriate for its specific needs. While other divestiture options were carefully considered, a spin-off represents an efficient execution that enables shareholders to participate in the potential upside from the repositioning of the Rouse portfolio. Currently, Rouse represents approximately 7% of GGP's net operating income.

Chief Executive Officer, Sandeep Mathrani commented, "This is a win-win transaction that enables GGP shareholders to participate in Rouse's significant growth potential as a standalone entity and efficiently streamlines GGP into a highly focused, premier mall owner."
So now the question is, since the deal clearly makes General Growth more valuable and it sheds some excess weight, so to speak, we need to know what is Rouse worth? Does it make sense to hold it? Or is the prudent thing to do dump it and focus on General Growth/Howard Hughes Corp. (NYSE:HHC)?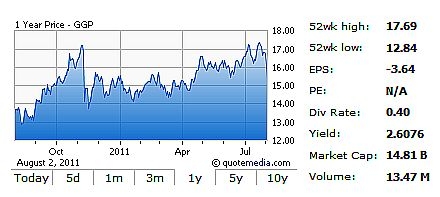 As of today, it is too early to tell. It will not happen until the end of the year. If we assume an 8% cap rate we get an equity value of ~$900M for Rouse (more than fair for "B" malls in today's environment). General Growth will file the registration with the SEC this month, that will give us more of the details we need. It is a good "B" mall portfolio… we just have to see more details. General Growth has ~1B shares out there (assuming warrants are exercised) so that gives us an equity value of ~$.90 a share (assuming 1 for 1 spin) for a 5.3% yield at today's stock price. A 1 for 10 would give it a $9 value, a more likely scenario. Not bad. We still want to look under the hood when the SEC docs are filed.
We should also note that General Growth is making this a taxable distribution, not like the tax free Howard Hughes Corp. spin, so it will satisfy General Growth's REIT taxable income distribution requirement for 2011. As such, do not expect much more (or any) in the form of a cash dividend from General Growth this year.
Rouse Information (click to open .pdf)