Earlier this year
I looked for value in networking stocks
and found that most were overpriced. One such stock was Juniper (NYSE:
JNPR
), a stock that was trading at $35 despite what seemed like weak fundamentals. Now the coin has flipped and the stock is trading below $23, despite strong growth potential and revenue growth. The reason for the reversal
was a bad quarter
and weak guidance for the coming months. Competitor results are mixed. Arrow Electronics (NYSE:
ARW
)
posted similar results
, and dipped despite record revenues and earnings per share. Ingram Micro (NYSE:
IM
), on the other hand, had a very strong quarter, giving investors the idea that maybe Juniper's results are more due to competition than market factors.

Competition
Juniper is facing an assault from all angles in terms of competition. In enterprise switching, the company goes head to head with the giant of networking, Cisco (NASDAQ:
CSCO
), who still commands a formidable name despite any problems going on internally. Cisco is also pursuing more aggressive pricing, abandoning the traditional price performance strategy that served the company well for so many years. With Cisco bringing itself down in price, cheaper producers like Dell (NASDAQ:
DELL
) and HP (NYSE:
HPQ
) continue to produce lower end solutions that are providing pricing pressure from the other direction. In other words, Juniper is caught between Cisco and Dell/HP, and needs to figure out fast where it wants to find its home in terms of pricing for enterprise switching.
In security hardware, rival Check Point Software (NASDAQ:
CHKP
) is reporting record quarters, which should worry Juniper investors eager for a piece of the pie. If the company is growing at a breakneck pace, why is Juniper suffering? Additionally, Fortinet (NASDAQ:
FTNT
) has been showing strong growth, although off from its 52wk high of 28.56, it is still over double its IPO levels from late 2009. With very high profile cyber attacks hitting Sony, South Korea, the Pentagon and more, spending on security hardware is sure to be included in budget discussions for the coming year. That speaks well for both of the aforementioned companies, but if Juniper can't get on the train it will be left behind.
The fact remains that Juniper has built itself into a player in a very difficult market. Cisco was as entrenched as any technological incumbent in enterprise switching, and Juniper has eaten away. The company has made tremendous investments over the last five years in pursuit of the enterprise market, but competition remains fierce. Additionally, Juniper has gained market share in carrier routers over the past year. This remains an advantage for JNPR, given that these pieces of hardware are less price sensitive.
These routers represent 35% of the value of Juniper's stock price, according to Trefis (see graphic below), with switches at a smaller 21% portion.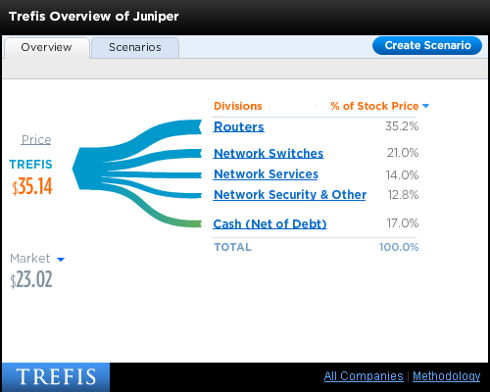 Model from
Trefis
If there strategy is sound, the company can take advantage of this while playing to a stalemate with a rebuilding Cisco in terms of switching. The following chart shows current gross profit margins for Juniper and Cisco in terms of switching.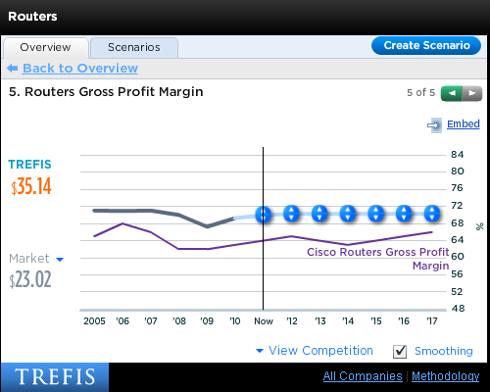 I believe that Juniper's advantage will eventually erode and revert to Cisco's mean. Cisco could also see a boost in the coming years due to its restructuring.
Valuation
My valuation for Juniper has remained fairly constant. I do not believe that a bad quarter, let alone a bad forecast for a quarter, changes anything fundamental about the company. That being said, I thought Juniper was overpriced when I looked over its numbers at the beginning of 2011 and the company's prospects have dimmed according to many. Given the context of the networking arena and the fierce competition Juniper faces from different companies, it is hard to disagree. However, in the last few months it has also gained ground in market share. These gains should serve the company well as it continues to build its brand.

I believe Juniper is trading right around its price floor of $21, with an upside towards $31. This represents an increase in floor and decrease in ceiling from my valuation a few months ago. I attribute this to the gains in previous quarters and somewhat less rosy outlook for Juniper over the next year. I think this could be an opportunity to get in at value on a potential networking stalwart. The downside is continued deviance from estimates and a material change in the way businesses purchase their solutions. However, all it would take for the company to shoot back up to $35 would be a substantial beat next quarter. Ah, the intricacies of short term obsessed markets and investors.


Disclaimer: The author holds no positions in stocks mentioned and does not plan to initiate positions within 120 hours of the posting of this article. This article is to be used for educational, research and informational purposes only and does not constitute investment advice. There are no guarantees, expressed or implied, of future positive returns in regards to the subject matter contained herein. Understand the risks inherent in investing before making the decision to invest or consult an investment professional for more information. Reasonable due diligence has been performed in regards to the information in this article. However, the author expressly disclaims any liability for accidental omissions of information or errors in fact.
Disclosure: I have no positions in any stocks mentioned, and no plans to initiate any positions within the next 72 hours.