The Dunkin Donuts (NASDAQ:DNKN) IPO can be viewed by shareholders and the company as a success. According to Bloomberg, Dunkin Brand offered 22.3 million shares for approximately $19. The shares rose $8.85, 47 percent, to $27.85 on the NASDAQ. The company traded at 28.92 as of 7/28/2011. The social mainstay of coffee integrated into the more pristine aspects of society create long term viability and revenue stability that attract investors.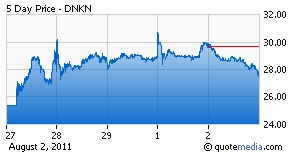 Dunkin Donuts planned on using proceeds to pay off accumulated debts, which in turn should strengthen its balance sheet. According to Bloomberg, the company has about 1.8 billion in long-term debt. With a focus of proceeds being debt elimination, any future earnings will give positioning to equity over potential liabilities which of course long term will make the company a sounder company to invest in. The company has not mentioned a stock dividend, but if it builds its equity capital via retained earnings, in 3-5 years they will have collateral for any short-term financing needed, a steady amount of cash, and the long-term debt minimized.
If capital appreciation is an investment objective, then Dunkin Donuts looks great, and its share value is relatively low at $25. The company turned a profit of 26.9 million in 2010. With brand recognition from the media spotlight on its IPO, enticing investors to market the product even more, revenue may pick up at local franchises as more consumers in higher net-worth are aware of the Dunkin Donuts brand. That trend more than likely will continue because of the stability of coffee and as Mr. Bart Glenn, an analyst with D. A. Davidson & Company stated in this article,
Dunkin' has broad customer appeal, and they've done a good job of delivering high quality coffee.

In addition, Dunkin Brands has property brand, specific capital growth potential, stemming from an emphasis in expanding into markets that would be suitable for its franchise. This would enable them to maximize revenue out of potential new franchises without over-expanding into markets that may not generate a steady revenue stream. Dunkin' Brands, unlike Starbucks (NASDAQ:SBUX), which is performing a massive closing of locations, will have a relative high return on pre-existing stores and are in better position to examine where specifically their franchise could place a new location that could maximize revenue and better suit profitability goals.
The sector as a whole is buzzing. Green Mountain Coffee Roasters (NASDAQ:GMCR) is on a high buzz watchlist on Yahoo Finance. Dunkin Donuts not only offers packaged coffee in many convenience stores, it sells coffee fresh at its own locations. The natural diversity of companies that specialize in coffee creates an offsetting competitive balance within the specialized eateries sector that delivers coffee.
Starbucks is seen as more of a casual dining, student-oriented, professional lunch congregation for coffee. Tim Horton's (THI) offers bagels, muffins, and suburban healthy alternatives with coffee. Dunkin' Donuts offers pastries and light snacks along with the coffee. The sector as a whole can attract a myriad of consumers without a monopolization into one specific segment or store brand. There is clearly an appreciative feeling of Dunkin Brand and its long term outlook is positive.
Disclosure: I have no positions in any stocks mentioned, and no plans to initiate any positions within the next 72 hours.