Yamana Gold (AUY) is a mid-tier Canadian-based gold producer with production and exploration properties in Brazil, Chile, Argentina, Mexico, and Colombia. Yamana Gold has one of the industry's lowest production cost per ounce and offers significant exposure and leverage to gold.
Despite flat stock performance over the last couple of years the company has almost doubled its revenue in only three years. Yamana Gold is currently trading at the same level it did three years ago, and with Gold and Silver headed higher the company might finally be ready to break out of its trading range.
Yamana Gold has four mines under development and the company expects to boost production by over 60%, to an annual rate of approximately 1.7 million gold equivalent ounces by 2014. Through organic growth, Yamana Gold will to continue to build on its base through expansion of existing mining operations, increase of throughput, and development of new mines through exploration.
Financials
By having one of the industry's lowest production cash costs per ounce, the company has built a strong balance sheet with little debt and a healthy profit margin.
(Click charts to expand)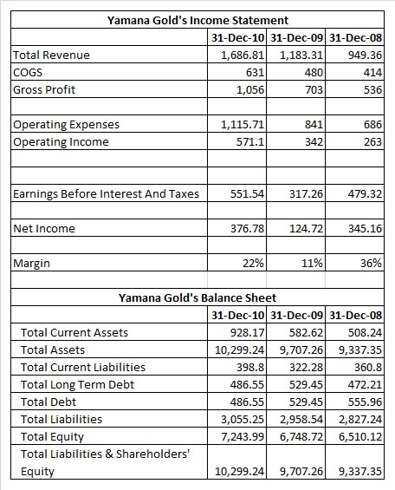 Click to enlarge
Mines and Properties
Yamana Gold has positioned itself as a premier gold miner. The Company has 13 properties in the Americas with over 22 million ounces of proven and probable reserves of gold and 167 million ounces of proven and probable reserves of silver.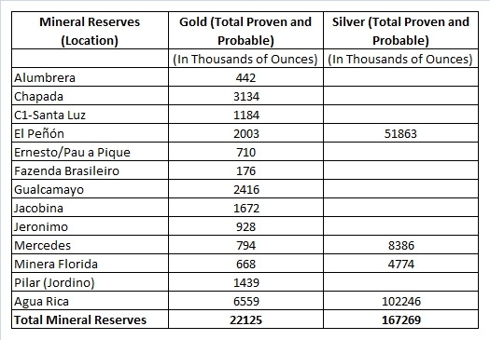 Click to enlarge
The chart compares Yamana Gold's market cap to its proven and probable reserves at different gold and silver price points. The value of its total reserves far exceeds its market cap and any increase in gold and silver prices will further increase the value of its reserves.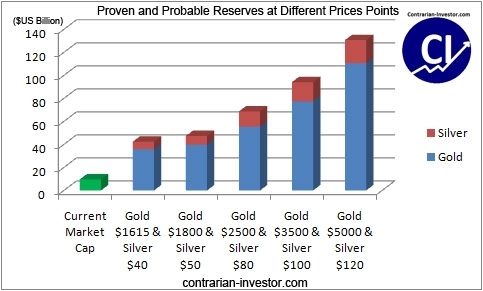 Production
The company produced 1.05 million gold equivalent ounces in 2010, and Yamana Gold is set out to grow production to 1.7 million gold equivalent ounces by 2014, through expansion of current projects. The chart compares Yamana Gold's 2010 revenue with its 2014 production projections at different gold and silver price points.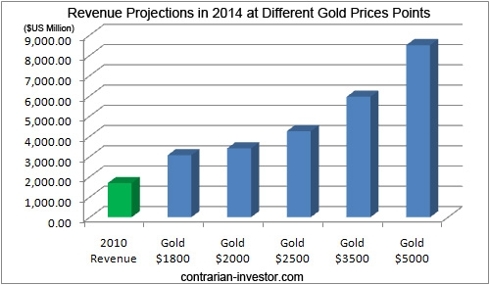 Click to enlarge
Valuation
Gold mining stocks have different characteristics from general equities and traditional measures such as P/E ratios don't do well in assessing the true value of a company. Other factors such as company cost, production rates, and development trends are more important. The following valuation model of miners was developed by Bud Conrad at Casey Research and it looks at 8 different factors including:
Proven and Probable Reserves – Total amount the mine is expected to produce.
Cash Cost Per Ounce – The cost per ounce the company expects to pay for labor, equipment, etc. to take the reserves out of the ground and to the market place.
Mine Asset Value – The difference of the price of gold today and the production cost per ounce multiplied by total reserves.
Debt – Total debt of the mine. Mines are very expensive and most borrow to start production.
Hedge Liability – An obligation the mine has to deliver gold at a future price that is below the market price.
Mine Asset Value – The mine asset value minus debt and minus hedge liability.
Market Cap – The total amount of shares outstanding multiplied by its share price.
Valuation Ratio – The market cap divided by net asset value.
The table compares Yamana Gold's valuation ratio with several other respectable gold miners. Due to its low production cost, mineral rich properties, and low stock price, Yamana Gold currently offers more value than most other miners based on this model.

Click to enlarge
Conclusion
Yamana Gold offers a lot of value and upside potential for investors, which should eventually be reflected in the share price as the company continues to expand production. With gold and silver prices continuing to climb it is my belief that the market will ultimately realize Yamana Gold's value and proceed by bidding up its stock price.