As I was writing this article, it was raining here in my hometown of Orlando, FL., also home to one of several facilities owned and operated by TriQuint Semiconductor (TQNT) based in Hillsboro, Oregon. It then cooled off dramatically, and seemed as though the rain would just keep falling and falling. That water creates new life, new growth. And the cycle continues.
A quick overview of TQNT as of 10:30 am EST on 8/3/2011:
High Today - 7.82
Low Today - 7.54
Volume - 300.5K
10-Day Avg Volume - 8.9M
52-Week High (02/17/11) - 15.20
52-Week Low (08/24/10) - 6.67
1 Yr % Change (TTM) - 3.86
Market Cap - 1.2B
Shares Outstanding - 164.2M
Price/Earnings - 6.8x
Revenue (TTM) - 943.5
Earnings per Share - 1.11
Dividend + Yield - (0.00%)
Beta - 2.03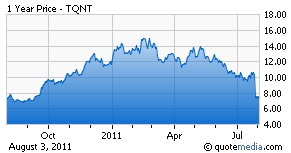 TQNT has just fallen from the sky. After reporting Q2 earnings Wednesday of last week, the stock took an initial 14% nose dive from $10.19 and eventually ended up at $7.46, 24 hours after reporting and down over 2% today, hit $7.30. Q2 earnings reported EPS of $0.17, which was inline, but the stock still sold off due to investor frustration over weak revenue for Q2 of $228.8 million, up 10% from the second quarter of 2010 and up 2% sequentially, short of analyst forecasts by $8 million. Year-on-year, Mobile Device revenue grew 19%. Networks and Defense and Aerospace declined 3% and 11%, respectively. Q2 revenues split to end markets as Mobile Devices, 70%; Networks, 20%; and Defense and Aerospace, 10%. Legal expenses related to antitrust and IP claims against Avago were $7.5 million, with a 20% jump in overall operating expenses.
Another kick in the side for investors was the lowered guidance for Q3. Ralph Quinsey told investors that bookings are just 88% to the midpoint of revenue guidance. Chief Financial Officer Steve Buhaly said Q3 looked to turn in between $225 million and $235 million with non-GAAP gross margins between 40% and 42%. Non-GAAP operating expenses are expected to be between $64 million and $65 million, including about $5 million of expected litigation expense (ugh, Avago..). Third quarter net income per share is expected to be between $0.16 and $0.18 on a non-GAAP basis.
TQNT execs later admitted they were not ready for the demand coming from preferred mobile device customers, losing business from companies like Apple (NASDAQ:AAPL) and RIMM. They also overestimated the performance of certain products, particularly Android-based tablets and WLAN demand for Symbian phones. Bad calls.
According to Ralph Quinsey, President and Chief Executive Officer of TriQuint (2011),
Currently, we are not as diversified in Mobile Devices as I would prefer, but we have not been idle. We have created a new capacity footprint and a product road map that has broad customer interest. TriQuint's long-term growth story remains intact despite our short-term headwinds (macro weakness including the Japan disasters). We are leading the industry of mobile devices with the inherent advantages of co-designing the filter MPA for efficient PA-Duplexer integration.
***Here is where the story gets interesting.
There was a strange moment during the Q&A portion of the call after Ralph Quinsey answered a question from Quinn Bolton of Needham and Company, that yes, TQNT will be targeting smartphone leaders in Taiwan, also Huawei and ZTE in China. Ralph Quinsey then ended his answer with, "Who else would you like me to comment on?"
Bolton replied, "Well, the -- obviously, Apple (AAPL) and/or RIM (RIMM) in North America could be 2 others which -- if you can comment."
Quinsey almost teasingly answered, "Well, I'm not going to comment on Apple, and I don't have any specific knowledge on RIM."
I, fortunately, am able to share a bit more information.
I know that TQNT has not only made a decision to invest in extra capacity, but is also in the process of working on parts for the next edition of the iPhone and iPad. I drive by the Orlando TQNT facility every day and am pleasantly surprised to see that expansion has been moving very swiftly and TQNT employees are very happy about internal news concerning increasing customer interest. **Also note TQNT facility activity in TX, and Oregon mentioned in the conference call**
With a 52 week low of $6.67, it may be wise to wait until the dust from Q3 earnings in October settles. We all know tech gets HOT when it's COLD out, anyways. But if you are looking for a play on Apple's new products and the mobile device growth story in general, TQNT may be worth a look after their Q2 disappointment has shares lower than they've been since September 2010.
Regardless of exactly when you buy, keep your eyes peeled.
Disclosure: I have no positions in any stocks mentioned, but may initiate a long position in TQNT over the next 72 hours.
Additional disclosure: All quotes and information provided from the Q2 conference call transcript can be found here and on CNBC.com.