The S&P 500 (SPX) dropped 2.6%, and the broader Russell 3000 (RUA) dropped 2.7% on Tuesday (August 2). Of the 4,600 stocks that were tracked, the top 25 gainers that closed above $1 at market-close on July 28, were analyzed to determine if they would continue going up, or if they would reverse their moves going forward. The following are the best buy and sell ideas based on that analysis:
Sell Sun Healthcare Group Inc. (NASDAQ:SUNH) and Skilled Healthcare Group (NYSE:SKH)
: SUNH operates skilled nursing, assisted living and mental health facilities. It operates nursing centers that provide nursing, rehabilitative and related specialty healthcare services, principally to seniors in the U.S. Furthermore, it is also engaged in providing medical staffing services through its CareerStaff Unlimited subsidiary and hospice services through its SolAmor subsidiary. SKH operates skilled nursing facilities and assisted living facilities, as well as a rehabilitation therapy and a hospice business.
Both stocks bounced back yesterday after the steep plunge Monday; SUNH bounced back 7.5% on Tuesday after a steep 52% plunge on Monday and SKH bounced back 10.3% after a 42% plunge on Monday. Despite the steep plunge and the apparent under-valuation of SUNH at 2-3 P/E on a trailing-twelve-month (TTM) basis and SKH at 4 P/E on a TTM basis, we would stay clear of both stocks for the time being.

SUNH, SKH and the rest of the nursing home and assisted living stocks are getting hit by a perfect storm of bad news. In the June quarter report announced on Monday, after the market-close, SUNH withdrew its guidance and SKH stated it would issue later its guidance for 2011, after completing a detailed assessment of the (negative) impact that the new Center for Medicare and Medicaid Services (CMS) ruling would have on their operations. The new CMS rule includes an 11.1% reduction in rates for therapy services versus consensus expectation that CMS would increase the rates by 1.5%, so the decrease is a significant negative impact on SUNH, SKH and the rest of its peers that provide skilled nursing and assisted living services. Furthermore, the recent budget deal is almost for certain at some point going to lead to a reduction in healthcare spending since that's where most of the non-discretionary spending is. This can impact payments to entities throughout the healthcare supply chain, including nursing homes. The concern is that with these negatives, SUNH would generate a loss next year and maybe even be in violation of its covenants then. Both stocks have started yesterday to mount a reactionary rally to the previous plunge; we would be sellers into this rally.

Sell L&L Energy (NASDAQ:LLEN)

: LLEN is engaged in coal mining, washing, coking and wholesaling in Yunnan and Guizhou provinces in southwest China. It is incorporated in the State of Nevada, with a corporate office located in Seattle, Washington. The Company conducts its business operations in China through its Chinese subsidiaries, Kunming Biaoyu Industrial Boiler Co., Ltd. (KMC), a coal consolidating and wholesale business, and L & L Coal Partners, which has a 60% equity interest in two operating coal mines, the DaPuAn Mine and the SuTsong Mine, both located in the Yunnan Province. Its shares rebounded 16.1% on Tuesday, after dropping 15.9% on Monday, and they are down 55.2% YTD. The company reported disappointing earnings of 7cents for the April 2011 quarter, down 84% year-over-year compared with the 45cents in earnings reported in the April 2010 quarter, due to slow down in mining production to enforce government safety standards. An

article yesterday by a fellow Seeking Alpha contributor Glaucus Research

makes an extreme bearish case for this reverse-merger Chinese company, alleging among other things that the company exaggerated its net sales and net income and the value of its assets. These are serious charges, and with the recent disappointing earnings and the trepidation in the Chinese small-cap space in general, we would stay clear of this one.

Sell Clearwire Corp. (CLWR): CLWR provides wireless broadband networks for delivery of residential and mobile internet access and voice services. CLWR customers connect to the Internet using licensed spectrum, thus eliminating the confines of traditional cable or phone lines. The company offers its service in fifty U.S. markets, as well as in Europe. The stock rebounded on Tuesday, up 6.2% as a reaction to the 22% recent plunge on last Thursday, after Sprint Nextel Corp. (NYSE:S) announced a $9 billion partnership with 4-G wholesale provider LightSquared, whereby Sprint would license some of its unused wireless frequencies to LightSquared, which the 4-G wholesaler will use to deploy its 4G network. In return, S will buy back some of the 4G services from LightSquared and offer it to Sprint customers. We stand by our earlier bearish assessment of CLWR that we indicated in our

review of last Thursday's biggest losers

, The stock however is beginning to base here, and could mount a meaningful reactionary rally to the upside over the next week; we would be sellers into any such rally.

Sell Lihua International Inc. (NASDAQ:LIWA)

: LIWA manufactures copper-clad aluminum and recycled scrap copper wire that is sold in China either directly to manufacturers or through distributors in the wire and cable industries and manufacturers in the consumer electronics, white goods, automotive, utility, telecommunications and specialty cable industries. It is one of the first vertically integrated companies in China to develop, design, manufacture, market and distribute lower cost, high quality, alternatives to pure copper magnet wire. Its shares were up 9.6% on Tuesday, after falling 12.5% on Monday on a

bearish article by a fellow Seeking Alpha contributor

Absaroka Capital Management that among other things alleged that the company misrepresented its business to investors and thus is significantly overvalued. Like in the case of LLEN, these are serious charges, and if true the entire capital invested would be at risk. We would steer clear of this and other Chinese companies with serious allegations of fraud.

Harmony Gold Mining Co Adr (NYSE:HMY)

: HMY is a South African gold mining company operating in Mpumalanga, the Free State, Guateng and northwest provinces. It is the world's fifth largest gold mining company, and produces about 1.5 million oz of gold every year. The stock shot up 7% on Tuesday after it was reported that miners on strike at South African gold mines, including the ones owned by HMY, should return to work by the end of the week after signing a new two-year wage agreement that awards a pay hike of 8% to 10% to the miners based on their level of experience. Furthermore, the entire gold sector was up Tuesday, as investors piled into gold as a safe haven asset due to concerns over global growth.

Great Panther Silver (NYSEMKT:GPL) and Golden Star Resources Ltd. (NYSEMKT:GSS)

: GPL is a Canadian company engaged in the exploration and development of silver and other precious metals in Mexico.

The Company has operations in Guanajuato Mine Complex and Guanajuato silver-gold mines, and it is headquartered in Vancouver, Canada.

GSS is a Canadian International gold mining and exploration company producing gold in Ghana, West Africa. GPL shares were up 8.3% on Tuesday, and they are up 30.7% YTD. GSS shares were up 6.8% on Tuesday, and they are down 41.6% YTD. There has been no recent company-specific news triggering the rise in either case. However, many gold stocks were strong Tuesday as investors piled into gold as a safe haven asset in light of global growth worries.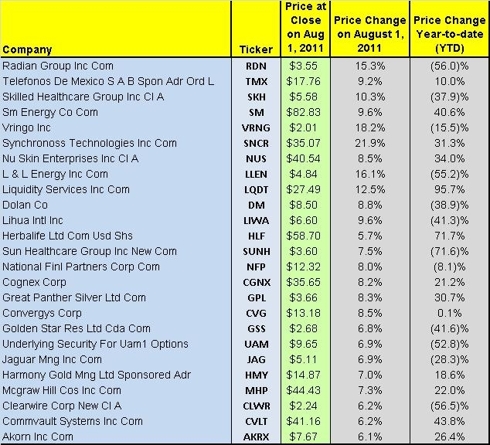 Click to enlarge
Credit: Historical fundamentals including operating metrics and stock ownership information were derived using SEC filings data, I-Metrix® by Edgar Online®, Zacks Investment Research, Thomson Reuters and Briefing.com. The information and data is believed to be accurate, but no guarantees or representations are made.
Disclosure:
I have no positions in any stocks mentioned, and no plans to initiate any positions within the next 72 hours.
Disclaimer:
Material presented here is for informational purposes only. Nothing in this article should be taken as a solicitation to purchase or sell securities. Before buying or selling any stock you should do your own research and reach your own conclusion. Further, these are our 'opinions' and we may be wrong. We may have positions in securities mentioned in this article. You should take this into consideration before acting on any advice given in this article. If this makes you uncomfortable, then do not listen to our thoughts and opinions. The contents of this article do not take into consideration your individual investment objectives so consult with your own financial adviser before making an investment decision. Investing includes certain risks including loss of principal.