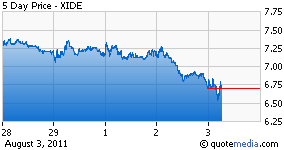 The name is Exide Technologies (XIDE) but the company doesn't feel like a technology company. It appears that someone forgot to tell Exide executives that they are at the forefront of an exciting new industry. Fortunately the stock is cheap to buy at 0.19 Price/Sales (ttm) ratio, if you don't fall asleep on your way to phoning the broker.
In an investment environment rife with upstart companies focusing on next generation batteries, all hoping to be the "next big thing" in start/stop automotive technology, electric vehicles and hybrid vehicles, Exide Technologies looks to be a slow moving Gulliver surrounded by a swarm of Lilliputians.
To be fair, their website trumpets R&D spending increasing by 50% in the past few years. The new exide.com website describes technology centers working on new products: "The Milton, Georgia technology center focuses on smart battery development, advanced materials and process design, batteries for start/stop applications, advanced lead acid for mild to full HEVs."
The last 10-K report states that the company has added 20 technical employees to its R&D organization. Twenty people does not seem to be worth bragging about for a $2.4 billion organization. R&D spending doesn't even earn its own line item on the income statement, unusual for a technology company. This does worry us a bit.
On the one hand, Exide has enough market momentum and size that, in some respects, the new battery market is theirs to lose. Having said that, the technology industry has many examples of industry leaders who were caught sleeping on their shift, ending up as "has-beens" in an industry they should have dominated.
Exide does have to find a balance. In spite all the noise, electric vehicles will be a small share of the overall car market for many years to come, and Exide's mature lead battery business does not spin off a lot of profit to fund the new business. But surely there are some creative ways for a market leader to juice up the innovation pace.
In spite of all these concerns, we are long on the stock, if only because market share leaders tend to remain market share leaders, and we believe the stock is already well discounted in price.
Background
Exide Technologies is a Delaware corporation organized in 1966 to succeed the business of a New Jersey corporation founded in 1888. The company is one of the largest suppliers of lead-acid batteries for transportation and industrial applications in the world, with fiscal 2011 net sales of approximately $2.89 billion.
Exide's two big segments are transportation and industrial energy.
Transportation represented 65.6% of sales in FY2011 and includes batteries for all kinds of vehicles sold under multiple brand names, plus batteries sold under various private labels. Within the transportation segments, aftermarket sales and OEM sales represented approximately 83.7% and 16.3% of fiscal 2011 net sales, respectively. In the OEM segment the company supplies batteries for 2 of the 10 top-selling vehicles in the U.S. and 5 of the 10 top-selling vehicles in Europe.
The industrial energy segment represented 35.4% of FY2011 sales. It includes "Motive Power" batteries for applications such as electric forklift trucks, floor cleaners, wheelchairs, railroad locomotives and electric vehicles (EVs). Network power batteries are used for power backup in case of a temporary power failure for use with telecommunications systems, computer installations, hospitals, security systems etc.
Research & Development
The company is receiving DOE grants and tax incentives and investing in capacity to build AGM batteries designed for Start & Stop, Micro-Hybrid and no-idle vehicle applications and to enable improved fuel efficiency and reduced CO2 emissions. However the DOE dollars involved are much fewer than Tesla Motors (NASDAQ:TSLA), a company 10% their size.
The website describes two research collaborations. Two collaborations hardly seems aggressive. Where are the monthly announcements about acquisitions, design wins, licensing agreements with technology companies, sponsoring competitions, more university relationships, and new patents pending. Maybe somebody forgot to pay the PR firm's bill?
In total Exide reported owning interest in greater than 274 patents and applications for patents worldwide.
Competition
In transportation, principal competitors are Johnson Controls (NYSE:JCI) and private East Penn Manufacturing. Competition is strongest in the OEM sector where there are fewer customers, and they are strong enough to negotiate lower prices.
In Industrial Energy, North American and European competitors include EnerSys (NYSE:ENS), East Penn Manufacturing, and in Asia, GS/Yuasa (OTC:GYUAF), Shinkobe and EnerSys.
Although not a large part of the current market, many small battery competitors are working with alternate battery technologies such as Lithium-Ion batteries in the hope of capturing a share in the electric vehicle market. Examples are Advanced Battery Technologies (OTCPK:ABAT), Active Power (NASDAQ:ACPW), Altair Nanotechnologies (NASDAQ:ALTI), A123 Systems (AONE), Ener1 (NASDAQ:HEV), Valence (VLNC) and TSLA.
Recent Financial Performance
For several years, Exide financial performance has been unimpressive. Financial performance suffered through the 2009/2010 recession. Revenues dropped and earnings went negative in FY2009 and FY2008, and recovered somewhat in FY2011.
Cost Control
In the past year Exide showed good OPEX cost control. It was able to reduce Selling & Admin costs from 16.3% of sales to 14.7% of sales. This occurred while sales increased from $2.7 billion to $2.9 billion. Also restructuring and impairment expenses decreased to $42.4 million in FY2011 from $80.6 million in the previous year.
Although gross profit increased actual dollars, gross profit decreased from 20.0% of net sales in FY2010 to 19.5% of sales in FY2011.
Net Income increased to $26.8 million in FY2011 after a $68.5 million loss in FY2010 (or about 1% of sales).
Growth and Profit Assumptions
For purposes of stock valuation we are assuming that revenue growth going forward will be at least 5% assuming a slowly improving economy. We assume that long term profit margins will be at least 3-4% of sales.
The majority of Exide's revenue is generated today by aftermarket transportation battery revenue and industry batteries. We believe that the push in the industry for new battery technologies to support start/stop vehicle functions, electric vehicles and hybrid electric vehicles will help Excide to grow revenue by an extra 1 or 2% per year, and provide support for margins of 5% per year.
There is a bit of a leap of faith here that Exide will be more aggressive in modernizing its product line.
Risk Assessment: Medium
On the positive side Exide is one of the world's largest transportation and industrial battery suppliers, has several well-known brand names, well developed manufacturing capability, OEM and aftermarket business relationships and the financial ability to develop or otherwise acquire next generation battery capability. The company has completed a significant amount of restructuring and expense reduction and has recently demonstrated the ability to generate profits.
Other negative side, the company has not demonstrated a consistent ability to generate increased sales and profitability through different business cycles. Several small competitors have established beach-heads with new battery technologies in recent years. That could present significant future competitive risk. Exide seems to be too slow to consolidate their market leadership to ensure they will own the market for next wave of EV technology.
Overall we rate Exide's risk level as medium.
VineSecurityJournal.com's Proprietary Pricing Model
We assess stocks primarily based on their fundamental value. We estimate the revenue and earnings to be generated by a company over the next ten years. We look at the risk involved in the business, look at the assets and liabilities, and we discount the value of the future earnings according to risk level. For companies with medium to high risk levels, we discount the value of future earnings more aggressively. Finally, we compare the value of those future earnings to the stock price. Are the shares "on-sale" – or are they expensive?
Exide's market capitalization at just over 0.5 billion on $2.4 billion in sales seems quite modest – especially compared to upstarts in the battery industry with price/sales ratios of 2:1 or 5:1 or more. The above growth assumptions predict a fair value stock price in the range of $14. Current investors appear to be discounting the price, perhaps waiting for a few quarters of decent results and signs of life in the R&D department.
Conclusion – Buy
Our recommendation is to buy given a target price of $14 and a current price in the $7 range.
Disclosure: I am long XIDE.