In mid-July I wrote an article about the ETF CORN, which is a fund that invests in, of all things, corn futures. Since that time, corn has traded more or less sideways until today. December corn futures have moved up and CORN bucked the general trend down in the stock market to close up 2.8%.
[Click to enlarge]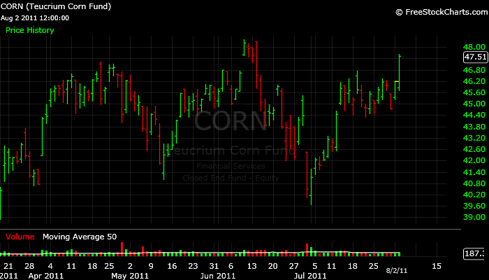 I have noticed that typically commodities have been tracking the general movements of the stock market, known generally as the risk on/risk off trade. However, weather fundamentals now make it possible for this correlation to break. Speculative traders/investors might now have a possible negative correlation asset to other asset classes.
July had very hot temperatures as shown in this article about all 50 states setting record highs across the U.S. Now the yield of the corn crop is in question. As stated in the original article, the USDA currently has a yield estimate of 158.7 bushels/acre for this year's crop. However, last year the crop yield was 152.8. As of July 31, the USDA has 62% of the corn crop rated good/excellent while in 2010 it was rated 71% good/excellent. The category rated poor/very poor has increases from 10% a year ago to 14%.
The CME Group's morning commentary also had an even more bullish take on the report:
While yesterday's "raw data" showed no change in the condition of the corn crop from last week, once USDA's numbers were plugged into our weighted Crop Condition Index, state-by-state changes reflect a 4-point drop in the condition of the crop -- 22 points below year-ago.
From a traders perspective the most bullish thing about today's price move up is that it occurred on bearish or no news day. The same report said:
Grain futures were choppy overnight, with soybeans firming into the close to raise hopes for a stronger start this morning. Meanwhile, corn and wheat futures saw slight weakness in late overnight trade due to strength in the U.S. dollar index.
The midday commentary shared mostly negative news with some bullish weather comments:
December corn opened 1/4 of a cent lower on the session at 685 and experienced an early range 684 to 693 1/4. A negative tone to outside market forces plus news that the weekly crop conditions held steady over the past week helped to spark the lower opening. In addition, traders see rain and cooler weather for the drier areas of the Midwest later this week which might help ease crop concerns. However, continued talk that high temperatures in July negatively impacted the yield potential for the crop helped to support active buying and a move to the highest level since July 20th into the mid-session. Talk that the state of Iowa had the hottest July in 56 years helped to support.
The closing commentary was not much different. A limit up moved occurred with no new news, it appears. I forget who, but I believe one of the traders in the market wizards books, by Jack Schwager, said a move with no news is a much stronger indicator then an up-move from a bullish report.
The original disclaimers about weather markets and expecting limit up and down moves still stands, but after just over two weeks the corn bulls have an edge. Although it has been distorted some by ETF investing, the latest CFTC commitment of traders data shows small specs still net short corn by about 92,000 contracts as of last week; that is not bullish but bearish sentiment by those most likely to get the short end of the stick or corn cob.
Disclosure: I have no positions in any stocks mentioned, but may initiate a long position in CORN over the next 72 hours.
Additional disclosure: Long corn futures options, dba options