Wonder of wonders, miracle of miracles, Windows Phone is developing into the OS we've been asking for since we first used it last year. By adding in crucial elements like multitasking, groups, social network integration and more, it's starting to play catch-up to the other big names in mobile. Not overcome -- catch-up. Mango hasn't shown us anything truly groundbreaking yet. At least this platform, still in its youth, is stepping onto the same playing field as hard hitters like iOS and Android, though. One thing that surprised us was how few bugs or choppy effects were present in this build, an impressive feat considering we're still a few months away from completion. Overall, we've come away with a positive outlook on Windows Phone's newest iteration, and are very eager to see the finished result
These factors point to this quarter as the first of many during which Microsoft seriously establishes itself as a contender in the smart phone space.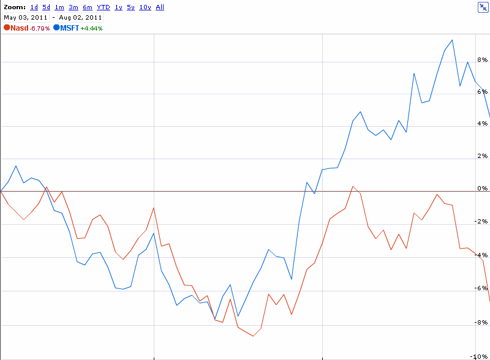 Click to enlarge
MSFT doesn't look as cheap as it did three months ago, after outperforming the Nasdaq by a full 11%, but it's still historically undervalued. As the market continues to be rattled by cyclical worries, this appears to be good opportunity to establish or expand exposure.