Tuesday MetroPCS (PCS) dropped over 36% on the news that its earnings missed estimates by four cents. In my prior articles I have been noting that MetroPCS was starting to become overvalued with the encroaching competition starting to surround it, which has been proven to have been an accurate assessment. AT&T/T-mobile (NYSE:T) and Sprint (NYSE:S) are pressuring the high end of the low end market, while Virgin Mobile and Boostmobile are competing for the bargain shoppers. But the drop in stock price today changes everything.
Macro Outlook
My prior articles show that I am increasingly bearish about the U.S. economy. I feel that a recession is likely already here. First quarter GDP was revised down to only 0.4% growth, which means Q2 has an excellent chance to be revised down to negative growth, signaling a true double dip recession.
As a result of the congressional budget cuts that are undoubtedly going to roll downstream in the coming year, government job layoffs will continue, with little to no end in sight for the near future. This means people who have high discretionary incomes will increasingly become forced to buy cheaper products as they are laid off from their government jobs.
Portfolio Value and Correlation
Because MetroPCS is widely known to be the low cost leader in the telecommunications industry, a recession will not hurt MetroPCS sales very much at all. In fact, there is even the potential that Verizon (NYSE:VZ) and AT&T users may be forced to cancel their subscriptions in favor of a cheaper plan which still offers the basic necessities. The fact that the competition is encroaching MetroPCS' market only reemphasizes the fact that MetroPCS targeted the market correctly from the start, while the others missed.
Because the products and revenues are fairly immune to an economic slowdown, especially relative to the competition, owning MetroPCS equity offers special value that most other stocks don't. To some extent, MetroPCS profits are negatively correlated with market risk. Meaning, as the rest of your stocks fall in value because their profits are plunging in the recession, MetroPCS profits will be very steady. This aspect of risk makes MetroPCS very, very valuable.
Competitive Market
As I have said in my recent articles, Boostmobile and Virgin Mobile in particular are now offering solid competition, but truthfully they are offering service roughly only equally as valuable as MetroPCS, with a few temporary exceptions. There is no reason for metro users to cancel their service and to run to the competition, especially when metro is getting further and further along building its 4G LTE network coverage.
MetroPCS really is only one phone away from being untouchable in the lower and lower mid markets. Once MetroPCS releases a 4G LTE phone which has android and costs less than $200, or drops the price on its current two models, the competition won't be able to take the heat because they are relying on older technology. The 4G network is very cost efficient but needs a bit more time to be completed.
The 3G quality that is offered by Boostmobile and Virgin mobile is not as good as MetroPCS 4G LTE coverage. The only hiccup is just waiting for MetroPCS to get more coverage area with 4G. MetroPCS has been investing and planning for the future extremely well, and will realize results of nothing but increased brand loyalty, quality of service, and continued cheap pricing. A slowdown in growth is no reason for a stock to fall 36% in one day. The telecom industry's big names can be seen in the chart below in comparison to MetroPCS over the past five days.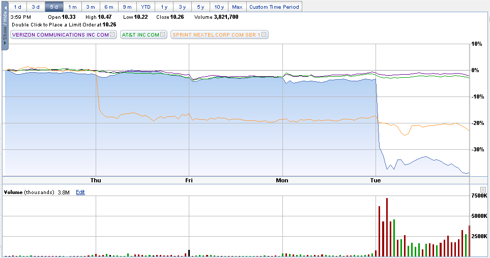 Click to enlarge
(Click to enlarge)
We can see that Sprint took a beating as well last week on news that its loss widened significantly, even as prepaid subscriptions from its Boostmobile and Virgin Mobile subsidiaries saw significant growth. The problem that Sprint has is that it has too much infrastructure built for the high end market; consequently losses have resulted. This profit emergency forced Sprint to fix its mistake by getting a solid low end market as part of its brand, which it has finally done. The problem is, Sprint still has its high end brand and its massive losses to deal with.
Valuation Summary
If you agree that the recession is picking up steam and that most consumers ought to probably be looking to spend less on their phones rather than more, and you want to own a company which has profits every quarter rather than losses due to managerial errors and backtracking, you might want to get in on probably the most unjustified selloff of the year.
MetroPCS is selling for a tremendous discount, and there are numerous potential investments. One could buy the shares themselves or use options. Whatever the investor's choice, I think MetroPCS provides the missing piece to most well designed portfolios, especially if the recession accelerates. It frightens me to think that some people would prefer to buy Verizon stock or AT&T stock rather than MetroPCS, even at a massive discount and as the recession gains steam.
$10.26 for a share of MetroPCS stock is a steal, and if you can get yourself some shares, I would. I feel the shares are worth $14 right now. The company can handle a recession as good as any in the United States, and because of its rollout of 4G LTE, its quality is improving as well. This is an entry point that is so good, you may not see a better one from any company in 2011. Actually, I challenge anyone to provide a common stock with as low of risk which has a better value.
Something to keep in mind for those worried about fundamentals is that MetroPCS has the best 5yr expected PEG ratio in its industry. It is likely the ratio will worsen a bit as analysts will reduce expected growth based on the results reported today, but even then the ratio will still be superior to the sector's valuation by a large distance, indicating cheap pricing and excellent growth.
MetroPCS also has the best current ratio in the industry, which means it is the least likely of any company to have trouble paying its liabilities over the next year.
| | | |
| --- | --- | --- |
| | PEG Ratio | Current Ratio |
| | | |
| PCS | 0.55 | 2.47 |
| VZ | 1.88 | .82 |
| T | 2.1 | .66 |
| LEAP | -.2 | 1.08 |
| S | -1.5 | 1.06 |
KEY POINTS:
36% discount to yesterday's price.
Products have low correlation with the market's economic risks.
Industry leading PEG ratio.
Industry leading current ratio.
High reinvestment of cash flows into 4G LTE technology.
Disclosure: I am long PCS. My position was opened after the selloff.