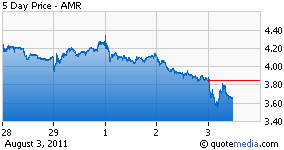 Since we published our bearish piece May 19 on AMR (AMR), the parent of American Airlines, titled, "Is AMR's Equity Practically Worthless," the stock has fallen nearly by half. At Valuentum, we place considerable emphasis on a firm's competitive advantages, how their competitive position fits into industry structure, and a valuation assessment based on a rigorous discounted cash-flow process. Our take on AMR across all of these fronts remains decidedly negative, and in response to the repeated questions we've received from our subscribers and Seeking Alpha guests, we are reiterating our somewhat controversial call that AMR's equity is practically worthless – only option value remains.
There have been talks recently about AMR potentially merging with International Group, the owner of British Airways and Iberia. Right now, AMR will be unable to do so due to foreign ownership laws that restrict a foreign company from owning more than 25% of a U.S. airline. That said, we don't think AMR or an acquirer of AMR will benefit at all from any transaction, whether it be domestic or international. First of all, the benefits of mergers in the airline industry are optimized when at least one of the airlines is operating under bankruptcy protection. Under Chapter 11, for example, airlines can force lenders to reduce their debt, renegotiate capacity purchase agreements with their regional affiliates, push for cost cuts against their heavily-unionized employee base, and renegotiate purchase and lease commitments with airframe makers like Boeing (NYSE:BA) and Airbus (OTCPK:EADSY) – and, of course, and perhaps most importantly, pass along their pension obligations to the PBGC (Pension Benefit Guaranty Corp).
In a merger outside of the bankruptcy courts, the flexibility to achieve cost and revenue synergies is much more prohibitive. Under this scenario, the airline is still bound by its contractual agreements (purchase of aircraft, leases, pensions, etc.), and revenue synergies would be restricted mostly to route structure enhancements – the latter near impossible to execute effectively during a downturn in air travel demand. We don't view any merger of AMR outside of bankruptcy as attractive to any potential acquirer. And recent history supports this view: America West purchased old US Airways (LCC) out of bankruptcy, Delta (NYSE:DAL) and Northwest merged under bankruptcy protection. We don't view the United-Continental (NYSE:UAL) and Sourthwest-AirTran (NYSE:LUV) tie-ups, which occurred outside of Chapter 11 proceedings, as having anywhere near the amount of long-term synergies as the ones taking place under bankruptcy.
As such, we believe AMR remains stuck between a rock and a hard place. Its underfunded pension, huge cost disadvantage versus peers, inefficient fleet (and cash flow drag to replace it), coupled with an inability to monetize its regional carrier or frequent-flier program put it in a very ominous situation. We continue to estimate that the firm's normalized (mid-cycle) annual enterprise free cash flow is still way too low to offset the huge hit to equity value with respect to its underfunded pension and net debt position for it to have any practical equity value at all. Our discounted cash-flow valuation model template can be found here. Though we fall short of calling the carrier's demise just yet, we think the stock (even in the high $3 per share range) has further room to fall. We would not be surprised to see AMR file for bankruptcy before this decade is up if the status quo ensues – meaning shareholders receive nothing for their current holdings.
Disclosure: AMR is included in our Best Ideas portfolio as a put position.