Anyone who invests in speculative biotech companies should already have a complete understanding of the term "Wild Ride" as it relates to these companies and their stock prices. For those of you that don't understand the concept, consider it like riding the most outlandish roller coaster that has more ups and down than one can count. One minute your stock can be soaring through the clouds with such events as FDA approvals, buyouts, rumors of buyouts, and large joint ventures; only to come crashing down with FDA denials, runaway secondaries, lawsuits, and outright drug failures.
The first half of the year was a decent season for several companies and if you were after excitement this sector was the right place to be. The second half of this year will have lots of events and drama as some our favorite companies come out ready to fight for their survival and the right to join the ranks of their bigger pharmaceutical brothers in the market. So far here is what has happened to some of our companies and what should transpire as we creep closer to the end of 2011.

Antares Pharma
(
AIS
): A small pharmaceutical company that has a focus on self injection technologies and topical gel-based products (kind of an interesting mix). If one were to analyze the company, one would surely hit upon the self injection technology side of the business first. AIS licensed its products to the likes of Teva (NYSE:
TEVA
) and Ferring and due to such partnerships has a positive cash flow from that side of the house. In 2010, injection technologies resulted in $5.8 million of income, an improvement from the year before.
Our wild ride with AIS though will be on the topical gel side of the house. The gel- based product Anturol, for overactive bladders, will be the catalyst for the stock. With 33 million adults in the United States suffering from overactive bladders, and a market that exceeds $1.8 billion, we could be in for quite a ride. Currently one is looking to the end of 2011 for a FDA ruling. A nod from the FDA for the company to market the product would bring what is needed to move the stock from its current price. Look for the FDA to rule in early December 2011. To add rocket fuel to the fire, Watson Pharmaceuticals (
WPI
) decided to jump on our roller coaster when it announced an exclusive licensing agreement to commercialize AIS's topical gel product in the U.S., and Canada. Under terms of the agreement, Watson will make milestone payments based on the achievement of regulatory approval and certain sales levels, and will also be responsible for certain manufacturing start-up activities. Upon launch of the product, Antares will receive escalating royalties based on product sales in the U.S. and Canada. Add to this the fact that in early June Deerfield Capital reported a 9.59% passive stake in AIS and you get the makings for a potential wild ride.
RXi Pharmaceuticals (
RXII
): RXII is a biotechnology company engaged in discovering, developing and commercializing innovative therapies addressing cancer and other unmet medical needs. This company's potential ticket for a wild ride is its lead product NeuVax. RXII acquired NeuVax from a privately held company named Apthera in April of 2011. Apthera completed the Phase II trials with positive efficacy data and good safety profiles. RXII is now preparing to initiate a Phase III clinical trial with the FDA's approval in the first half of 2012.
To boil it down for all to understand, a treatment with NeuVax stimulates T cells in a highly specific manner to target cells associated with breast cancer. According to the National Cancer Institute, over 200,000 women in the U.S. are diagnosed with breast cancer annually. Of these women, about 75% test positive for Human Epidermal growth factor Receptor 2 (IHC 1+, 2+ or 3+). NeuVax is a cancer immunotherapy, which is to reduce the recurrence of breast cancer in node-positive, low-to-intermediate HER2-positive breast cancer patients not eligible for Herceptin. Herceptin is a Roche-Genentech drug that only 25% of all breast cancer patients with HER2 3+ disease are eligible for. Reading this medical terminology from analysts and FDA literature quickly confuses most retail investors. One almost needs a medical degree to make any sense of it, that is until we get to the part detailing the initial results. The initial results were spectacular as the recurrence rate for the control group was 22.2% while the recurrence rate for the NeuVax + Trastuzumab (Herceptin) group was 0% for a 36 month period. The safety and tolerability profile were also noted to be excellent. That 0% was enough for me to consider RXII as having potential for the wild ride aspect.

Two recent events also have come into play for the time left in 2011. First, early this year RXII announced it priced a public offering of 11,950,000 units at a price to the public of $1.00 per unit for gross proceeds of approximately $12 million. Dilution is always one way to bring a stock's price crashing down and this would have ended RXII's contention for any meaningful 2011 price movement. To counter this though, the company expanded its patent portfolio with additional patents covering worldwide rights to develop and commercialize NeuVax. These patents are added to the growing family of patents for RXII to support the development of NeuVax in a variety of indications and countries. So my only question now is if we just might have another DNDN on our hands here if a few years.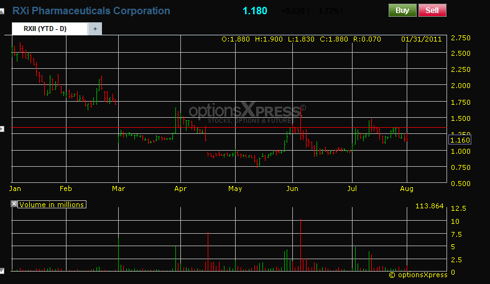 Dendreon
(
DNDN
): It will surprise some to see that DNDN had made this list. Most people will say that Dendreon already had the roller coaster days and that is all behind the company. While this is true, I still think it needs to be added to the list as the current and potential future good news should propel the stock price. First of all, for the first quarter ended March 31, 2011, revenue was $28.1 million compared with $21,000 for the quarter ended March 31, 2010. That number is important as sales of the Provenge drug in April 2011 were approximately $15 million. This fact shows increasing demand and increasing utilization of the drug. Now consider the fact that in June the FDA approved the new facility in California, plus may likely approve the Atlanta facility later this year. What is hopefully occurring is that the new demand will match up with the new supply and DNDN will enter into a great financial position. Plus Medicare and Medicaid support Provenge and currently are willing to pay DNDN the price of $93,000 for a complete set of treatments. So if DNDN can execute the plan, we may once again see the price soar. Of course there is always the risk that the government could eventually baulk at the price tag or some better drug may come along. In those cases DNDN's stock price could easily tumble from lofty heights.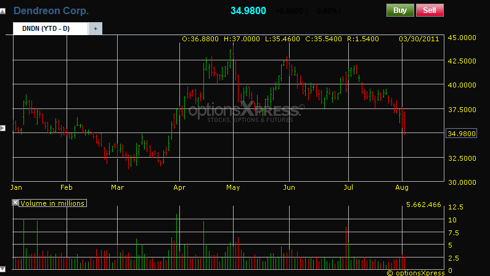 BioSante Pharmaceuticals
(
BPAX
): BPAX is another one of our companies that should provide some excitement for the second half of 2011. BioSante is a pharmaceutical company focused on developing products for female sexual health and oncology. The lead product is going to be LibiGel, which is for the treatment of female sexual dysfunction. BioSante is conducting three Phase III LibiGel clinical studies and a new drug application (NDA) is planned to be submitted to the FDA in 2012. As we get closer to that date, it should be the catalyst that keeps the stock price moving. In the meantime we will have to focus on BioSante's drug Bio-T-Gel. This product is a once-daily transdermal testosterone gel in development for the treatment of male low testosterone levels. With a market in the U.S. over $1.2 billion and a license to Teva Pharmaceuticls (
TEVA
), we have the makings for some volatility on the stock price. The company has a PDUFA date of November 14, 2011. If that were not enough, BPAX also had an interesting flurry of activity when its Chief Executive Officer made a statement during an interview that several companies were interested in the female libido drug, LibiGel. As the interview continued it made it seem that there was a possibility of a licensing deal or a possible buyout. Needless to say, the mere mention of those terms is enough to get any investor excited. Unfortunately though, the next event for the company seemed to make those statements a moot point. On July 27, 2011, BioSante announced that it intended to offer and sell shares of its common stock in a public offering. On August 2, 2011, it announced the closing of the public offering of 16.0 million shares of common stock at a price of $3.00 per share, for total gross proceeds of $48.0 million. The offering resulted in net proceeds to BioSante of approximately $45.0 million. BPAX anticipates using the net proceeds for general corporate purposes, including funding the ongoing Phase III clinical study program for LibiGel. Needless to say, dilution is never viewed as much of a positive in the world of speculative biotech investing. In the end, BPAX is still set up for a very interesting rest of 2011.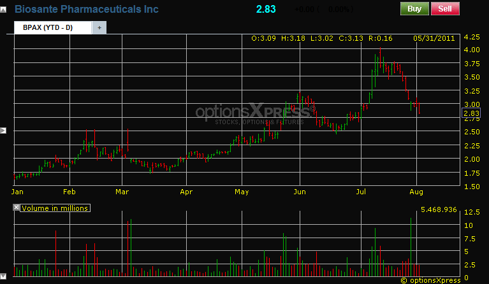 As there are so many companies out there with upcoming events it would be impossible to address them all in one article. Attached below is a table that will address upcoming PDUFA dates for some of our other companies we have taken an interest in. One would think that as they come closer to these dates there will probably be a rise in volatility for the stock price.
| Name | Ticker | PPS | Mrk Cap | PDUFA Date |
| --- | --- | --- | --- | --- |
| NuPathe | PATH | 5.95 | 86.67M | 8/29/2011 |
| Seattle Genetics | SGEN | 15.71 | 1.79B | 8/30/2011 |
| Adventrx | ANX | 2.87 | 75.95M | 9/1/2011 |
| Pacira Pharma | PCRX | 10.31 | 177.67M | 10/28/2011 |
| pSivida | PSDV | 4.71 | 97.69M | 11/12/2011 |
| Spectrum | SPPI | 10.29 | 535.50M | 11/20/2011 |
| MAP Pharma | MAPP | 14.55 | 439.02M | 3/26/2011 |
In conclusion, several biotech companies should have a very exciting time in the second half of the year. If you choose to invest in these companies make sure to complete as much analysis as possible and be ready for the wild swings. The risk of losing lots of money is quite real so never bet any more than you are willing to lose.
Disclosure: I am long AIS, DNDN, RXII.
Disclaimers: Data and information are provided "as-is" for informational purposes only, and are not intended as investment advice, tax advice or legal advice. All data and information are provided by optionsXpress Holdings, Inc., and optionsXpress, Holdings Inc. does not endorse or warrant the validity or accuracy of such data and information. Nor is optionsXpress Holdings, Inc. liable for any errors or delays in the data and information, or for any actions taken in reliance thereon.
optionsXpress makes no investment recommendations and does not provide financial, tax or legal advice. Information accessed through this website and any link contained therein does not constitute a recommendation to buy or sell a particular investment from optionsXpress. You are solely responsible for your investment decisions, and you should carefully evaluate the information to determine whether it is right for you and use of such information is suitable for your objectives.