Believe it or not, Real Estate Investment Trusts are now a viable investment option for those who are afraid of the uncertainty brewing in the current market. The United States debt crisis has been the main scapegoat for why the stock market has been bearish since the week of 7/25/2011, but there are several less-publicized events that have driven down stocks including weak manufacturing numbers, slow economic growth, and lowered consumer spending.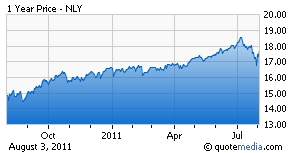 Annaly Capital Management (NYSE:NLY) is a particularly large REIT with a market cap of over $14 billion. They specialize in using short term debt to hold a portfolio of longer term mortgage securities which for the most part come from Fannie Mae (OTCQB:FNMA), Freddie Mac (OTCQB:FMCC)), and Ginnie Mae.
REITs trade on stock exchanges and can avoid corporate taxes by distributing 90 percent of taxable income as dividends, which make them similar to high dividend paying stocks. They are normally valued in relation to their Net Asset Value, but when looked at from an earnings perspective, Annaly stock provides a lot of value.
Since mid 2008, Annaly has paid 12 quarterly dividends of at least 50 cents per share each quarter, with dividends reaching as high as 75 cents per share. Over the next two years, Annaly is projected to generate an EPS of $2.53 in FY 2011 and $2.40 in FY 2012. With the aforementioned 90 percent dividend rule, analysts expect dividends of at least $2.28 and $2.16 in FY 2011 and FY 2012, respectively. Considering that Annaly has recently issued a public offering of $17.70 per share, analysts expect a yearly return of about 12.8% per year, which is pretty good considering how low interest rates are going to stay as America works out its national debt. NLY's beta of 0.35 implies that it is averse to large market fluctuations and a P/E ratio of 7.47 suggests that Annaly's earnings, which are paid out in dividends for the most part, provide a lot of value for shareholders.
NLY is a strong alternative to stock for investors who want to avoid being exposed to an uncertain market or short positions in stock. Its value is mainly dividend driven, which allows for strong, frequent cash flows and low long term risk. With the worst of the housing bubble burst two years behind us, I feel that a placing a BUY recommendation on NLY is prudent considering its high expected return and low risk relative to the current bearish stock market.
Disclosure: I have no positions in any stocks mentioned, and no plans to initiate any positions within the next 72 hours.