When I look at the recommendations on Citi (NYSE:C) from both the professional and individual investing community all I can think of is the movie title "The Gods Must Be Crazy." In the case of Citi too many people are looking for a dead cat bounce that may never come. So many people foolishly said "I'll wait until the stock comes back above $5," and waited until the board of directors that couldn't make that happen with increased sales and earnings made that happen with a reverse split. Window dressing!
One look at this Barchart five-year weekly trading chart shows the dead caot bounce is long over due: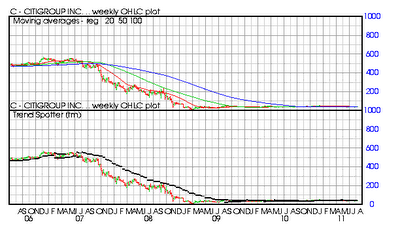 Citigroup, a global financial services company, provides consumers, corporations, governments and institutions with a range of financial products and services. The company operates through two segments, Citicorp and Citi Holdings.
The Citicorp segment operates as a global bank for businesses and consumers with two primary businesses, Regional Consumer Banking and Institutional Clients Group. The Regional Consumer Banking business provides traditional banking services, including retail banking, and branded cards in North America, Asia, Latin America, Europe, the Middle East and Africa. The Institutional Clients Group business provides securities and banking services comprising investment banking and advisory services, lending, debt and equity sales and trading, institutional brokerage, foreign exchange, structured products, cash instruments and related derivatives, and private banking, and transaction services consisting of treasury and trade solutions, and securities and fund services.
The Citi Holdings segment operates Brokerage and Asset Management, Local Consumer Lending, and Special Asset Pool businesses. The Brokerage and Asset Management Business, through its 49% stake in Morgan Stanley Smith Barney joint venture and Nikko Cordial Securities, offers retail brokerage and asset management services. The Local Consumer Lending business provides residential mortgage loans, retail partner card loans, personal loans, commercial real estate, and other consumer loans, as well as western European cards and retail banking services. The Special Asset Pool business is a portfolio of securities, loans, and other assets.
Citigroup Inc. has approximately 200 million customer accounts and operates in approximately 160 countries. The company was founded in 1812 and is based in New York, New York. (sourced from Yahoo Finance)
Barchart Technical Indicators
48% Barchart technical sell signals
Trend Spotter sell signals
Below its 20, 50 and 100 day moving averages
25 new lows and down 22.38% in the last six months
Relative Strength Index 43.11% and still falling
Trades around 38.48 which is below its 50 day moving average of 39.47
Barchart calculates a support level at 37.13
Wall Street Brokerage Madness
Wall Street brokerage analysts still have six strong buy, 11 buy, five hold and three negative ratings on this stock.
Strong buys in spite of a projected sales consensus of down 6.70% this year and only a 5.80% increase next year - not even a break even proposition.
Earnings forecasts mainly based on cost reductions are for an increase of 16.90% this year, 26.90% next year and 14.04% annually for the next five years.
The board of directors is promising a return to dividends.
The general investing community as measured on Motley Fool also drank the Kool Aid:
On Fool the 11,008 readers following the stock voted 84% that the stock would beat the market.
The more experienced All Stars voted 83% for the same result.
Summary: For those of you who are holding Citi until it comes back, my advice is to go to that ocean front property you probably also bought in Arizona and wait. To the rest of you who are looking for a place to put your money, take a pass on Citi. There are so many great companies out there that have double digit projections for improvements in both sales and earnings to invest in. Look for companies with a bright future, not old stocks hoping and praying to return to their former glory.
Charts and technical data provided by
Barchart
.
Disclosure: I have no positions in any stocks mentioned, and no plans to initiate any positions within the next 72 hours.