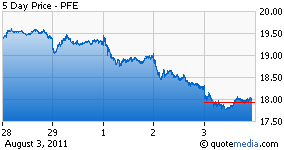 It's almost hard to believe that Pfizer (NYSE:PFE) carried a P/E ratio of more than 20 within the last decade. Generic competition has walloped many major pharmaceutical companies and Pfizer has responded in a pretty typical way – large-scale efficiency-driven acquisitions and significant internal cost-cutting efforts. And while it is true that no company on Earth has ever cost-cut its way into lasting prosperity, investors who may have once left Pfizer for dead as a no-growth has-been may want to take another look at this cornerstone member of Big Pharma.
Not Much Excitement In Q2
To be sure, there is not a lot going on in Pfizer's business today that should excite growth-oriented investors. Revenue was down about 1% as reported and down about 5% on a currency-adjusted basis as patent expirations and generic introductions continue to bleed away lucrative revenue. In fact, pharmaceuticals sales were down about 7% on an operational basis, with Pfizer's primary care business taking a 10% hit from generics.
Profitability was also nothing special; the downside to a highly leveragable business model is that it cuts both ways and it is difficult to maintain profits when revenue falls. To that end, gross margin dropped by more than 200 basis points this quarter and operating income fell 10%.
In fact, the best performance at Pfizer was in animal health – a business segment that management has said it wants to get rid of either through sale or spin-off. To be fair, though, Pfizer's results are not so surprising or unique. Pfizer does have some of the worst near-term growth of the group, but other names like Merck (NYSE:MRK), GlaxoSmithKline (NYSE:GSK), or AstraZeneca (NYSE:AZN) hardly make the grade as growth stories either.
Better Days Ahead?
In many respects, Pfizer's performance looks like a cloud with some silver lining. To wit, Pfizer got hit hard by a wave of generics, harder perhaps than any other major pharmaceutical company. While it may well be fair to blame past management for failing to reinvest, partner, or acquire so as to smooth that transition, the fact remains that that process is largely near an end. That should mean a more stable revenue base is in sight.
Better still, Pfizer has a relatively attractive pipeline that could deliver some significant new revenue generators. Crizotinib, axitinib, and bosutinib all look like promising oncology compounds, and Pfizer is hoping that tofacitinib can chew into Abbott's (NYSE:ABT) lucrative Humira franchise. Another name to watch, Eliquis (partnered with Bristol-Myers (NYSE:BMY)) will have to compete with drugs from Sanofi (NYSE:SNY) and Johnson & Johnson (NYSE:JNJ) but atrial fibrilation is a long-underserved market and there should be room here for more than one winner.
The odds say that not all of these will be blockbusters (that is, over $1 billion in annual sales) and frankly even if they all turn into home runs they won't replace the loss of Lipitor. But they could nevertheless tack on about $3 billion or so in revenue and that's worth another $750 million or so in free cash flow. Moreover, there's always the chance that an outside shot like bapineuzum (a drug being developed for Alzheimers) could work and turn into a major winner.
What Else Can, Or Should, Pfizer Do?
If Pfizer wants to be anything like the Pfizer of old (a respected, growing company that brought new products to market), management focus needs to shift from firing people and selling businesses to investing in R&D and keeping the pipeline full. Unfortunately, R&D decisions take upwards of a decade to bear fruit, so Pfizer has other work to do.
Major deals are probably not too likely at this point. A bid for a company like Biogen Idec (NASDAQ:BIIB) or Shire (SHPGY) could make some sense, as could a bid for Japan's Astellas. Likewise, there is a slim chance that Pfizer could think about entering generics by buying a company like Mylan (NASDAQ:MYL). More likely, though, would be smaller deals like the King Pharmaceuticals transaction. There are plenty of smaller niche players out there that would allow Pfizer to add some growth while enabling it to wring significant efficiencies by cutting redundant personnel (firing people, in other words).
Pfizer should also look at stepping up its in-licensing activities. Forest Labs (NYSE:FRX), for instance, has always seemed to manage to find enough new license or acquisition candidates to keep growing. Then again, Pfizer is roughly 15 times larger and it is not nearly so easy to find needle-moving deals at that size. Still, there are plenty of promising biotech candidates out there without dance partners and Pfizer certainly has the cash to make deals happen.
Bottom Line – A Value In Almost Any Scenario
Perhaps the best news about Pfizer is the extent to which investors have to apply a dire forward scenario for the stock to look fairly valued. Pfizer could see 5% revenue declines for five straight years and then never a year of growth after that, and the stock would still be slightly undervalued so long as the company maintained its 10-year average free cash flow margin. Add in just a little bit of revenue (in the very low single digits) and a little bit of free cash flow margin momentum to account for the restructurings and Pfizer quickly moves to substantially undervalued.
Of course there are other options. Merck is a similar-positioned industry titan and that looks too cheap, and the market seems to give little credit to Forest Labs' future. Abbott is enjoying good growth today (albeit with some longer-term pipeline risks), Novartis (NYSE:NVS) seems to be back on track, and Novo Nordisk (NYSE:NVO) is one of the better (if very expensive) growth stories in pharmaceuticals.
All of that said, value investors should give a long look at Pfizer. This company has been dead money for some time now, but expectations appear so low that even just a little growth could make this a market-beater over the next few years.
Disclosure: I have no positions in any stocks mentioned, and no plans to initiate any positions within the next 72 hours.