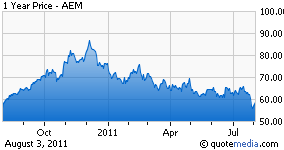 Agnico-Eagle (NYSE:AEM) reported second quarter estimates last week with revenues rising to $434.9 million and earnings per share of $0.41. Operating cash flow rose to $162.8 million in the second quarter and $333.9 million over the first six months of 2011.
Six month production came in at 491,690 ounces at a cash cost of $548 per ounce.
At the company's Kittila mine, a second shaft is currently under construction which is expected to add to production when complete. In addition, exploration will be accelerated with the addition of a 2,400 meter ramp to assist in deep drilling efforts. Recent deep drilling results returned the best drill results ever reported at Kittila.
A feasibility study to increase mill throughput by 50% at Kittila will be completed in the fourth quarter and recent strong exploration results should enhance the study.
The installation of a secondary crusher at Meadowbrook will allow Agnico-Eagle to increase production by 20% in the second half of 2011.
AEM filed a shelf offering on June 7, 2011, to issue $500 million of common stock, debt and warrants, taking advantage of low interest rates to finance capex, exploration and investment programs.
In late May, Agnico disclosed a stake in Colibri Resources (OTC:CRUCF) in Mexico. Colibri has the right to acquire up to a 100% interest in three mining properties in the state of Sonora. Each property holds a former mining camp that has never been explored using modern techniques.
Agnico also revealed an investment in Rubicon Minerals (RBY) during the earnings release. Rubicon is exploring for gold in the Red Lake mining district with an Indicated and Inferred deposit of 2.8 million gold ounces.
Investors looking for a solid mining company with mines in low risk jurisdictions should look to add Agnico-Eagle. The advantage to owning Agnico is the lack of South American or South African risk within its portfolio. This means that the inflationary events in Argentina and Brazil along with sovereign risk in Bolivia, South Africa and Peru will have no impact on AEM. All of Agnico's properties lie in safe mining jurisdictions.
The stock has sold off since the beginning of the year on concerns over the development of new and existing mines along with problems at Meadowbrook.
However, gold production should rise in the second half of the year as projects are completed and investors begin to reap the benefits.
Disclosure: I have no positions in any stocks mentioned, and no plans to initiate any positions within the next 72 hours.
Additional disclosure: Source: Second quarter earnings release, Agnico-Eagle, Colibri and Rubicon websites.