"We have to send out our towels…to people who get egg on their face because they run projections. We got to send them out to almost every analyst in the street. Ken, can we fit that in the budget?"

"We've got plenty left over"

This sarcastic yet purposefully snide remark was made by Sheldon Adelson, CEO and Chairman of Las Vegas Sands (NYSE:LVS), towards the end of the Q2 corporate earnings conference call on July 26th. Though somewhat unorthodox a statement to be made during a call in which participants consisted of analysts from every major firm from New York to London, it is hard to think of a CEO more deserving of a moment of pure "in your face" arrogance than Adelson.
The son of a cabdriver, Adelson grew up in Dorchester neighborhood of Boston. After many successful business ventures he settled into the casino industry in Las Vegas, opening the Venetian. He has since opened several other properties in the U.S., but the aforementioned arrogance was in particular a reference to the outstanding success of LVS's most recent venture: the Marina Bay Sands of Singapore, which opened in April, 2010.
Adelson remarked during the conference call that "when (he) came up with the vision, it was a swamp and a bay. Nobody wanted the land."
But Adelson truly is a visionary. Today the Marina Bay Sands is arguably one of the most successful integrated resorts in the world. With hotel occupancy averaging 90.8% in the MRQ, the establishment brought in net revenue of $738 million. Even more impressive is that $405 million of this was retained in EBITDA, a margin of 55%.
LVS's two Macao establishments had extremely impressive quarters as well. Macao Sands China and the Venetian Macao had EBITDAs of $392 million and $258 million respectively. For Sands China this was a new record, and a 27.5% increase over the same quarter last year.
As for American properties, Sands Bethlehem (Pennsylvania) reported an EBITDA of $21 million and the Las Vegas properties had an EBITDA of $93 million. These were increases of 73.6% and 41% respectively versus the same quarter last year.
This all translates into a record revenue for LVS of $2.35 billion, an increase of 47% year over year. And there is plenty more in the pipeline.
In Macao contracts have been finalized for the opening of a 600-room 5-star hotel and a 1,200-room 4-star hotel. Along with 11 restaurants, 300,000 square feet of meeting space, and 106,000 square feet of additional casino gaming, this project is on track to be completed by the end of Q1 2012. This will be located on the currently undeveloped lot 5. Furthermore, 2,000 Sheraton-branded hotels are on track to be completed by Q3 2012, on what COO Michael Leven referred to as Lot 6A.
Sands Bethlehem opened its hotel during the quarter, and its retail mall and event center are scheduled to open their doors before the years end.
Marina Bay is in the process of getting ready to open two additional on-site nightclubs, as well as 30-40 more retail shops.
Valuation
On paper, LVS stacks up well against peers. Check out the chart below comparing LVS to WYNN (its closest competitor competition) and the industry average:

| | | | |
| --- | --- | --- | --- |
| | LVS | WYNN | Industry |
| P/E (ttm) | 36.57 | 38.10 | 38.10 |
| P/Book | 4.84 | 4.47 | 5.44 |
| ROE | 5.58 | 5.93 | x |
| LTDebt/Equity | 146.89 | 145.89 | 159.56 |
The Macro View
One of the aspects of LVS that makes it so appealing is its global position. It has limited exposure to the problems engulfing the west, and is focused on gaining market share in the bustling economies of southeast Asia. Look at the following breakdown of revenues: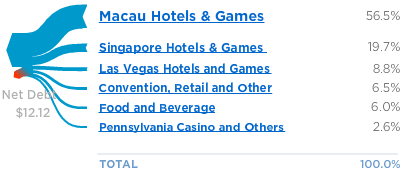 Although profit and market share maintenance is and should continue to be of tantamount importance at all of LVS's locations, Singapore and Macao are the segments of the company's operations that are capable of seeing the most growth.
It has long been known that southeast Asia is among the globes leading regions in regards to populations with the propensity to gamble. And with economic growth lining the pockets of millions of "newly middle class" citizens, as well as slow but steady economic liberalization in vast markets such as China, these populations now have an increased ability to pursue that propensity.
Take Macao for instance. Like Hong Kong, it is a "special economic zone" within China, with its own administration and set of laws. One of the things that makes Macao so special however, is that it is one of the few places within China's jurisdiction where gambling is legal. Think of it as China's Las Vegas.
Now look at China in general. At the beginning of the decade China had roughly 43 million mobile-phone subscribers. Today that number is closer to 700 million. The number of automobiles sold a year in China ten years ago averaged around 0.5 million. Today that number is closer to 11 million. Chinese retail sales have multiplied year after year, and besides for a select few, key industries, much of the states older roles have been transferred to the private sector. In fact, the number of urban citizens employed by the private sector in China has jumped from 24 million in 1997, to roughly 80 million today.
This all translates into more discretionary spending per citizen. And with LVS' new strategic location in the Marina Bay of Singapore, it is no longer just poised to capture the strategic growth of China, but of the entire region.
A Look at the Chart:
click to enlarge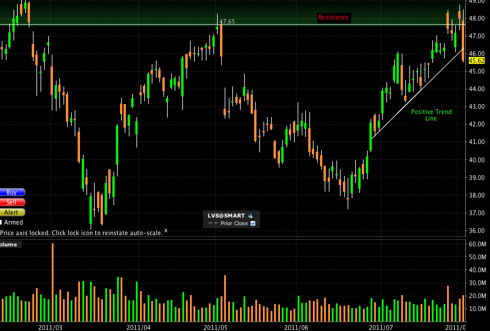 Click to enlarge
There was a lot of built up anticipation to the earnings report on July 26th and when the news broke better than expected, the share price made a break for it. The stock reached a line of resistance at around $47.50, a peak price not seen since April.
The debt ceiling/budget fiasco in Washington played a large role in the stocks nearly 5% slip today (August 2nd) - and that will be discussed shortly - but an important consideration to make is that the stock just barely passed the $47.65 mark before steam disappeared and the stock headed back downwards, opening today already in the red.
ThisClick to enlarge sudden turnaround at the line of resistance was probably contributed to in some extent by a factor specific to that particular price.
Realize that buyers that picked up LVS around April and were victim to its sudden downturn have been in the red ever since. Most likely at least a portion of these shareholders (and there are probably quite a few given the volumes on "green days" prior to the drop-off) had become skittish and nervous, feeling trapped in a loss for several months. Finding themselves finally breaking even yesterday - and with market conditions so uncertain and the underlying security so volatile - a substantial portion of these "newly freed" investors most likely sold, just happy to have their principle back. This over-supply of willing sellers stopped the climb dead in its tracks, but also removed these sellers as a barrier to the next bull run. This decline (depending on market conditions going forward...we need the timing to be a little better) may end up being the final breath-in before the price is able to burst through the $47.50 line of resistance.
The overall market was of course the main reason for the dramatic drop today. WYNN was down nearly 5%, and BYD suffered a nearly 8% loss. But remember that LVS has considerably limited exposure to the American market and practically no exposure to the Eurozone. This is not an attempt to downplay the fact that globalization exists, tt is an indisputable fact that the economies of the West are intricately linked with those of Asia, and when we hurt, they hurt.
But it is also a fact that the dire problems we are facing today - just like the problems we faced in 2008 - are a direct result of fundamental flaws in our own economy, not in the economies of Asia. And just like in 2008, if we do end up hurting bad, they will hurt less and will recover quicker.
Domestic consumer demand for discretionary products grows year after year in the countries of Southeast Asia and macro economists do not doubt that this trend will continue for years to come. With the presence of mega resort-style casinos still extremely new, it would be ridiculous to assume that LVS and its competitors have somehow managed to already saturate this multi-billion person market.
So far investors need not fear or become skittish over whatever choppy waves this market throws at us over the next few weeks. Management has already indicated that July (part of Q3) was an excellent month. But regardless, the fundamentals of the company are strong, and we have not even begun to see what its capabilities in Asia may consist of in the long run.
Disclosure: I am long LVS.