Apple (NASDAQ:AAPL) gets lots of deserved credit for its great products and earnings. Not enough attention is given to its superb cost management. Of all tech companies, Apple spends the least on overhead as a percentage of total sales. Apple's "overhead" as measured by its sales, general, and administrative costs, or SGA, has been steadily decreasing as a percentage of its revenues. Over the last 10 years, Apple has been spending less and less overall on salaries, rent, and utilities per dollar it generates in sales. In 2001, Apple's SGA costs amounted to over 21% of its total revenues. This year, SGA's toll is only about 7% of sales. As Apple has increased its revenues, SGA has accounted for a much smaller share of the proceeds. In contrast, the percentage of money spent on overhead for many tech companies seems fixed whether or not sales have increased.
Decreasing SGA is important. For every dollar, Apple doesn't spend on SGA, it increases operating income by a dollar. When you're talking 100 billion in revenues, a percent is real money.
No other technology company can claim as low a SGA as a share of revenue. In fact, the competition's SGA costs as a share of revenue are far higher.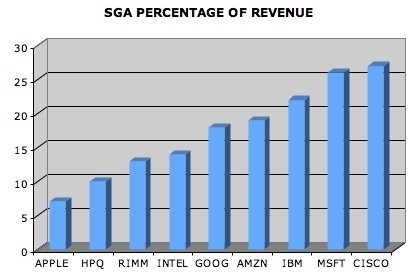 Apple didn't always have such exquisite control of its overhead. Once-high costs have steadily come down. The graph below shows Apple's determined and steady improvement. Compare Apple's efforts to those of other big technology companies.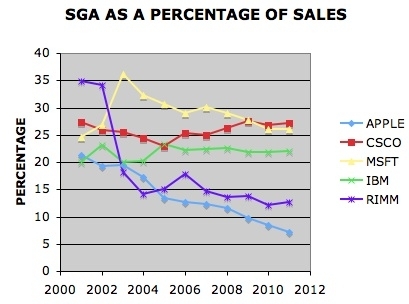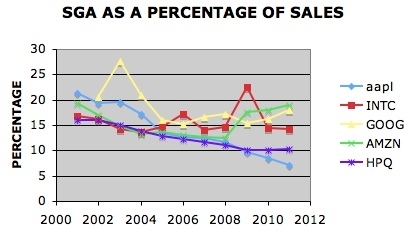 For the most part, big tech has been ineffective cutting costs. IBM (NYSE:IBM), Microsoft (NASDAQ:MSFT), Cisco (NASDAQ:CSCO), Google (NASDAQ:GOOG), and Amazon (NASDAQ:AMZN) haven't reduced the expense of running their companies as a percent of their sales over the last 10 years. In fact, the charts of Cisco and IBM show almost no variation in overhead as a share of sales. Research in Motion (RIMM) was successful until 2004 but seems to have plateaued in its efforts. Hewlett-Packard (NYSE:HPQ) was able to chop costs under former CEO Mark Hurd. However HPQ's efforts have stalled the last few years.
Apple is a different story. Apple has grown its revenues, all the while managing to keep the share of SGA down. By the look of the charts, that trend is far from over.


Disclosure: I am long AAPL.