Steve Madden Ltd. (NASDAQ:SHOO) is a shoes and accessories company that is doing phenomenally well. Due to a clever market-testing system for new products and fashionable shoes, it is growing by upwards of 20% p.a. For example, revenue was up 31.8% in the second quarter. Due to this, shares are up 550% since the '09 lows. Despite this, SHOO is still only trading at 15.5x the next 12 month's earnings.
The company was built by Steve Madden; a designer who is still in charge of fashion for the company. It is publicly traded, but still a family business: Steve's brother John Madden does consulting work relating to international expansion. This is necessary, as SHOO has barely started to expand internationally. The vast majority of revenues are concentrated in the U.S. wholesale segment.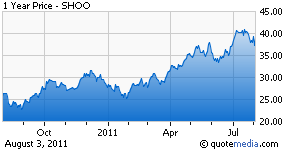 The wholesale footwear segment is Madden's backbone, and accounts for roughly two thirds of revenue. The net margin, at 19%, is higher than the company average of 12%. 30.1% revenue growth in footwear last year was higher than the company total of 26.2% and drove approximately 70% of last year's total growth. DSW Inc. (NYSE:DSW) is the largest custumer, and accounts for 12% of wholesale footwear revenue.

Steve Madden has also leveraged its brand into the accessories business. Although significantly smaller than wholesale footwear, the wholesale accessories segment accounts for 15.5% of revenue. It grew 40% last year due to organic growth. As a result of this explosive growth, wholesale accessories accounted for 22.4% of last year's revenue increase. Thus, Steve Madden's two wholesale segments together created over 90% of last year's revenue increase. The retail, first cost, and licensing segments were a drag on growth.

Retail provides a very valuable testing site for Steve Madden's products and accounts for one fifth of revenue, but has been a huge drag on earnings. 2010 was the first year in recent memory the segment was profitable, and even so the net margin was 40% below the company average. Not only this, retail revenue was up only 8.6% last year, 67% below the company average. The intangible value of the retail segment is the role it plays in product development. After a prototype is created for an individual shoe design, a small batch is manufactured and sold in selected Steve Madden stores. Within about a week management can then make a call as to whether or not the shoe will be successful, and progress accordingly. This mitigates fear that the company will miss a fashion trend, threatening the company. The final two segments are ancillary and together account for less than 5% of revenue.

In the first-cost segment, Steve Madden acts as an intermediary between retailers and manufacturers to help retailers buy the right shoes at a good price. In licensing, Steve Madden licenses brands from their portfolio such as Big Buddha and Betsey Johnson out for apparel and other contracts. While this segment has the potential to be highly profitable, as it is for GES, it is currently less than 1% of SHOO's business. John Madden's 2010 salary, on the other hand, did account for more than 1% of earnings.

Similar to GES and the Marcianos, SHOO is run by the Madden family and gives them many of the perks of a private, family-run business. Although John Madden is not officially an employee, and his consulting firm has no formal contract with SHOO, he was paid $1 million last year for consulting work he does related to SHOO's international expansion. This $1 million included a generous monthly travel allowance, health insurance, and then a six-figure salary on top of that. Steve Madden has a similarly indulgent pay package. SHOO's lush compensation packages are silenced by double-digit growth rates.

The final element to the analysis is a look at the technicals. SHOO's uptrend has been much faster and steadier than that of the overall market. Shares are up 550% since March of 2009, and the largest correction has been 14% (the S&P corrected 17.2% last summer). While shares are overbought on a monthly and weekly basis, it is unlikely that they will get (technically) cheap if the current growth trend continues. It makes more sense to pick up shares and place a tight stop than to wait for a serious correction. Besides, paying 15.5x earnings for a company growing at 30% is a pretty good deal.

Disclosure: I have no positions in any stocks mentioned, and no plans to initiate any positions within the next 72 hours.

Additional disclosure: I may re-enter long on a breakout to all-time highs in order to better manage risk.