It's been over a month since the dramatic drop in the Generex (OTCPK:GNBT) share price, and aside from a temporary boost provided on the heels of a positive Oral-lyn update, there hasn't been much movement in the GNBT share price, which looks stuck in the teens.
Shareholders did vote through a reverse split earlier this year, and that should be a prelude to the dawn of a new day for Generex, but the prospects of the pending split aren't helping the share price over the short term. It's a commonly-accepted investing theory (many call it a straight-out fact) that share prices drop on the back end of a reverse split. I tend to buy into that theory myself, although there are occassions where news released on the back end of a split is sufficient enough to support an actual increase in share price.
While the recent positive report from the company instilled some new found hope into weary investors, a new corporate update lays out the 'now time' for investors. This corporate update follows now-permanent CEO Mark Fletcher's strategy of communicating with investors better than the previous administration did.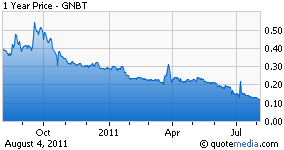 The update, which can be read by clicking here, offered no new updates, but reiterated the progress made this year in the advancement of the agenda. Of that agenda, achieving shareholder approval for a reverse split and the spin-off of Antigen Express stole the show thus far this year, but there's more to the story that might not be getting just as much attention.
Already mentioned were the positive results demonstrated by Oral-lyn in treating patients with Type 1 diabetes and impaired glucose tolerance (IGT). This is a key indicator that those who thought Oral-lyn was dead-in-the water a few months ago, might be wrong.
AE-37 for breast cancer is progressing in Phase II trials, and a Phase III trial is being prepped in the meantime. Generex, and Antigen Express, is banking much of the future on this product which the company says an independant auditor already valued at $300 million. Keep an eye out for AE37 updates, especially after the reverse split.
Collaboration with RXi and Amarantus have also boosted the partnership potential of the company, and therefore may have also boosted the potential for additional income streams down the road.
Any stock trading for thirteen cents should still be considered speculative, but unlike where investors thought they were a year ago, they now know where they stand.
The potential is there, it's a matter of tracking the story now. And finding a comfortable point of entry. It could be that these current prices are a pretty good deal.
Disclosure: No position. VFC's Stock House is not compensated to cover GNBT.