Clean Energy Fuels Corp. (NASDAQ:CLNE) is a $1.07 billion market cap company that trades an average of 2.31 million shares per day. The company was incorporated in 2001 and is headquartered in Seal Beach, California.
Industry: Natural Gas Utilities
Recent Price: $15.20

52 Week High: $17.85

52 Week Low: $11.75

Book Value: $5.90

Time Released: At Close
The number to beat is $-0.09 per share, based on the estimated mean earnings.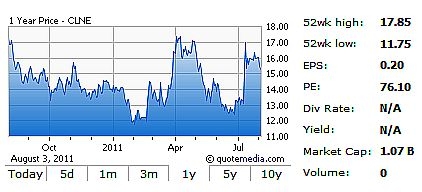 Analyst estimates range between $-0.12 and $-0.05 per share.

Investors have been somewhat rewarded with an increase of year-over-year revenue. Revenue reported was $211.83 million for 2010 vs. $131.50 million for 2009. The bottom line has rising earnings year-over-year of $-2.52 million for 2010 vs. $-33.25 million for 2009. The company's earnings before income and taxes are rising with an EBIT year-over-year of $-5.52 million for 2010 vs. $-33.29 million for 2009.

It is a very nice looking bar chart for investors looking for growth. If the company beats and actually goes postive with earnings, look out-- the stock could really fly.

Gross revenue is growing at an annual rate of 61.09%.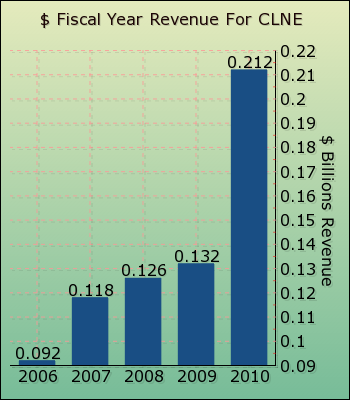 Gross reported revenue compared to the mean estimate (rounded).
| Fiscal Quarter Ending Month-Year | Revenue Estimates | Actual | $ Difference | Difference % |
| --- | --- | --- | --- | --- |
| Mar-11 | $ 65.83M | $ 65.34M | $ -0.49M | -0.74% |
| Dec-10 | $ 69.16M | $ 83.16M | $ 14.00M | 20.24% |
| Sep-10 | $ 50.82M | $ 45.65M | $ -5.17M | -10.17% |
| Jun-10 | $ 40.73M | $ 44.03M | $ 3.30M | 8.1% |
| Mar-10 | $ 43.82M | $ 38.99M | $ -4.83M | -11.02% |
M = millions, B = billions
Disclosure: I have no positions in any stocks mentioned, and no plans to initiate any positions within the next 72 hours.
Disclaimer: I use a proprietary blend of technical analysis, financial crowd behavior, and fundamentals in my short-term trades, and while not totally the same in longer swing trades to investments, the concepts used are similar. You may want to use this article as a starting point of your own research with your financial planner. I use Seeking Alpha, Edgar Online, Google Finance, MSN Money, CNBC, Zacks and Yahoo Finance for most of my data. I use the "confirmed" symbols from earnings.com that I believe to be of the most interest. I also often include some that are not "confirmed" but are "Proposed" for the same day. The numbers are only as good as the sources. Many of the ADRs that are relatively new provide a special challenge that can be very time consuming to figure out the "best" number. Chinese ADRs that are new seem to be especially prone to conflicts with Reuters, EDGAR Online, and other sources. Not everyone puts companies into the same sector. I use Reuters as my primary guide to keep it consistent.