Magic Software (Ticker:MGIC) has hit an inflection point. How can you tell an inflection point from a flash in the pan? An inflection point requires a turn in profitability driven by sustainable growth. Magic Software fits the profile. The company's financials reflect a definite turn in profitability. And while unnoticed by the market, the company growth story is gaining steam.
Strong Organic Growth Drivers
Magic Software is benefitting from strong secular growth trends. Take a look at the company's product and service offerings: Database integration, business intelligence, cloud services, and mobile access. These enable users to pull data from their Salesforce.com CRM database, for example, and integrate it with other internal systems such an e-commerce platform, and then securely access the system from anywhere on their Blackberry in real-time. In 2012, the company will roll out support for the iPhone and Android, reaching its goal of supporting any application on any device.
Acquisition Opportunities
The company is in talks with three acquisition targets, hunting opportunities to beef up its mobile and cloud service offerings. Acquisitions will allow the company to augment its offerings and reinvest some of its $47 million cash position.
The company's product and service offerings have never been more robust, especially given the rollout of mobile access solutions. This translates into an impressive 2012 revenue outlook.
CEO Guy Bernstein has guided for $165 million in revenue for 2012. This follows $115 in 2011, $89 million in 2010, and $55 million in 2009. The surprising part is that this is not baked into the stock.
At $5.50 per share, the stock trades for a mere 11x my 2011 EPS estimate of $0.45. I expect a breakout year in 2012 to spark a rerating in the shares.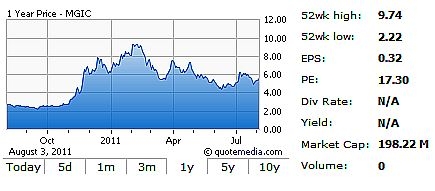 Disclosure: I am long MGIC.