China Integrated Energy (OTCPK:CBEH) last week announced the appointment of a new independent auditor, Sherb & Co., LLP, to replace KPMG. Sherb & Co will commence its audit work to re-audit the company's annual results for the year ended December 31, 2010 and will also begin the process to review the company's quarterly financial results for 2011.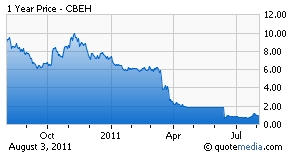 With this latest step, the company is seemingly slowly getting back to business as usual after being severely impacted by, from management's point of view, an evidently somewhat unexpected turn of events earlier in the year, which although initially triggered by a number of articles published by a group of short-sellers, was subsequently handled far too carelessly by the board and for which management has certainly had to take their share of responsibility.
The initial independent investigation, in response to aforementioned publications, by the Audit Committee was cut short due to the resignation of the investigating law firm Pillsbury after payment was delayed to Pillsbury and Deloitte by management. This was due to disagreements with Pillsbury and Larry Goldman, CBEH's previous audit chairman, on both the manner in which the investigation was being conducted and the nature of the information requests by Pillsbury. The company's founder and current CEO, Mr. Gao Xincheng, was seemingly overestimating the level of commitment of its new auditor, especially in light of the whole Chinese RTO saga and possible liability concerns.
The subsequent chain of events whereby within a timeframe of a few weeks KPMG resigned due to "non-cooperation of management with the independent investigation", only 4 months after CBEH completed SOX 404 implementation based on KPMG's recommendations, and the resulting NASDAQ delisting due to "absence of auditor" was evidently unforeseen by management.
Although management was quick to act in hiring Steven Markscheid, former representative of US China Business Council, vice president of Chase Manhattan Bank and First Chicago Bank and director at GE Capital, as independent Director and Audit Committee Chair and renowned international law firm Shearman & Sterling LLP as special counsel to the Company's Audit Committee, it was too late to maintain NASDAQ listing and the share price was decimated to unseen levels. As Shearman & Sterling's independent investigation is advancing and with the appointment of Sherb & Co as new auditor, management is now finally able to provide updated guidance for FY 2011.
Jeff Chan, Chief Financial Officer of China Integrated Energy, said,
For financial year 2011, the Company's sales are currently expected to be $497 million and net income is expected to be $41 million. At the beginning of 2011, the Company provided guidance for sales of $588 million and net income of $72 million.

We have revised guidance downward for the financial year 2011 due to several factors. In the first half of 2011, our biodiesel production facilities in Tongchuan were not producing at planned capacity due to government restrictions on chemical and oil production during the International Horticultural Exposition (the "Expo") in Xi'an, which began in April 2011 and is currently still underway. We were successful, however in our efforts to maintain limited hours of production each day as the local government authorities acknowledged that our production of biodiesel is safer and less pollutive than traditional oil refining. Normal production schedules will resume after the end of the Expo in November 2011.

In addition, the newly acquired equipment for the Tongchuan Phase 2 plant is still undergoing testing. Production is scheduled to commence in the third quarter of 2011. Additionally, one of the production lines in the Chongqing plant was upgraded in the second quarter of 2011, which temporarily reduced our biodiesel production during that period.

As previously announced, four gas station leases were cancelled by Shaanxi Highway Services Co., Ltd. as part of the government's effort to reduce the number of gas stations leased to third party operators. As a result, we have received a refund of about $3.9 million (approximately equivalent to RMB26 million) for the advance lease payment that was made at the time we began operating those gas stations.

On July 8, 2011 and July 11, 2011, we received termination notices from Shaanxi Fangwei Road Gas Station and Lantian Gas Station for the gas stations leased by Xi'an Baorun at those locations. The termination of the operating lease for Lantian Gas Station is due to the expected demolition of this gas station in order to widen the road, a project undertaken by the local government...The Company expects to receive a refund for the advance lease payments made amounting to approximately $10.9 million (approximately equivalent to RMB71 million).

As a result of the termination of these leases, our retail gas station segment sales have been reduced.

To date, we have not received the corporate income tax waiver for financial year 2011 from the Xi'an local tax bureau for our Xi'an Baorun subsidiary and, hence, we expect that Xi'an Baorun will be subject to corporate income tax at the rate of 15% since it has been certified as a High & New Technology Enterprise.

Our expenses are also expected to increase due to the cost of the ongoing independent investigation.

The revised guidance reflects the Company's current estimates based on the conditions and trends known to the Company as of the date of this release. Results are subject to change based upon further review by management and future changes in market and operating conditions.
Given the updated guidance on revenue and net income, alongside clarification on the current status of the biodiesel production lines, often referred to in other articles, and clarification on the number of gas stations now managed by CBEH, from 13 to 9 and now 7 stations due to lease terminations (4 owned, 3 leased), it will be interesting to see how the share price will develop in the next 6-12 months.
Comparing the guidance for expected sales of $497 million to the previous year's $438.7 million (2010) and $289.6 million in 2009, the company seems to have maintained its growth momentum despite recent developments. Expected net income of $ 41 million (2010: $37.7 million, 2009: $27.1 million) on 42.2 million shares (diluted) comes down to expected EPS of approximately $0.97 for FY 2011.
Cash and cash equivalents at the end of last year stood at $ 90.3 million compared to $ 62.4 million at the end of 2009. The $90.3 million includes $14.3 million net proceeds from a registered direct offering completed in December 2010, when the share price was still hovering around the $7 range. When taking the current cash on hand, a little over $2 per share, as buffer alongside a very favorable asset/liability ratio (264 million / 34 million last reported) and a P/B of 0.3, the current share price seems attractive in itself.
Given the timing of the provided guidance, it seems unlikely that the independent investigation and re-audit will show either a balance sheet or income statements greatly differing from the guidance provided last week. Time will tell, but this particular stock seems ripe for some significant upside during the second half of this year as management returns focus on running a growing and profitable business and winning back the trust of the investor community.
Links to the discussed PRs, directly from the company website: here and here.
This investor presentation (.pdf) provides some useful information on China Integrated's business.
Disclosure: I have no positions in any stocks mentioned, but may initiate a long position in OTCPK:CBEH over the next 72 hours.