I am a former hedge fund manager who has turned professional recruiter for a global staffing firm over the last 4+ years.
LinkedIn (NYSE:LNKD) reports their Q2 on 8/4/11 at 5pm which is their 1st quarterly report as a publicly traded company.
Bottom Line - Buy some LinkedIn before they announce their quarter. Whether it's a 2k or 20 mm investment, I highly recommend buying some shares.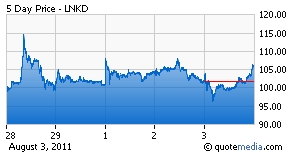 For aggressive and sophisticated investors, go long LinkedIn and short Monster (NYSE:MWW). You can also buy some "out of the money" calls with expirations in August and/or September. I am long a variety of those call options with various expiration dates, August and September 115 and 120 calls. My core position is long LinkedIn stock with an average cost basis (price I paid) around 85 a share.
I am a long term buyer (5+ yrs.) who considers any sell offs an opportunity to buy more at a cheaper price. For example, I bought stock the day LinkedIn went public around 87 a share and bought more over the proceeding month(s) at 75, 70, 65, and 61, respectively.
Timing:
If you decide to buy, you probably want to do this ASAP before they announce. If I am right on this call, LinkedIn could go as high as 150 a share on Friday. Keep in mind, it could also go to 50 a share. My long term target (3 - 5 years) is a 50 billion dollar company which = 500 a share. More on that later. As of today, LinkedIn is a 9.98 billion dollar company at 105.65 a share. There are 94.5 million shares outstanding with a small float of 7.82 million shares.
Conviction Level:
In my 15+ years of investing experience (professional and amateur), I have never known a company I invested in as well as I know LinkedIn. Jim Cramer knows a little to a medium amount about thousands of stocks. I know A LOT about LinkedIn. My conviction level that LinkedIn continues to grow over the short, intermediate, and long term is 9.75 out of 10, with a perfect 10 being unattainable. However, this doesn't necessarily mean the shares of LinkedIn will continue to appreciate in the short term.
Why I Believe In LinkedIn So Much:
The creator of LinkedIn had a genius idea over 8 years ago. However, that's not the part that impresses me. The part that impresses me is how LinkedIn went from a genius idea to executing a game changing product/software/service/ and tool with HUGE monetization potential. It has grown like wild fire since it launched in 2003 with acceleration in growth in more recent years and months and as I wrote this article.
LinkedIn has only scratched the surface in revenue with just shy of 500 million revenue expected as of today for 2011. I think that 500 million number will be revised upwards after this Q2 earning's announcement. Why? Just about every day/week/month/quarter/year, I see more and more jobs being posted and premium subscribers being added and high profile companies advertising, not to mention a new member every second. For example, a little over a month ago, there were 40 thousand jobs advertised on LinkedIn in the US and 60 thousand globally. Today, 8/4/11, I saw 49k US Jobs and 73k Global. That is 23% and 22% growth, respectively, in about 1.5 months. That gives us a run rate of around 176% from LinkedIn's largest revenue stream.
Who is posting jobs on LinkedIn? Microsoft (NASDAQ:MSFT) has 4,762 jobs advertised on a global basis, Google (NASDAQ:GOOG) has 1,425 jobs, Fidelity Investments has 604 jobs, Facebook has 62 jobs, Cybercoders (staffing firm with only 181 employees) has 1,989 jobs, LinkedIn (corporate) has 224 internal jobs posted. LinkedIn previously reported a 90%+ compound annual growth rate. Every indication makes me believe that the 70k jobs advertised on a global basis will go to 700k jobs advertised (10 times revenue from this one product called "Hiring Solutions") in a medium time frame (3 – 5 years). Do you think 7 million jobs advertised worldwide are possible over a 5 – 10 year time frame? I think that is within reason. That would be 1,000 times current revenues from this one revenue stream. Does a 10 billion market cap still seem wildly overvalued?
LinkedIn has three revenue streams (products):
Hiring Solutions revenues come from companies like Microsoft and Google and thousands of others who do their recruiting and job posting with LinkedIn and pay about 7k a license per user per year.
Marketing Solutions are revenues from companies who want to advertise (not-jobs) on LinkedIn. Cisco (NASDAQ:CSCO) and HP (NYSE:HPQ) are a few high profile companies advertising on LinkedIn. Self –serve Ads, Display Ads, Social Ads, Lead Generation.
Premium Subscriptions are for all those millions of candidates and all non enterprise accounts who want to upgrade the functionality of their accounts on an a la carte basis. I have a premium account for $100 bucks a month. This is their highest margin business because they can upgrade a million people at once through their website.
If I were a company hiring a candidate, it is a no-brainer that I would want to advertise on LinkedIn, vs. all the other options, like Monster and CareerBuilder. Why? For one, there are over 100 million users on LinkedIn. But it's actually the quality and RELEVANCY of candidates that make it significantly better than their competitors. Also, the fact that you reach both active and passive candidates is HUGE in the recruiting world. My clients want candidates with relevant work experience and industry and size of company. Most candidates don't have this information on their resumes. Well, all LinkedIn profiles automatically have this KEY information on their "profiles".
Now let's flip the perspective. If you are a professional and looking for a job - either passively or actively - you MUST be on LinkedIn if you aren't already. If you would like opportunities to find you and for you to be able to find your dream job, spend a little time on LinkedIn on a regular basis. Well, some tell me that they join LinkedIn and then what? As the old adage goes, the more you put into it, the more you get out of it. You first have to learn and grasp just how much is at your fingertips for free. This will not happen on your first few visits. Go to linkedin.com, register, click on the tutorial, and start exploring. You can't realize the fantastic value add proposition without putting in the time. Complete your profile, join groups, connect with lots of professionals and good things will happen over the long term from a professional standpoint. I know it first hand.
I have been using LinkedIn as a tool for my job 5 - 7 days a week for the last 3+ years. I have watched the "hyper-growth" unfold before my eyes. LinkedIn is a game changer for every professional. It plays in multiple industries, yet it's creating a new industry. We use Facebook to share photos and keep in touch with our friends and family. We use LinkedIn for all of our professional contacts and networking and job searching and candidate finding and Client Relationship Management and more. The applications are growing so quickly, I have a hard time keeping up.
When I am searching for candidates, I go to LinkedIn first and foremost. Why? Because it's so much better than anything else out there. Recently, I saw the profile of a Sr. Director of Talent Acquisition of a global tech company on LinkedIn and noticed that he graduated from my college one year before me. I sent him a message vis-à-vis LinkedIn and his assistant reached out to me a few hours later setting up a lunch. This global tech company hired 150 net new employees this last quarter due to growth. He has 40+ recruiters working for him on a Global Basis. His #1 spend after his employees is LinkedIn. He says that he only uses Monster for one of the countries that he recruits in, but the overwhelming majority of his budget (after salaries) goes to LinkedIn.
The 4 top execs from Monster flew in to meet with him and ask why he no longer buys from them the way he used to. He told each one of them how much he knew about them and it wasn't from Monster. Bottom line is that the Sr. Director of Global Talent Acquisition said there is one thing every employee has in common with his company. They are all on LinkedIn before joining his global tech company. This trend of leaving Monster and others behind and going to LinkedIn is as powerful as the ocean's current.
Those who go against this trend (short the stock) may be crushed regardless of a high P/E or price to sales ratio. Jesse Livermore was a great trader from over a century ago. He used to always say, "Take the path of least resistance". The clear path of least resistance with LinkedIn and its stock is to the upside. This company is in a hyper growth mode right now that is accelerating. If you want to bet against LinkedIn, I would limit your risk and buy puts.
Valuation:
I have not heard of one analyst who doesn't think highly of LinkedIn, the company itself and its growth. What most fundamental analysts don't like is the VALUATION. Other analysts shamefully write their opinions without knowing much at all about the company. What is valuation? As many of you know, the two most common valuation metrics are: P/E (price to earnings), and P/S (price to sales). Enterprise Value to EBITDA is another one that is very good. Anyway, LinkedIn is traded at a VERY, VERY high valuation based on all valuation ratios/metrics. This is why many analysts don't recommend buying LinkedIn. Keep in mind that valuation ratios change as quickly as revenues, EBITDA, and earnings change. In LinkedIn's case, this is unusually fast.
A stock's price simply depends on supply and demand. The original IPO price for LinkedIn was supposed to be 35 a share. DEMAND was so strong, they raised it to 45 a share. DEMAND was so strong, it opened around 85 a share. DEMAND was so strong on Friday, it closed at 101. Fundamental Analysts are trained on determining the valuation of a company by modeling out what the valuation "should" be. If a stock trades at a discount to its intrinsic value (what price it "should" be), then buy. If a stock trades above that modeled out number of what the stock value "should be", then sell or stay away or short. If LinkedIn had a P/E of 20, EVERYONE would buy. DEMAND of LinkedIn shares is so HIGH, it trades at a super high multiple where it becomes a more difficult decision to buy. If LinkedIn doesn't continue to EXECUTE their top line growth and eventually their bottom line, LinkedIn could decline severely.
Expectations:
I really like how management has set low expectations for Wall Street saying that they don't expect to be profitable in 2011. They want to continue to invest in their global growth. Setting low expectations from a 2011 profitability standpoint is very wise.
Another genius part about LinkedIn is that all of these millions of people are updating their information on an ongoing basis. Every company has some kind of database with names and numbers of decision makers, their titles, etc. The most labor intensive part for every company is to update these millions of contacts. With LinkedIn, everyone updates their own profile, so there is no database in the world that has more up to date and accurate information on companies and the professionals who work there. This is extremely valuable to every sales organization. Another great feature is that LinkedIn is a rolodex you will never lose. The only way you lose a contact is if they decide to "de-list" you as one of their contacts. You have full control in your account settings.
In Q1 2011, LinkedIn did 94 million in revenues.
This link is the S1 form LinkedIn filed before its IPO if you want to see the numbers.
Risks And What The Bears Say:
Valuation: If LinkedIn doesn't continue to execute well, the high valuation could come crashing down. I have seen some fundamental analysis with a price target as low as 35 a share.
Competition: Facebook, Google, Monster and others are potential competitors. There is one company in France who has a professional networking site as well. I know that I prefer one social networking site and one professional networking site. I don't have time, nor do I want to go anywhere else. The critical mass that LinkedIn and Facebook have created serve as a barrier to entry, but it is still a risk.
Economy:
If the economy were to go back into recession, it would definitely hurt LinkedIn's business.
Disclosure: I am long LNKD.
Additional disclosure: I am also Long out of the money calls. I am short Feb 12 55 puts.