The S&P 500 (SPX) and the broader Russell 3000 (RUA) both gained 0.5% on Wednesday, August 3, 2011. Of the 4,600 stocks that were tracked, the top 25 gainers that closed above $1 at market-close on August 3, were analyzed to determine if they would continue going up, or if they would reverse their moves going forward. The following are the best buy and sell ideas based on that analysis:
Buy Merge Healthcare Inc. (NASDAQ:MRGE): MRGE develops medical imaging, clinical workflow process, and patient information management software applications. The medical imaging software solutions support end-to-end business and clinical workflow for radiology department and specialty practices, imaging centers and hospitals. The patient information management software applications improve their customers' productivity and enhance the quality of the patient experience.
MRGE shares gained 11.1% on Wednesday after reporting that in the June quarter, it generated 6cents in earnings, 4cents better than estimates, and that revenue came in at $55.6 million versus the $54.7 million estimate, and also 92% above prior year June quarter revenue at $29 million. Furthermore, gross margins improved 827 basis points over the prior March quarter and 1,321 basis points over the prior year's June quarter. Adjusted EBITDA increased to a record $17.1 million or 20cents per share, above 9cents per share in the prior year June quarter. Overall, the stock trades at a forward 19-20 P/E while earnings are projected to increase at a 67% compounded growth rate from 10cents in 2010 to 18cents in 2011, and to 28cents in 2012. Furthermore, the company is expected to benefit from the continuing implementation of the Health Information Technology for Economic and Clinical Health (HIT) Act, as part of the economic stimulus bill passed in 2009. The stock is breaking out of a five-year base, and we would be buyers here based on the cheap valuation and strong growth potential.
AMAG Pharmaceuticals (NASDAQ:AMAG): AMAG develops nano-particle-based therapeutics to treat anemia and diagnose cancer and cardiovascular disease. The company's lead product candidate Ferumoxytol is being developed for use as an intravenous iron replacement therapeutic for the treatment of iron deficiency anemia in chronic kidney disease patients. The stock was up 11.2% on Wednesday after it revealed late-night Tuesday that it received an unsolicited proposal from MSMB Capital Management to acquire all of the company for $18 per share in cash. It was revealed that MSMB made that bid in an attempt to block the proposed merger between AMAG and Allos Therapeutics (NASDAQ:ALTH), an all-stock merger that the two companies announced on July 20. ALTH shares were unchanged, but traded heavily Wednesday on the news.
Buy Clearwire Corp. (CLWR): CLWR provides wireless broadband networks for delivery of residential and mobile internet access and voice services. CLWR customers connect to the Internet using licensed spectrum, thus eliminating the confines of traditional cable or phone lines. The company offers its service in fifty U.S. markets, as well as in Europe. The stock gained 10.3% on Wednesday, and it is down 52% YTD. The shares rebounded yesterday ahead of the earnings announcement after the market-close, and after a crippling 22% loss in the last week since its partner Sprint Nextel Corp. (NYSE:S) announced a partnership with CLWR's 4-G rival LightSquared that uses 3GPP Long Term Evolution (LTE) technology for its 4G implementation.
CLWR reported that revenue was in-line at $293.7 million for the June quarter versus the analyst estimate of $294.5 million, but it missed huge in reporting a loss of $1.00 versus the estimate of 49c loss. However, perhaps more importantly, the company revealed a major shift in its strategy by embracing the rival LTE technology for its 4G implementation. While this is a welcome move as Sprint, the only supporter of its WiMax standard, currently also embraced LTE via a deal with LightSquared last week, it is not clear how CLWR will succeed in this environment given that it is late to the LTE game, and it is also not clear what it intends to do with its LTE network and the implications that will have for its current WiMax customers and their devices. However, CLWR shares currently trade at all-time lows, and it has spectrum assets that could fetch as much as $20 billion in an auction if the Obama administration frees up more spectrum for commercial use. By embracing LTE, CLWR has now taken up some insurance against its own irrelevancy as its future is no longer tied completely to WiMax, a technology that is in danger of becoming obsolete. We would be buyers on this news.
Buy Interdigital Inc. (NASDAQ:IDCC): IDCC designs wireless modems and ICs used in notebook computers, PDAs, mobile handsets and wireless infrastructure. The company generates a majority of its revenue from patents related to the fundamental technologies that enable wireless communications. The company's solutions are incorporated in various products comprising mobile devices, such as cellular phones, tablets, notebook computers, and wireless personal digital assistants; wireless infrastructure equipment, such as base stations; and components, dongles, and modules for wireless devices. Its shares rose 13.8% on Wednesday, and they are up 72.8% YTD.
IDCC shares were up Wednesday on news that Samsung Electronics Co. has now joined the fray in examining and perhaps bidding on IDCC's patent portfolio; rivals Apple Inc. (NASDAQ:AAPL) and Google Inc. (NASDAQ:GOOG) are already known to be examining the IDCC's strong patent portfolio of over 8,800 patents, many of which are used in devices ranging from AAPL's iPhone to GOOG's Android based smartphones and Research in Motion Ltd. (RIMM) Blackberry handsets. It has been argued that IDCC's patent portfolio could be worth as much as $5 billion to a potential acquirer; at yesterday's closing price of $71.96, the company sports a market-cap of only $3.26 billion.
With a who's who list of premier technology companies lining up as suitors, and for technology patents that are critical to the way we consume information today, it is probable that even with this year's surge of 72.8%, shares may still be undervalued. With the stock up almost 100% in the last month, we would not jump into this one; rather, we would be buyers on any pullback near $60, buying it in stages to take advantage of any further weakness. Wall Street analysts are also bullish on IDCC, giving it a mean target of $66, with a high of $118; and of the six analysts that currently cover the company, three rate it at buy, two at hold and one gives it a sell rating.
Buy Silicon Image Inc. (NASDAQ:SIMG): SIMG is a leading provider of wireless and wired connectivity solutions such as transmitters, receivers, controllers and bridges that enable the reliable distribution and presentation of high-definition content for consumer electronics, mobile, and PC markets. Its products are deployed by the world's leading electronics manufacturers in devices such as desktop and notebook PCs, DTVs, Blu-ray Disc™ players, audio-video receivers, as well as mobile phones, tablets and digital cameras. SIMG has driven the creation of the highly successful HDMI® and DVI™ industry standards, the latest standards for mobile devices - SPMT™ (Serial Port Memory Technology) and MHL™ (Mobile High-Definition Link), and the standard for 60GHz wireless HD video – WirelessHD™ (WiHD).
SIMG shares surged 24.2% on Wednesday after the company reported blow-out results from its mobile segment in the June quarter results that it reported on Tuesday after market-close. Revenue was in-line at $53.6 million versus the $52.3 million estimate, and up 20% year-over-year, and it beat earnings by 2cents, reporting 5cents for the quarter. However, revenue from its mobile division showed explosive sequential growth of 180% from $6 million in the March 2011 quarter to $17 million in the June quarter, and they now constitute 40% of product revenue. We believe that SIMG is just at the beginning of its growth story, and would buy into it aggressively here. Shares even after yesterday's surge trade at only 13 times forward P/E, in the bottom one-third of its P/E range, while the revenue and earnings growth trajectory is explosive given the growth of its mobile segment.
Sell Nxstage Medical Inc. (NASDAQ:NXTM): NXTM manufactures a hemodialysis system to treat end stage renal disease, acute kidney failure and fluid overload. Its shares were up 13.6% on Wednesday after it reported that in the June quarter, it beat revenue estimates by reporting $53.8 million versus the $51.1 million estimate, and it reported in-line EPS at a 10cents loss. Looking forward, NXTM gave in-line guidance for FY 2011 revenue and earnings. We believe that the surge is unwarranted based on Wednesday's numbers in the quarter report, and we would be sellers here into any rally.
Sell Webmd Health Corp. (NASDAQ:WBMD): WebMD Health Corp. provides health information services to consumers, physicians and other healthcare professionals, employers, and health plans through its public and private online portals, mobile applications, and health-focused publications in the United States. Its shares were up 12.4% on Wednesday after the company reported its June quarter revenue was in-line, and that it missed earnings by 7cents, reporting 22cents versus the 29cents estimate. However, the estimate is less important as the company pre-announced preliminary June quarter earnings at 23cents. Furthermore, it re-affirmed FY 2011 revenue and earnings. The surge yesterday is just a reaction to the violent drop in mid-July after the company pre-announced that the June quarter would come in below consensus. Nothing in this quarter report changes that, so we would be sellers on any rally that tries to close that mid-July gap.
(Click chart to enlarge)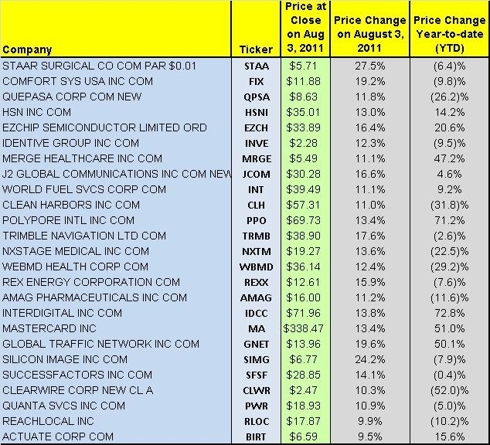 Credit: Historical fundamentals including operating metrics and stock ownership information were derived using SEC filings data, I-Metrix® by Edgar Online®, Zacks Investment Research, Thomson Reuters and Briefing.com. The information and data is believed to be accurate, but no guarantees or representations are made.
Disclosure: I have no positions in any stocks mentioned, and no plans to initiate any positions within the next 72 hours.
Disclaimer: Material presented here is for informational purposes only. Nothing in this article should be taken as a solicitation to purchase or sell securities. Before buying or selling any stock you should do your own research and reach your own conclusion. Further, these are our 'opinions' and we may be wrong. We may have positions in securities mentioned in this article. You should take this into consideration before acting on any advice given in this article. If this makes you uncomfortable, then do not listen to our thoughts and opinions. The contents of this article do not take into consideration your individual investment objectives so consult with your own financial adviser before making an investment decision. Investing includes certain risks including loss of principal.