Examworks (NYSE:EXAM) shares were completely obliterated Wednesday, with shares falling more than 35% at one point before launching a tepid rally in the final hour of trading. All told, the company shed $6.68 to fall 31% on the day, giving up $230 million of market value. All this on the back of an earnings report that at first glance appears to be in line with expectations and without any major problems. My further investigation supports the notion that there were no major flaws in the company's earnings release, and that the market severely mispriced Examworks' stock Wednesday creating an opportunity to buy the stock on the cheap.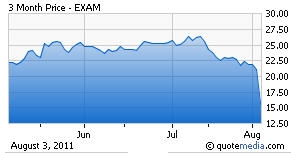 For those unfamiliar with the company, Examworks is a relatively new company, established in 2008 after it purchased several small independent medical examinations (IME) companies. Since then, the company has continued to execute is roll-up strategy as it has acquired several dozen additional IME operations to become one of the leaders within the several billion dollar a year industry. For more color on the company's operations, I quote from the company's 10-K:
ExamWorks is a leading provider of independent medical examinations, or "IMEs", peer and bill reviews, and related services, which include litigation support services, administrative support services and medical record retrieval services, and which we collectively refer to as IME services or the IME industry. We provide these IME services through our medical panel of independently contracted, credentialed physicians and other medical providers. Our clients include property and casualty insurance carriers, law firms, third-party claim administrators, and government agencies that use independent services to confirm the veracity of claims by sick or injured individuals for workers' compensation, automotive, personal injury liability and disability insurance coverage.
The company has laid out a solid explanation for why its roll-up merger strategy should be successful. Examworks quotes a 2007 study in its 10-K that suggests that 3% of US healthcare spending ($68 billion) is lost annually to fraud. With the IME fraud-fighting industry only being a $5 billion or so a year industry in the US, there is plenty of room for growth, particularly with the government's increasing need to control health care spending, along with demographic shifts that promise to boost health care spending as a percentage of US GDP. Examworks is positioned correctly as a national provider of anti-fraud services to help reduce the waste in the health care sector of the conomy.
The company, after growing to a decent size with a series of mergers from 2008 through 2010, IPOed last November. The company's public existence started out weakly, and shares traded down to 15 before a long rally ensued that carried the stock as high as $26.48 last month. Propelled by revenues that are growing at a 200% a year clip, the company appeared to have a bright future ahead of it. However, shares started to decline dramatically in the past month, falling from 26 to 21 by this past Tuesday. Then, the earnings report came out Wednesday and shares nosedived to 14 in one bloody trading session. Surely, you would think, something has gone wrong with the company. Is the business model broken?
The answer appears to be a resounding no. Revenues grew, factoring in mergers, 202%, from $35 million in the second quarter of 2010 to $107 million in the same quarter of 2011. However, cost of sales grew 219% over the same period, leading to a small decline in profit margin from 37% to 34%. This decline, however, is due to a higher cost structure of MES, one of the companies that Examworks acquired in the past year, rather than any fundamental souring of Examworks core business.
One can be reasonably concerned that, perhaps, Examworks is having to merge with less accretive companies to continue its roll-up strategy (perhaps Examworks has already bought up all the low-hanging fruit?). But on the whole, the company still appears to be executing according to plan. Adjusted EBITDA tripled from $6.2 million to $18.5 million in the second quarter of 2011 versus the same quarter last year.
Examworks uses adjusted EBITDA to report its results, and it adjusts EBITDA by taking out the cost of mergers. One can question the use of this metric, rather than GAAP earnings, which showed a fraction of a penny loss per share. Certainly losses are losses, even if the losses are one-time events related to merger costs. However, even GAAP loss has shrunk versus last year, and the company's adjusted EBITDA, which represents the company's recurring earning power, is sharply on the rise. The company is now selling at roughly 27x trailing adjEBITDA, which may be on the high side. However, since that adjEBITDA figure tripled in the past year and is on pace to grow again sharply in the coming year, the company is trading quite cheaply from a future earnings perspective.
It is unclear why Wall Street decided to unload viciously its positions in Examworks on Wednesday. But courageous investors willing to buy after a more than 30% one-day drop could be richly rewarded. Examworks now trades at less than two times sales - not bad for a company which is more than doubling its sales on a yearly basis. The company's earning power continues to rise, and the company, as it continues to grow and gain market share, should be able to exert more pricing power and benefit from increasing economies of scale. While a return to the 52-week high at 26.48 is probably out of the question in the near term, I wouldn't be surprised to see Examworks trade back up toward the $18 level in the coming weeks.
Disclosure: I have no positions in any stocks mentioned, but may initiate a long position in EXAM over the next 72 hours.