Bank of America (NYSE:BAC) is the enemy of America in some people's opinions, contributing to every cause of the Great Recession. The firm is finished and the stock should be worth next to nothing. Right? At least that is the signal investors have been sending recently, as the stock has had a fierce sell-off over the last year. While it has been doom-and-gloom lately, the future might be brighter for Bank of America shareholders. Let's examine a cautious scenario which shows Bank of America to be selling well below its intrinsic value.
As of Q1 2011, the firm had a tangible book value near $13 per share. With the stock selling below $9.40 per share as I write this, there would appear to be a nice margin of safety at only 70% of tangible book value. But let's further examine the quality of the balance sheet. We see a bunch of liquid and/or safe assets such as cash, time deposits, federal funds sold, high quality debt instruments, and the firm's trading portfolio. Derivatives exposure is also less risky, as Credit Default Swaps have decreased from $98 billion to $63 billion. Then we get to the 800-pound gorilla in the room, the loan portfolio. Determining how much those loans are worth is the key to determining BAC's intrinsic value.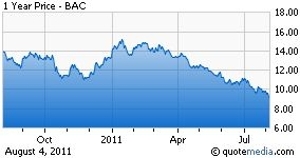 As of Q1 2011, the firm held a gross loan portfolio of $932 billion (excluding the $25 billion of loans-held-for-sale) and had $40 billion allotted to "allowance for loan and lease losses." The portfolio is broken down as follows:

$239.188 billion in prime mortgages and home equity as represented by the "Core Portfolio." Currently, less than 1% of this piece of the portfolio is classified as non-performing.


$169.069 billion in subprime mortgages and home equity as represented by the "Legacy Asset Servicing" Portfolio. Currently, 11% of this portfolio is classified as non-performing.




$297.628 billion in commercial mortgages. Currently, 3.34% of commercial loans are either non-performing or have been foreclosed, an improvement from 4.11% in Q4 2010.




$226.54 billion in credit card and other consumer loans. Currently, the firm's charge offs plus delinquencies for credit cards are near 11%, which have been slowly improving.
According to the Mortgage Banker's latest delinquency survey, prime loans past due plus foreclosures were 9% as of the end of Q1 2011. This has been slowly improving since Q1 2009. Bank of America's core portfolio is holding up much better than these numbers, but I will assume a worst case scenario where 10% of its core portfolio defaults and a 50% recovery rate. According to the same survey, 39% of subprime loans are past due or in foreclosure. I will assume 40% of the Legacy loans default and a 25% recovery rate. According to the Federal Reserve, delinquencies plus charge offs equals 9% of all outstanding U.S. commercial loans as of Q1 2011. Although B of A's commercial loan portfolio has a lower delinquency rate, I will assume 9% of commercial loans default and a 50% recovery rate. Lastly, I will assume 10% of BAC's credit card plus consumer loan portfolio defaults with no recovery rate.

Under this dire scenario, approximately $100 billion of the $932 billion loan portfolio will have to be written down. Currently, B of A has $40 billion allotted to loan loss reserves that are not part of tangible book value. This means about $60 billion extra will have to be written down, which is approximately 45% of tangible book value of $132 billion. This illustrates, even under a dire scenario, Bank of America would still have significant tangible book value. If the loan portfolio was adjusted accordingly, BAC would be selling at 1.3x tangible book value, hardly a large number for banks relative to historical multiples.
Next is the issue of non-GSE lawsuits. BAC has already settled with GSEs, but lawsuits from non-GSEs still remain. The Bank estimates it could incur up to $10 billion in settlement costs; thus it is important to incorporate this number into a model estimating the bank's future earnings power.
Bank of America has seven business segments: Deposits, Global Card Services, Consumer Real Estate, Global Commercial Banking, Global Banking & Markets, Global Wealth & Investment Management, and other. Four of the bank's six main segments were profitable last year, and in 2011 the credit card division has showed improvements, generating a profit in Q2 2011. The only unprofitable segment weighing on the bank is the Consumer Real Estate segment because of the "provision for credit losses."
The bank is also incurring higher expenses and will for the next couple of years because additional personnel is required to help clean up the mortgage mess and restructure loans. Legal bills will also be elevated due to settling non-GSE lawsuits. These expenses should also be incorporated into a model projecting the bank's future earnings power.
Assuming moderate growth rates for each segment, the eventual stabilization of housing prices, all the negatives described above, as well as my dire loan portfolio scenario, I estimate the bank will be back to normalized earnings and have earnings power of $2.30-2.50 per share by 2015. This projects a stock price range per share, based on normal multiples of 10-12x earnings, of $23-30, and a fair value range today using a 10% discount rate of $16-19 per share.
While this may seem far-fetched to many investors, I am betting with Bruce Berkowitz that most bad loans will be off the books by 2014-15 and the bank will eventually be back to normalized earnings by 2015 in a worst case scenario.
Disclosure: I am long BAC.