Consumers are less than enthusiastic about the economy these days, but that doesn't mean parents still won't splurge in order to send their kids off to school in style in 2011. While back-to-school spending isn't expected to be as robust as in pre-recession years, the total haul will still be the second-largest spending period behind the holiday season.
Customer Growth Partners has the most bullish forecast, projecting total retail sales (excluding autos, home improvement, gas and restaurants/food) for the July-September period to reach $467 billion, a 6.2% gain over last year and the largest increase since 2006. The company cites healthier household finances as the main reason for the optimism, as disposable personal income is up 3% from last year, household debt service ratios are down to 11.5% of income (lowest level since 1995), and the personal savings rate is down to 5% from 8.2% two years ago.
ShopperTrak expects bigger ticket prices will offset fewer shoppers at the stores, predicting sales will increase 3.8% in August over last year, with a 2.9% decline in foot traffic. "With back-to-school shoppers planning fewer trips to the store — and continued economic uncertainty — retailers must maximize the limited number of opportunities to convert browsers to buyers," said ShopperTrak co-founder Bill Martin.
The ICSC (International Council of Shopping Centers) expects sales at clothing, shoe, electronic and books stores to rise 3.0% to $39.0 billion in the July-September period, following a 5.0% gain last year. Michael P. Niemira, chief economist and director of research for ICSC, notes that while this year's growth rate trails the average pace of the last 15 years, "the overall message from this projection is that sales are still likely to be quite healthy."
[Click to enlarge]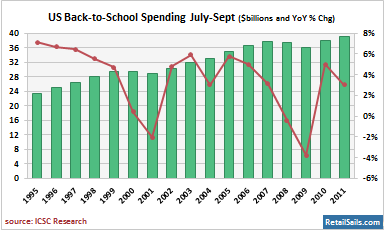 Meanwhile, The National Retail Federation (NRF) is forecasting total back-to-school (K-12) and back-to-college sales of $68.8 billion, an increase of 2.5% over last year, but spending per family is expected to decline in both cases as parents replenished many of their children's needs last year and 43.7% said the economy is forcing them to simply spend less in general.
The NRF expects total back-to-school (K-12) spending to climb 6.8% over 2010 to $22.8 billion, but spending per family to decline by 0.5% to $603.63 as increases in purchases of electronics (4.3%) and shoes (1.6%) will be offset by declines in school supplies (-7.7%) and clothing (-2.2%).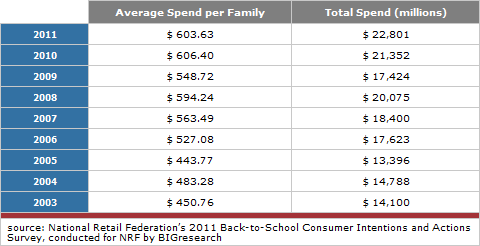 According to the survey, 57.0% of shoppers will head to a department store, up from 53.9% last year and the most in the survey's eight-year history. Besides the convenience factor, department stores are benefiting from increased offerings of private and exclusive brands, such as the new designer labels showing up at Target (NYSE:TGT) and Macy's (NYSE:M).
Though the majority of back-to-school shoppers plans to make at least one purchase from a discount store (68.4%), clothing stores (48.7%), office supply stores (38.0%) and electronics stores (21.7%) will also be popular. Additionally, more people this year will shop online (31.7% vs. 30.8% last year) and in drug stores (21.1% vs. 19.5% last year). A survey by Accenture showed similar results, showing 88% will shop at mass merchants, 49% at office supply stores, 37% at department stores and 32% online.
According to Shop.org, online back-to-school shoppers will spend $846.54 to get their children ready for the new school year, or 40% more than all shoppers, and online shoppers will spend a third more than all shoppers for shoes and school supplies, and 68% more for electronics and computer related goods. As multichannel shoppers, almost three-quarters of online shoppers will also shop offline in discount, department, clothing stores and electronics stores.
Technology-savvy consumers will also take advantage of the meteoric rise in comparison shopping tools and social media. A survey from PriceGrabber showed that 69% of consumers will shop online or use comparison shopping Websites, and 41% will visit retailer Websites to print out coupons. In addition, 93% of parents responding to a survey from Parents magazine and Lands' End said they will use blogs, chat rooms and social media sites like Facebook and Twitter to look for back to school sales and deals.
Retailers are adjusting their marketing and advertising strategies accordingly. Gap (NYSE:GPS) has rolled out a new marketing campaign allocating 40% more money to digital and social media such as Facebook and Pandora (NYSE:P) than the year-ago period, hoping to lure younger customers. Dick's Sporting Goods (NYSE:DKS) and JC Penney (NYSE:JCP) are leveraging Facebook and Foursquare in goodwill back-to-school marketing campaigns, focusing more on outreach and brand awareness.
However, a survey from School Family Media showed some surprising results that show most moms are still old school:
John Driscoll, president, consumer connections, School Family Media, said:
What we found interesting was that despite the emergence of new technologies and communication platforms, moms aren't planning on utilizing these much when it comes to their back-to-school shopping. In fact, social media was moms' least preferred method for receiving information about products and promotions, and 90 percent of moms still planned to make the majority of their purchases at actual stores versus online.
Over 70% of the 1,400 moms surveyed chose "Email from brand/store" as one of their most preferred ways to receive information about back-to-school products and promotions, while Facebook and Twitter were their least preferred method.
According to a survey of parents of school-age children (K-12) by Deloitte, half of respondents think we're still in a recession and the top concerns consumers have about the U.S. economy or their household's finances that could impact their back-to-school shopping are higher food (72%) & energy prices (70%), and a lack of improvement in the job market (51%). Not surprisingly, 65% said low prices was the most important retailer attribute when doing their back-to-school shopping, followed by wide selection (14%), quality (11%), style (3%) and convenience (3%).
This was a common theme across the survey spectrum:
Most surveys showed that overall, families don't expect to increase their spending this year. However, it's interesting to note that a survey from Buy.com showed 22% of dads plan to spend more this year (compared to 18% overall), with an average planned spend of $210 for dads vs. $171 for moms:


The bottom line is that the average American family is still struggling: Gas prices are 35.7% higher than a year ago, consumer confidence has barely moved off recession levels and personal income grew in June by the smallest amount in nine months, while shoppers are facing significantly higher prices at the store.
"We anticipate average ticket price increases of 5 to 10 percent for apparel, and higher percentage increases for low-cost items where cotton costs predominate," Craig Johnson, president of Customer Growth Partners said. "But the key is what the out-the-door average selling price will be, as strapped consumers resist higher prices for lower-cost commodity goods, while upmarket consumers barely blink at $5 or $10 increases for items from $80 on up."
"Nothing has changed from last year," said Britt Beemer, president of America's Research Group. "About the same number of people are still unemployed, the same number of people are underemployed and nobody is getting any real raises."
However, while we shouldn't expect a blowout back-to-school season, parents will sacrifice their own needs in order to make sure their kids have everything they need and most of what they want.
Disclosure: I have no positions in any stocks mentioned, and no plans to initiate any positions within the next 72 hours.