In light of the recent phone hacking scandal and the subsequent shutdown of UK's News of the World, Rupert Murdoch's News Corp (NASDAQ:NWS) has faced a whirlwind of criticism and outrage over the past few weeks.
As the details of the scandal got murkier the stock began to tumble and within a matter of days, News Corp. lost more than $8 billion of market cap. The company also faces a potential credit downgrade from S&P, which has placed News Corp on its CreditWatch list. The number of civil litigation suits that News Corp. faces is steadily on the rise since the phone hacking scandal.
As investors began selling the stock, News Corp shares lost 15% of their value since the scandal broke. Adding to the damage was news that the company withdrew its bid to acquire the remaining shares of British Sky Broadcasting (BSYBY.PK). In an attempt to stabilize share prices the company announced a share repurchase program.
(Click charts to enlarge)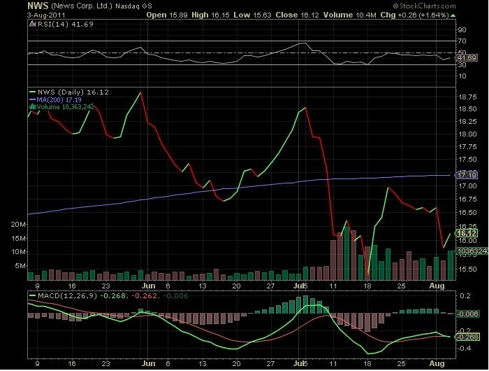 The company has some tough times ahead as management has to testify before the British Parliament and face interrogation over misconduct and unlawful phone taps. As advertisers shunned the paper, Murdoch had no choice but to shut down the 168-year-old News of the World.
The phone hacking scandal is not something that will fade away anytime soon, in fact it is spreading as more and more secrets are coming to the forefront. The media conglomerate is worth a lot less on paper since the scandal became front page news.
Shareholders have raised concerns over the company's direction when News Corp sold My Space for $35 million earlier this year; an acquisition that cost the company $580 million in 2005.
A scandal like this that comes out of nowhere can severely impact an investor's portfolio. Corporate governance is questioned and the need for an independent board is critical. However, steps taken to avoid such scandals cannot return shareholder wealth that gets wiped out in a matter of days.
Investors who invest in equities need to mitigate risks and manage their portfolios in order to diversify their investments to get maximum returns at the lowest level of risk. Holders of NWS shares saw a major drop in their holdings as the stock began a downward slide since July 11.
SmartStops users received an exit trigger on July 8, and once again on July 11, indicating that the stock had abnormal risk and were advised to review their investment and take the necessary action to protect their portfolio. The reentry value was set to $18.28 wherein the equity would have normal risk profile.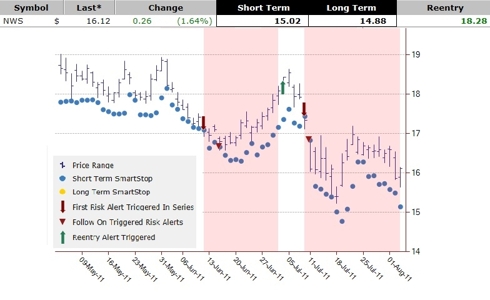 This is critical for investors who have a large amount invested in NWS as price drops of 15% can seriously impact an investor's position. Investors who may have followed our risk alert and used it to balance their investments would have gone on to save $1.32 per share in the current scenario as shares continued to decline over the last two weeks and are nowhere near their pre-scandal value.
Disclosure: I have no positions in any stocks mentioned, and no plans to initiate any positions within the next 72 hours.