By Jonathan Chen

Molson Coors Brewing Co. (NYSE:TAP) reported earning Tuesday that fell 6% in the second quarter, as they company's key demographic is struggling with high unemployment.
The company reported earnings of $1.18 per share on $933.6 million in revenue. Wall Street Analysts were expecting $1.29 per share in earnings on $958.6 million in revenue.
See the full earnings call transcript
The company's core customers, men under 28, are seeing particularly high unemployment, and that is hurting business, as are escalating fuel and ingredient costs, which are affecting nearly all consumer product makers.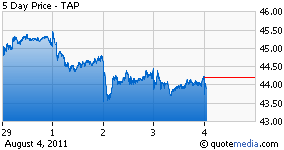 Denver-based Molson Coors makes beers such as Coors Light, Keystone Light and Blue Moon, but with volumes down for its products, higher costs, and investments abroad, the company missed earnings estimates. As such, shares were down around 1% after the release.
The company announced that its Board of Directors is going to buy back up to $1.2 billion in stock over the next three years.
"In the past several years, we have continued to strengthen the Company's balance sheet, added new brands and businesses in select markets, and doubled our dividends," said Peter Swinburn, CEO in the press release. "The combination of substantial cash generation and cash balances now also permits us to use our cash to increase returns to shareholders through a stock repurchase program."
"This announcement reflects our continued confidence in the future growth and cash generating potential of our Company. We are in a strong position to increase cash returns to Molson Coors shareholders while preserving the financial flexibility to explore growth opportunities and strengthen our balance sheet," said Stewart Glendinning, Molson Coors Chief Financial Officer.
Molson Coors shares have fallen some 12% this year, excluding dividends and with a market cap of just above $8 billion, the company seems primed for an activist investor to do something. It has a multitude of brands that could be spun off, or sold to enhance shareholder value. Its joint venture with SAB, known as MillerCoors, is another portfolio that something could be done with to generate higher returns. Blue Moon, which is the company's craft beer, is selling particularly well and could potentially be spun off to generate higher returns for shareholders.
I would not be surprised to see a name like Bill Ackman, Carl Icahn, or another noted value investor take a large stake in the company to try to drum up some value in the name. At less than 12 times forward earnings and sporting a 2.8% dividend yield, TAP looks like a decent value for shareholders at these levels. Perhaps shares are worth taking a sip.
Bullish:
Traders who believe that Molson Coors will get its act together might want to consider the following trades:
Go long Coors and short potential buyers. Potential buyers include SAB, Altria (NYSE:MO), which also is in the SABMiller joint venture, or larger brewers, like Heineken (OTC: HINKY.PK).
Bearish:
Traders who believe that Coors is likely to continue to see declining volumes may consider alternate positions.
Disclosure: I have no positions in any stocks mentioned, and no plans to initiate any positions within the next 72 hours.