I recently
posted
an article highlighting the TriQuint (TQNT) Q2 earnings call. What I remember most from the Q&A portion of the call was the disappointed tone of the investors asking the questions. Where did such disappointment come from? Well, there were several reasons, but the one that caught my attention was the lack of faith in company guidance moving forward.
The first question right out of the gate was from Aalok Shah of D.A. Davidson and Co. about missing the last three quarters in a row. He wanted to know where this inability to forecast was coming from. What was it that was throwing the gameplan off and how long until we see it fixed? Ralph Quinsey put the blame on being in a transitional period (mainly away from 2G and in preparing new facilities/tools), admitted that he was disappointed in the flat revenue, and even forecasted a slow Q3. Q4 was declared to be the return to growth for TQNT.
The purpose of this article is to give you an idea about what to do before/after earnings are announced in October. Let me help you with your decision by playing out a few scenarios, the last one being my favorite.
Scenario #1: This one is obvious. Tough times get the best of investors and they sit out the rest of 2011 and pray the new year brings QE3 or something.
Scenario #2: Investors become privy to my insight and jump all over TQNT in preparation for a beautiful relationship with Apple (NASDAQ:
AAPL
) and whoever else. They won't care what happens in Q3 because the world is so wonderful and Q4 2011 into 2012 and beyond will be amazing.
Scenario #3: This one is most appealing to diligent investors. TQNT bounces back up to $8.50-9.00 before Q3 earnings, and drops again after a fourth disappointing quarter in a row, only to explode after what TriQuint execs are making sound like the beginning of a new chapter for the company, Q4. Early 2012 creeps up on us, the economy begins to recover, we re-introduce ourselves to widespread global growth, and we see TQNT double by early 2013.
Some say that last scenario may be a bit optimistic. I agree, and being optimistic about a company that has Apple among others knocking on its door for more parts -- even after having to turn away orders from it because of a capacity issue -- is not unwarranted.
[Click to enlarge]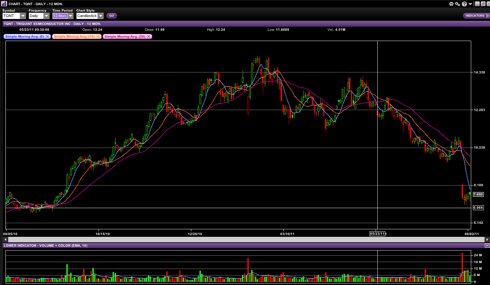 If something macro comes up or if employees start writing letters about incompetent management, abandon ship. The latter won't happen, the prior may, but a watchful eye is the cure for that. Buy some now, sell into bad Q3 earnings, buy back shares, and hold on for the long term.
Disclosure:
I have no positions in any stocks mentioned, but may initiate a long position in
TQNT
over the next 72 hours.