Genuine Parts (NYSE:GPC) is a company I have often recommended ("Genuine Parts' Q1 Suggests Reasons for Optimism in 2011") as a low-beta, nice yielding dividend stock that is likely to do well as the economy continues to recover. The stock has moved lower with the market recently and, if the economy were to double-dip, there is likely more downside from here near term. However, I think the recent pull back has provided a nice entry point again for those willing to look out 6-9 months. My top five investment considerations are the following: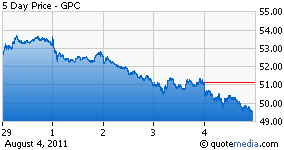 3.5% Dividend Yield: Get paid while you wait for the economy to accelerate again. Not only can you expect to get paid through thick and thin with GPC, the company has an incredible track record of raising its dividend every year for 55 years. Early this year, the increase was 10% and based on year-to-date results I predict it will be another 10% in early 2012.

Earnings Forecasts Look Light Again: Genuine Parts has exceeded analysts' estimates on quarterly earnings for the last ten quarters. 3Q11 looks like it will do so once again. The Street is predicting 3Q EPS of $0.94, down $0.02 sequentially from 2Q. Due to the seasonality of GPC's businesses, the company generally doesn't show a sequential decline in earnings from 2Q to 3Q (It hasn't since 2004, not even in 2008). Upside looks even higher 4Q, assuming the economy does not completely fall apart later this year.
$500 million Stock Buyback: GPC had +$500 million on its balance sheet at the end of June and is expecting to generate $325 million in free cash flow (after paying dividends) this year. The company has only bought back $55 million in stock this year and has historically shown itself to be opportunistic in ramping up its purchases. Thus, investors can expect the buyback to accelerate in quarters where the stock is pulling back but business remains sound.
Auto Aftermarket is 50% of Sales and Profits: While the company's other businesses tend to follow the broader economic cycles, the auto aftermarket is a much more stable and sometimes countercyclical division for the company. Further, this division has shown stronger results the last few quarters that likely indicate it has been increasing its market share again. This should give investors piece of mind if the economy does start to slow.
Prices and Margins Catching Up WIth Inflation: As a distributor, GPC is generally hurt by higher costs in the near term as it compresses margins. However, over time the company can raise prices in line with higher costs, which results in higher sales and a restoration of margins. 2010 and early 2011 saw significant cost pressures that the company is still passing along. The recent pullback in many commodity prices could allow the company a window to finally "catch up" in coming quarters.

Disclosure: I am long GPC.