One of the hottest months on record sent shoppers to air-conditioned malls in July and heavy promotional activity helped retailers clear summer inventory. However, the unseasonably warm weather likely held back full-price selling of back-to-school merchandise and the deep discounting may crimp 2nd quarter margins.
Total net sales for the 27 retailers we track increased 7.0% from a year ago to $30.64 billion in July, while same-store sales rose 4.8% on top of a 2.9% gain last year – this was the 23rd straight monthly gain after 12 consecutive months of declines. 20 chains reported comp gains for the month, compared to just 16 last July.
For the calendar year-to-date period, total sales increased 7.3% to $229 billion and comparable store sales rose 5.5% on top of a 4.0% gain in the first 7 months of 2010.
High-end chains were again among the best performers in July. Neiman Marcus (+7.7% comp gain), Nordstrom (NYSE:JWN) (+6.6%) and Saks (NYSE:SKS) (+15.6%) continue to outperform as the affluent have much stronger discretionary purchasing power allowing them to readily absorb significant price increases. Even though luxury goods stores are marking up prices, the rich are again buying designer clothing, luxury cars and about anything that catches their fancy.
Warehouse Clubs also continue to perform well as they have been able to lure shoppers seeking low prices on necessities such as groceries or toiletries while also passing on some food inflation onto consumers. Costco (NASDAQ:CSCO) (+10%, +5% ex gas & f/x) and BJ's Wholesale (NYSE:BJ) (+9.2%, +5.4% ex gas) have exposure to upper-income consumers and continue to steal market share from other discounters and dollar stores.
Specialty retailers began promotional activity for back-to-school early this year and shoppers snapped up summer goods on clearance, leading to strong gains at Limited Brands (LTD) (+6%), The Buckle (NYSE:BKE) (+6.8%), Wet Seal (WTSLA) (+7.4) and Hot Topic (NASDAQ:HOTT) (+7.3%). However, some chains missed the mark with less than compelling offerings, including Gap (NYSE:GPS) (-5%) and Destination Maternity (NASDAQ:DEST) (-7.3%).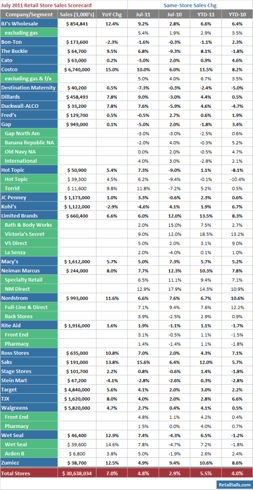 Click to enlarge(Click to enlarge)
Performance at department stores, which have been expanding market share after nearly a decade of contraction, was mixed for the month. Gainers were led by Dillard's (NYSE:DDS) (+9%) and Macy's (NYSE:M) (+6.7%), which has established itself as the clear leader in the space on increased penetration of private and exclusive brands and the success of its My Macy's localization initiative. Most of the strength can be attributed to surging online sales, which rose 36.7% during July and are up 39.2% year-to-date.
Michael McNamara, VP of Research and Analysis for MasterCard Advisors SpendingPulse notes that high gas prices are likely behind the continued strength of e-commerce. While off their highs from earlier this year, prices at the pump are still 35% higher than a year ago. McNamara said that online sales rose 14.0% in July, its 24th straight month of year-over-year growth, and its 9th consecutive month of double-digit growth.
Though most chains beat analyst estimates, there was some notable weakness in retailers that cater to low and middle-income consumers. Stein Mart (NASDAQ:SMRT) (-2.8%), Bon-Ton (NASDAQ:BONT) (-1.6%) and Fred's (NASDAQ:FRED) (-0.5%) all posted disappointing sales as their core customers continue to deal with strained household budgets.
Bruce A. Efird, Chief Executive Officer of Fred's, said, "July's sales performance was consistent with the first two months of the quarter as external economic factors, including high unemployment and reductions in government aid, continued to have a negative impact throughout the Southeast. Even though several of our Core 5 focus areas performed well, including Pet and Household Supplies, the overall pressures of the economy continued to drive sales toward basic and consumable products,"
As this morning's Bloomberg Consumer Comfort Index reading shows, most low and middle-income consumers still feel as though they're in a recession. In an especially worrying sign, Americans making more than $100k a year were the most pessimistic since November 2009.
The comfort gauge "has resided at recession-like levels for some time, and the likely direction of the economy now reflects that," said Joseph Brusuelas, a senior economist at Bloomberg LP in New York. "The cumulative impact of a weak labor market and the recent spate of announced mass layoffs over the past two months has probably put a significant dent in the consumer psyche."
Retailers will step up promotions as most back-to-school spending will occur in August, and over the next few weeks the majority of major retailers will report 2nd quarter earnings. Though early indications are that early price increases have met with little to no resistance from shoppers, August will be a key test as retailers are intent on pushing full-price selling as much as possible.
Disclosure:
I have no positions in any stocks mentioned, and no plans to initiate any positions within the next 72 hours.