I've always been fascinated by this company and have made money and lost money on its swings over the past decade, mostly through my own naivete some years ago about what was driving its business. Once I realized that its greatest risk was a spike in interest rates that would drive up the cost of its own leveraged borrowing, it became easier to time purchases and sales as necessary, and especially to know when to consider bailing out.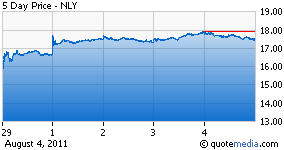 One thing that jumps out today is that as the economy fails to take off as hoped and/or expected, the chances of the Fed raising interest rates is lower than ever, and Annaly's confidence in its ability to continue churning out the attractive spread between its assets and liabilities (currently reported at 2.45%, higher than either of the past two years) multiplied by its leverage of just under 6 times, should be increasing.
I also like the fact that management seems to be really smart, and has an enormous amount of its own "skin in the game" in terms of its personal holdings. So I plan to increase my own holdings, as a good income earning asset (great to hold in an IRA, where income build-up is untaxed), and a hedge against the economy continuing to sputter.
Disclosure: I am long NLY.