Earlier this week, I published a list of 14 of my high-conviction short ideas for a new bear market. While I had high hopes for the list, I didn't expect results so soon. Allied Irish Bank (AIB) has become the first casualty among the 14 shorts I suggested, as the company announced Thursday that it intends to delist its NYSE-listed shares. The market took poorly to the news, sending the stock down more than 40% in early afternoon trading.
Click to enlarge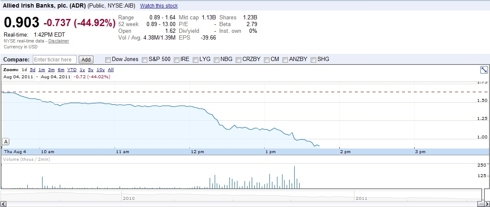 Normally, one might look at this as an opportunity to play a bounce. Even if the long-term trajectory of an equity points downward, in the short run, the market sometimes overreacts to bad news. While a loss of liquidity is never good, merely delisting one's shares doesn't, on the face of it, appear to change the value of those shares -- and certainly a 40% haircut would seem excessive under normal conditions. And while Allied Irish shares will cease trading in the U.S., they will continue to trade in Ireland. Marketwatch reported:
AIB has not arranged for listing and/or registration on another U.S. national securities exchange or for quotation of its securities in a U.S. quotation medium, but expects that, after delisting the ADSs, its ordinary shares will continue to trade on the Enterprise Securities Market of the Irish Stock Exchange.
However, Allied Irish's case is unique because its shares were trading at such a gigantic premium to their intrinsic value. As SA contributor Studioso Research noted, Allied Irish recently authorized a new 500 billion share dilution at 0.01 EUR each, and yet the stock still trades at more than 0.09 EUR each today. It is utterly incomprehensible; there is absolutely no reason investors should by paying nine times the going rate for Allied's shares. While Allied Irish's NYSE shares are slightly undervalued compared to the Ireland listing, the fact remains that both are wildly overvalued given that the company offered 500 billion new shares (98% of the company) at 0.01 EUR ($0.141 per U.S. ADR, since an ADR is 10 Irish shares and the Euro/U.S. dollar exchange rate of $1.41).
This overvaluation became official earlier this week, when the 500 billion new shares formally hit Allied Irish's market cap, thus making it, bizarrely enough, one of the most valuable, on paper, banks in Europe. Bloomberg reported:
"The implied valuation of Allied Irish at about 50 billion euros makes little sense and seems to be an anomaly," said Stephen Lyons, an analyst with Dublin-based securities firm Davy. "The increase in the government's stake has not been fully digested."

That anomaly makes the unprofitable lender Europe's fifth-largest by market value, behind HSBC Holdings Plc, Banco Santander, OAO Sberbank and BNP Paribas SA."

Needless to say, this anomaly is unlikely to last long. Even after Thursday's tremendous decline, the bank remains highly overvalued, as investors own only a small sliver of equity after the 500 billion share dilution. Thursday's delisting news is simply icing on the cake: Allied Irish is an uninvestable equity, and its shares should be sold.
Disclosure: I have no positions in any stocks mentioned, and no plans to initiate any positions within the next 72 hours.