Forget oil. Natural gas liquids (NGL) could represent a more important growth driver for your portfolio. Companies involved in natural gas processing and NGL storage, transport and export reported some of the strongest fourth quarter results in our coverage universe. This out-performance reflects a long-term, secular shift in the global market for NGLs that favors North America.
Civil war in Libya, toppled dictators in Tunisia and Egypt and protests across the Middle East and North Africa have pushed crude oil prices higher this year. West Texas Intermediate (WTI), the most widely watched U.S. oil benchmark, eclipsed the psychologically important $100 level.

But amid all the headlines about crude oil, investors are missing one of the most important trends: Surging demand and supply of NGLs in the U.S.
By way of review, natural gas is composed primarily of methane, a hydrocarbon consisting of one carbon atom bound to four hydrogen atoms (CH4). But raw natural gas produced from wells isn't homogeneous; methane typically occurs with a variety of heavier hydrocarbons (NGLs) such as ethane (C2H6), propane (C3H8) and butane (C4H10). Crude oil, water vapor, carbon dioxide, nitrogen and sulfur also mix with raw natural gas.

The components of this melange vary from field to field. Some regions produce dry natural gas, or gas that consists primarily of methane with little NGL content. In contrast, "wet" fields such as the Eagle Ford of Texas and the Marcellus Shale in Appalachia also contain large quantities of NGLs.

NGLs may not receive as much media attention as crude oil or natural gas, but they're vital energy commodities. Ethane and propane are commonly employed as petrochemical feedstock. Ethane is used to make ethylene, while propane is used to manufacture propylene - chemicals that form the building blocks of various plastics. Oil refineries also use NGLs to boost the octane rating of gasoline.
The Current Environment for NGLs

Robust demand from the domestic petrochemicals industry has been a big part of this trend. Check out this graph, which tracks U.S. demand for ethane and propane from 2003 onward.

Click to enlarge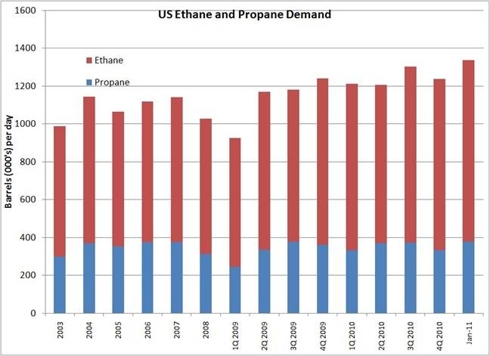 Source: Enterprise Products Partners LP

In December 2010 U.S. ethane consumption topped 1 million barrels per day, an all-time high. Demand has slackened slightly since then, largely because a handful of processing plants were temporarily closed for maintenance.

As Peter Staas observes in Growth Stocks: Investing in the Petrochemicals Industry, a number of new petrochemicals plants have opened over the past year. For example, Eastman Chemical (NYSE:EMN) re-opened an ethane cracking facility - a plant that produces ethylene and other chemicals from ethane - that had been mothballed since 2008. Meanwhile, Chevron Phillips Chemicals, a 50-50 venture between oil giants ConocoPhillips (NYSE:COP) and Chevron Corp (NYSE:CVX), recently restarted a cracking facility in Sweeney, Texas.

Dow Chemical (NYSE:DOW), the world's second-largest chemical outfit, in December 2010 announced plans to increase its ethane cracking capacity on the Gulf Coast over the next two to three years. The firm will also improve its ethane cracking capabilities by 20% to 30% to take advantage of the superior economics offered by the NGL.

Industry observers estimate that U.S. chemical producers could consume an additional 100,000 barrels per day of ethane by expanding the capacity of existing plants.

The other major shift underway in the U.S. NGL industry is the source of the supply. Historically, petroleum refineries have accounted for as much as half of domestic NGL production, but that's changed: In January 2011, gas processing plants supplied 860,000 barrels per day of ethane to customers.
U.S. demand for NGLs continues to boom, thanks to the country's new-found abundance of these hydrocarbons in a number of prolific onshore shale gas plays.
Not too long ago, industry observers would have scoffed at the suggestion that U.S. petrochemical firms would enjoy a cost advantage over facilities in Kuwait and Saudi Arabia. But the shale gas revolution has ensured that the U.S. chemical producers have access to an abundance of NGLs at reasonable prices, a huge advantage over areas where NGL prices are higher or naphtha - which is derived from crude oil and therefore costlier - serves as the primary feedstock.
And the market for U.S. NGLs isn't restricted to domestic customers. U.S. exports of NGLs and related products have soared in recent quarters.

Click to enlarge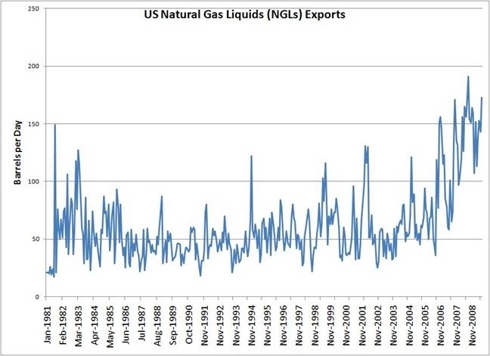 Source: Energy Information Administration

Exports of NGLs and related products such as ethylene and propylene are approaching 200,000 barrels per day, near an all-time record. The real export boom began in 2005-06 when U.S. production from unconventional natural gas fields began to take off.
The Master Limited Partnership ((NYSE:MLP)) Connection

Master Limited Partnerships play a critical role in the NGL market and are involved at many levels of the NGL supply chain. Here's a look at some of the key businesses in the industry:

Natural Gas Gathering:

Gathering lines are small-diameter pipelines that collect individual gas wells to processing facilities and, ultimately, the interstate pipeline network. The key to the gathering business is location: MLPs with gathering systems located in NGL-rich plays such as the Eagle Ford continue to thrive from accelerating drilling activity.




Gas Processing:

Natural gas processing involves removing NGLs from the raw natural gas stream. Once again, location is everything. Plants near wet-gas fields are running near full capacity.




Fractionation:

Fractionation is the process of breaking a mixed barrel of NGLs down into its constituent components. In other words, fractionation facilities separate ethane, propane, butane and isobutene into individual streams.




Export

Terminals:

Liquefying natural gas for shipment is a complex process, but propane and other NGLs can be liquefied with relative ease and with far less compression. The U.S. currently boasts only one export terminal for liquefied natural gas, but the country has considerable capacity to export NGLs, primarily from the Gulf Coast.




NGL Marketing:

A handful of MLPs sell NGLs processed at their facilities to petrochemicals plants and other buyers. For many MLPs, this is a safe, fee-based business. Strong demand for NGLs can provide additional opportunities for profit.




NGLs Storage

and Pipelines:

MLPs own dedicated pipelines and terminals to move and store NGLs.



Many of the MLPs covered by Roger Conrad and me in MLP Profits have reported strong NGL demand from U.S.-based petrochemicals producers and are building significant processing and pipeline infrastructure to meet that demand. The group is expected to take a leading role in enabling the NGL boom to continue.
MLPs are gaining attention from astute investors because their unique organizational structure offers a simple value proposition: Tax-advantaged high yields, strong recession-resistant growth potential, and limited exposure to commodity prices. (For more on the benefits of MLPs check out my recent report.)
Disclosure: I have no positions in any stocks mentioned, and no plans to initiate any positions within the next 72 hours.