If I was ever to teach in business school, two books would be required reading in my class - "The Emperor's New Clothes" (H.C. Andersen) and "The Three Little Pigs."
The Emperor's New Clothes was published in 1837 and is a story about two weavers who promised their emperor a new line of clothing that was invisible to those who were incompetent. After parading himself to his subjects, in his new and very expensive wardrobe, he realized he has been fooled when a child yelled "but you have no clothes."
Before anyone who is long/short on Research In Motion (RIMM) gets too worked up about this article, a disclosure upfront is preferred:
I am currently short RIMM and have been since Lazaridis' BBC incident. My stop is currently at about the 50 day moving average on the daily charts.
I have used three Blackberries over the past five years. I recently bought a playbook to test drive it and I've returned it.
I have been long RIMM in the past (and will go long again should there be a meaningful catalyst).
There have been enough articles that outline the merits of why the company is currently undervalued. Metrics like cash per share, PEG and PE comes to mind. From the FinViz database; you will see how RIMM appears to be "undervalued" when compared to the other tech companies, especially on the PE and PB metrics.
Click to enlarge



What caught my eye is that the estimated EPS for next year is only at 3.25%. I'm sure (like with any numbers) one cannot take it seriously (look at Apple (NASDAQ:AAPL) at 17%). However, should the challenges continue, it wouldn't be far fetched to expect that and thus, the PE today would then be generous.
At 2x or 3x premium of the market cap; there are players in the market that can take the company on - for its patents, cash and the enterprise contracts. However, given its challenges, it is unlikely that an astute player will make an offer when the company is still standing. I mean, why buy now when the cap can still shrink? The next CC will be interesting.
There is no doubt in my mind that RIMM will not disappear overnight as it does have "value" both in its financials and in its technology. However, having both of these does not guarantee its stock will trade at better multiples. One does not need to look far - LinkedIn (NYSE:LNKD) and Netflix (NASDAQ:NFLX) come to mind - to understand that the market isn't exactly a rational place.
So, what "suits" have the two weavers been weaving before?
Listen to the past three conference calls. Focus on the superlatives and follow the timeline to see what transpired. Any person who owns a business and is "in touch" with that business and customers does not require one full quarter to know things aren't going good.
Listen to the playbook launch and see what transpired.
More recently, read the press release regarding layoffs. How can you have 17,000 employees, cut 2,000 and still end up with 17,000? Guess they must have hired and fired 2,000 pretty darn fast. Either way, it doesn't give you confidence about its operational abilities or growth prospects.
RIMM, the stock, has shed 49% over that past 200 days. It is at $25 at the time of writing. Despite the launch of "playbook" (think of it as one of the "outfits" that the weavers promised to make the emperor look good), you've seen this picture before ...
Click to enlarge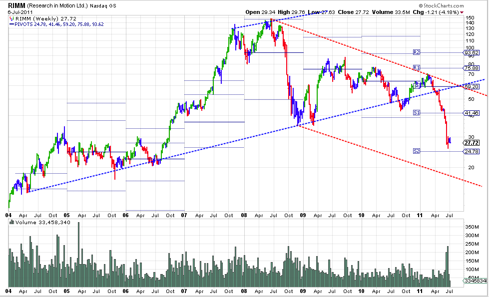 Now, that since the "Playbook" has not panned out as planned, QNX (which RIMM bought in Aug 2010) is now touted as the next "game changing" platform that will power its next gen phones.
History is littered with companies with best in class technologies that did not quite translate into meaningful stock market gains. Will RIMM and QNX be any different? Are the weavers back to their old tricks again?
I would love to see this Canadian icon rise again. The marketplace needs healthy competition. It is good for consumers and keeps the firm honest with its offering.
They certainly have the technology, network and financial capability to get it done. My two cents would be:
Drop the co-CEO (or whatever they wanna call it) structure. No two headed fish has ever managed to swim in one direction.
Stick with your core competencies and ask why would your clients chose "x" phone vs. a BB (and don't dismiss the answer).
Be transparent with your guidance.
If you are short RIMM, you may not see as much spectacular downside as before.
If you want to be long RIMM, picking bottoms may not look as easy as you think.
It will be a scalp trader's trade.
Instead of asking if there is "value" in RIMM at "x" price, I would rather ask the question of "will RIMM be able to execute using QNX and prove the market and naysayers wrong in a timely manner"? I would rather miss the first 10% move and ride most of the leg up than to guess the bottom and hope for the best.
In the end, it isn't about falling in love or hating a stock ... it is about making money.
Disclosure: I am short RIMM.
Additional disclosure: Long AAPL, short NFLX.