North American stock markets are in soft crash mode with the Dow Jones Industrials Average down over 1000 points in 10 days of trading since July 22. It's not a typical panic that one should be buying.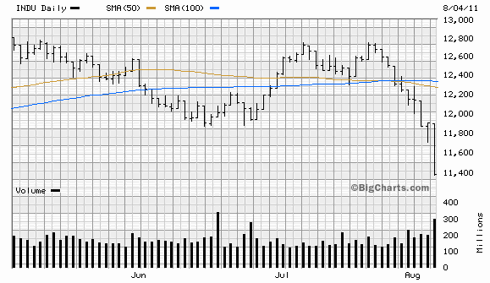 The Canadian S&P/TSX composite index started coming down the Monday after the DJIA on July 25, and is down over 1100 points in 9 trading days. The S&P/TSX composite was down 374 at 12,442 after being down 420 points.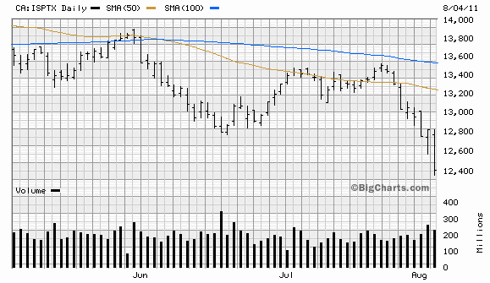 WTI crude is getting hammered, recently down $5.12 at $86.83 and even the "safe haven" gold (GLD) fell for the first time in several days.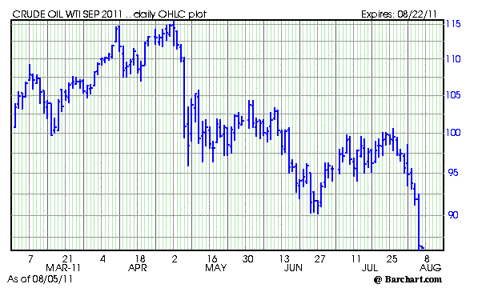 What does it all mean? When will it stop?
I was skeptical that the U.S. market was going to rally (by 5-6% according to some pundits) after a last-minute debt ceiling and reduction package were signed, as many including myself expected. My thought was no signature or stroke of the pen including promises to cut spending over 10 years and future committees to do the same was going to change the fiscal situation in the U.S., which is dire.
President Obama has run out of bullets with which to stimulate the economy. The Republican-led House of Representatives succeeded in taking away his fiscal gun. And so much for the rule of thumb that markets will always rally during a Presidential pre-election year.
I have also felt that we in Canada have been much to complacent about our prospects, rubber-necking at the U.S. credit crisis and patting ourselves on the backs that our economic situation was much more resilient and our financial institution regulation much more prudent and we are way better off. The truth is, 75% of Canadian exports go to the U.S. Our banks, life insurance, technology, manufacturing, energy and pipeline companies have significant investments in the U.S. or depend a great deal on U.S. economic growth and demand for commodities.
The question is, where do we go from here after such a market rout?
In a panic, stocks are sold with no regard to reasonable valuation or rationale based on what we know. The fear factor comes from what we don't know:
We don't know whether U.S. economic growth is going to recover from the soft patch or is slipping into a lengthy recession.
We don't know whether Canadian banks are going to report good Q3 earnings in a few weeks, or lousy earnings (hint - $57 billion in Canadian M&A in the last quarter would indicate good earnings).
In the face of not knowing, you need to make sure you have an asset allocation that fits your personality and risk tolerance.
Although many are fixated on the U.S. and Canadian July jobs numbers out Friday, I would suggest to you this is another transient red herring. Sure, the markets are poised to rally strongly based on statistical probabilities that this downturn is overdone. In my 28 years experience, I have seen and enjoyed several bull markets, either sectoral, or broadly-based. And I've seen (and studied) many panics. There have been over 100 panics (defined as a sharp 10% plus drop in the broader indices followed by a sharp recovery, all in less than 20 trading days) over the last century. Some panics occur during bull markets, some during bear.
I am sure this is not a bull market panic. Bull markets are relatively easy to make money in, and bull market panics are obvious overreactions to events which are frightening as all panics are, but are rooted in temporary surprise calamities and of limited enduring economic impact. Think the "Flash Crash" of May 2010.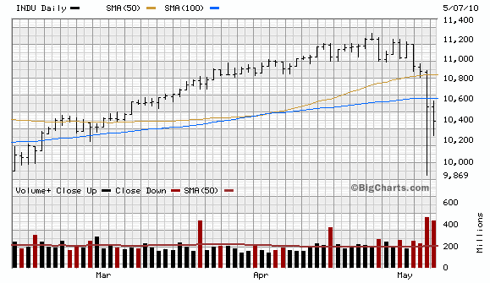 This particular stock market is best described as "haywire" in my view. There has been no enduring trend since the beginning of the year; the market runs and bolts, then rallies. I believe investors conditioned to the preeminence of the U.S. economy are still in an identity crisis. It is a market difficult to trade let alone invest in.
Here is the S&P 500 (SPY) in 2011 to date: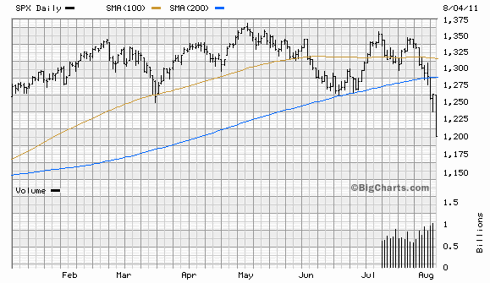 Some specific sectors are in "bull mode" (agriculture, fertilizers, food, metals) but their equities are getting caught up in the overall downturn.
Thursday after the close, CF Industries (CF) reported stellar Q2 results, which I have been predicting for a year, beating Street cash flow and earnings estimates, and is trading at only 6 times my estimate for 2011 cash flow per share. The stock closed down over 8% today, a buying opportunity.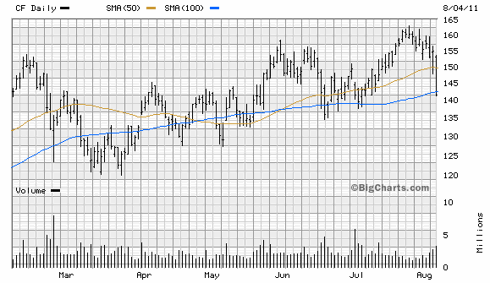 One benefit of today's sell-off in commodities is that gasoline is going to be cheaper for U.S. drivers and diesel cheaper for U.S. transportation. My prediction since the spring has been WTI oil at $80 and that a "gasoline dividend" (refinery glitches and OPEC country revolutions permitting) will help out the U.S. economy in the back half of 2011. Sept RBOB gasoline futures were down over 6% today: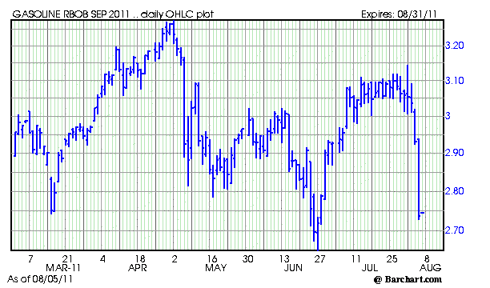 In my view is the U.S. debt/GDP level is similar to the level reached during WWII. Europe is coming apart financially, as it did during WWII. And we need to select investments that did well during WWII - food, shelter, gasoline, the basic necessities, gold - even cash under the mattress.
Disclosure: I have no positions in any stocks mentioned, and no plans to initiate any positions within the next 72 hours.