We initially bought Endeavour Silver Corporation (NYSE:EXK) for $3.97 many moons ago and have maintained a core position ever since with our average purchase price standing at around $4.00. Today Endeavour closed at $10.61 so we are more than pleased with the progress this stock has made.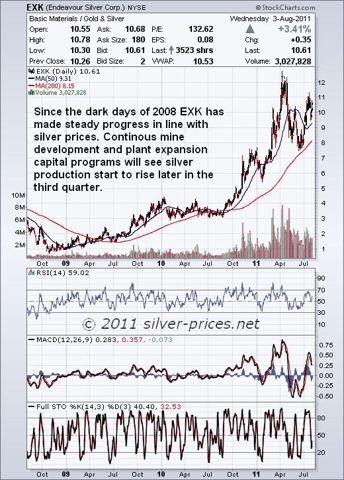 Click to enlarge
A quick look at the chart and we can see that this silver producer is up ten fold in a few short years and in our opinion is now set to go further as mine development and new discoveries continue to be reported. As we see it this company forms one of the foundation stones of our core position and we intend to add to that position in the near future.
We'll now take a look at the latest results starting with this comment from Bradford Cooke, Chairman and CEO:
"Endeavour posted healthy financial and operating results in the Second Quarter, 2011 and continued to grow its cash position and working capital thanks to a robust and rising gross profit margin. As a result of rising silver and gold production and substantially higher precious metal prices, our sales revenues, operating cash-flow, and adjusted earnings were all up sharply compared to Q2, 2010."

"Endeavour is well on track to meet its 2011 guidance for silver production (3.7 million oz) and cash costs (< $5.70 per oz), with our better than expected First Quarter results being partially offset by a slower Second Quarter. Cash costs of production did jump in Q2, 2011 as industry-wide cost pressures caught up to us during the quarter. While costs such as labour, power and consumables will likely continue their slow rise, we expect our cash costs of production to start falling again once the economies of scale from our new mine and plant expansion at Guanajuato take effect."
Cash costs are currently running at $6.98 per oz silver produced leaving lots of room to generate profits going forward.
Highlights of Second Quarter, 2011 (Compared to Q2, 2010)
Adjusted Earnings (non-IFRS measure) escalated to $10.6 million ($0.12 per share) compared to a $1.4 million loss (see IFRS comment below)
Net Earnings (IFRS measure) increased to $17.0 million ($0.20 per share) compared to a $3.2 million loss
Operating Cash-Flow jumped 553% to $21.3 million
Mine Operating Cash-Flow rose 151% to $23.6 million
Revenues climbed 85% to $36.4 million
Silver production up 3% to 850,476 oz
Gold production up 8% to 4,831 oz
Silver equivalent production up 4% to 1.04 million oz (40:1 silver: gold ratio, no base metals)
Realized silver price up 102% to $37.65 per oz sold, realized gold price up 26% to $1523 per oz sold
Cash cost up 6% to $6.98 per oz silver produced (net of gold credits)
Gross profit margin up 241% to $30.67 per oz silver
Working capital up 31% to $133.6 million, with cash and short term investments of $108.9 million
Endeavour owns and operates two high-grade, underground, silver-gold mines in Mexico, the Guanacevi Mines in Durango State and the Guanajuato Mines in Guanajuato State. The outlook for the third quarter, 2011 is as follows:
In Q3, 2011, Endeavour anticipates its financial performance will continue to improve, reflecting still rising silver and gold prices, a modest increase in precious metal production once the new expanded mill and flotation circuits at the Guanajuato plant are commissioned during the quarter, and falling cash costs related to the new economies of scale at Guanajuato. However, industry-wide cost pressures such as rising labour, power, fuel and consumables costs will likely continue to partially offset the Company's progress towards cost reductions at its two mining operations.

Similar to 2010, the first two quarters of silver production in 2011 were relatively flat as forecast, with the operations team focused on the mine development and plant expansion capital programs. Silver production is expected to start rising again late in the third quarter, once the mine and plant expansion at Guanajuato is completed.
Endeavour owns and operates two high-grade, underground, silver-gold mines in Mexico, the Guanacevi Mines in Durango State and the Guanajuato Mines in Guanajuato State.
Finally, we were in touch with Hugh Clarke, Vice-President Corporate Communications, who summarized their position as follows:
Look for increased production starting in the latter half of Q3 as we bring the new circuit online at our operations in Guanajuato. Cost pressures are evident throughout the industry and this is not going to abate any time soon. We plan to combat this through higher production, higher recovery rates and increased efficiencies.

We are actively drilling and we expect to have a steady flow of drilling results over the coming weeks and months. As well, we will be announcing new acquisitions of exploration properties in the near future.

As usual, the company is in excellent financial condition... rising profits, $133 million in working capital (mostly cash and short term investments) and no debt with only 85 million shares issued.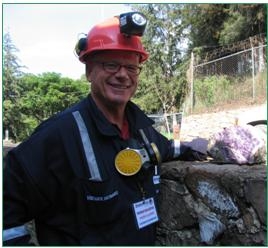 Hugh Clarke
Endeavour Silver Corporation is traded in Canada, USA and Europe on the following three stock exchanges:
So they have plenty of exposure to the investment market.
Disclaimer: We make no guarantee or warranty on the accuracy or completeness of the data provided. Nothing contained herein is intended or shall be deemed to be investment advice, implied or otherwise. This letter represents our views and replicates trades that we are making but nothing more than that. Always consult your registered adviser to assist you with your investments. We accept no liability for any loss arising from the use of the data contained on this letter. Options contain a high level or risk that may result in the loss of part or all invested capital and therefore are suitable for experienced and professional investors and traders only. Past performance is not a guide nor guarantee of future success.